NEWS - ITEM 122
TURBOSMARTS COMP-GATE 40 SET FOR RELEASE
Date: 6/9/10

One of Turbosmart's most hotly anticipated new releases is about to be launched on September 10th. Featuring a game-changing new design that will set a new benchmark for performance wastegates, the new Comp-Gate40 is the Smartest Wastegate in The World!
Designed to fit into tight engine bays, Turbosmart's brand new 40mm external wastegate offers a class-leading flow and heat handling capabilities. It is also the smallest wastegate in the Turbosmart range.
Revolutionary Locking Ring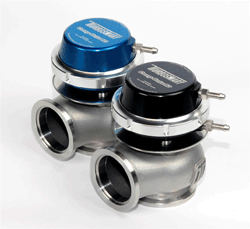 Comp-Gate's unique Locking Ring provides easy access to the the actuator, allowing for quick spring changes. The new actuator housing design allowed us to significantly reduce the height of the Comp-Gate40. It is up to 25% smaller than other wastegates in our range.
Higher Flow, Smaller size
New, compact body profile offers superior flow, compact dimensions and excellent heat handling characteristics. Measuring only 99mm, the Comp-Gate40 fits easily into space-restricted engine bays, and provides better access once mounted. One-piece, coated stainless steel valve and an optimal flow through the body provide superior performance and reliability.
Unique Rotating Cap
Comp-Gate's clever cap design, together with the locking ring allow for the cap orientation to be indexed in 12 different positions, making this one of the most versatile external gates on the market. Changing the cap is a simple procedure of loosening the locking ring (using the tool provided with the Comp-Gate) and rotating the cap into the desired position.
The Smartest Wastegate in the World
Want to win a brand new Comp-Gate40? Enter Turbosmart's "Comp-Gate Versus" competition HERE
For more details on the Comp-Gate40, log onto www.turbosmartonline.com
The marketing team at Turbosmart have had a bit of fun with this one! Checkout the clip below LOL!
__________________________________________________________