NEWS - ITEM 146
OUTLAW SPORTS BIKE GOES PRO
Date: 30/07/11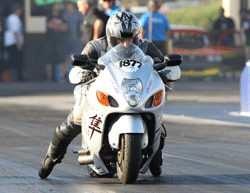 In 2006 no-bar bike racing in Australia found a home with the Sport Compact Group. Five years on the guys have decided to shake their Outlaw name, relabelling themselves as Pro Sports Bike.
A name the guys feel better represents the group and falls in line with current Sport Compact Group Classes.
With a number of new bikes in the build and the excitement of others like Matt Gildon and Rowan Lind knocking on that 7 second door, the class is set to heat up at the 21st Jamboree on August 27/28.
Expect to see Leonard Azzopardi lead the way on Quicksilver, with new comer Terry Jackson mixing it up on the no-bar quarter mile.
__________________________________________________________