NEWS - ITEM 155
BRISBANE JAMBOREE STREAMS LIVE THIS WEEKEND
Date: 24/08/11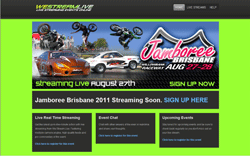 Westreamlive.com.au is back to Live Stream this weekends Brisbane Jamboree, August 27 & 28.
We've sorted out the audio issues we had in Sydney and have had upgrades to the Stream Server to prevent the crashing issues we had at the Sydney Jamboree.
The Brisbane Jamboree will be streamed live on the Internet where Drag Racing fans from 38 different countries can log in to watch live racing action. Our streaming system comprises four separate cameras along the Quarter Mile.
There will be a 100km exclusion zone around Willowbank Raceway, if you live within this zone, your only opportunity to catch the action is to attend Brisbane Jamboree and soak up the atmosphere in person.
For those outside the exclusion zone we've added an "Event Chat" section below the Stream where you can chat with other viewers of the event in real-time and share your thoughts. Keep them clean people or you'll be booted off with no refund.
We have 230 of Australia's best Sport Compact vehicles hitting the track and with www.westreamlive.com.au you won't miss any of the action.
Qualifying from 9.30am to approx 6.35pm on Saturday with rracing on Sunday from 9.30am to approx 5pm. Visit the www.westreamlive.com.au website, where you can pre-register and on Saturday August 27th access live streaming for just $5 per day!
For more information on the Brisbane Jamboree please visit www.jamboree.com.au
__________________________________________________________