NEWS - ITEM 255
THANK YOU FOR YOUR SUPPORT IN 2015
Date: 15/12/15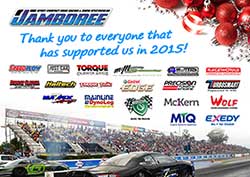 As 2015 draws to a close, we wanted to take the opportunity to offer a much appreciated thank you to everyone for their support of Jamboree this year.
In a landmark year that saw Jamboree celebrate 25 years in existence, 2015 offered other excellent opportunities in growth and sustainability. For the first time ever, we incorporated Melbourne as an event destination and the response was excellent from racers, spectators, traders and event partners. Our plans to return to Melbourne in 2016 are already well under way, as well as our regular events held at Brisbane and Sydney.
In addition to this, 2015 welcomed the partnering in Jamboree ownership with Collin Willshire, owner/operator of the well known Jett Racing drag racing team and Willshire Enterprises Pty Ltd. Collin's injection of fresh ideas and demonstrated excellence in both business and racing achievement saw a lift in Jamboree's presentation, marketability and access to a broader reaching audience thanks to the Out Of Home Media services of Collin's business Prime Signs.
Our intention to continue to reach a greater audience of car culture enthusiasts and racers will be a priority in 2016 as we consistently and thoroughly develop our social media sites, the official Jamboree webpage and use all formats of Out Of Home Media Advertising to promote our events.
2016 will also be a year of diversification for Jamboree as we launch some alternative and exciting car culture events and opportunities : things that we are very keen to introduce you to in the New Year.
We wish you and your families a very merry Christmas and relaxing holiday season and we look forward to seeing you in 2016!