NEWS - ITEM 257
JUST CAR INSURANCE JOINS JAMBOREE
Date: 17/02/16
High performance, modified and imported cars – Just Car and Jambo have you covered!
The world's wildest Sport Compact drag racing and car culture event welcomes Australia's premium insurance choice for modified car owners with Just Car Insurance signing on as the Naming Rights Partner for the 2016 Jamboree Series.
Jamboree owners Ray Box and Collin Willshire explained why the partnership is such an excellent alliance for the event and the people who love it.
"Jamboree has always been the home for drag racers outside the mainstream, which makes our newly expanded partnership with Just Car Insurance such a great match. Both Just Car Insurance and the Jamboree exist for the modified car fan on the cultural fringe who might not be taken as seriously as they should be by a 'normal' insurance company. Jamboree fans don't just drive their cars, they love them, and that's important to Just Car."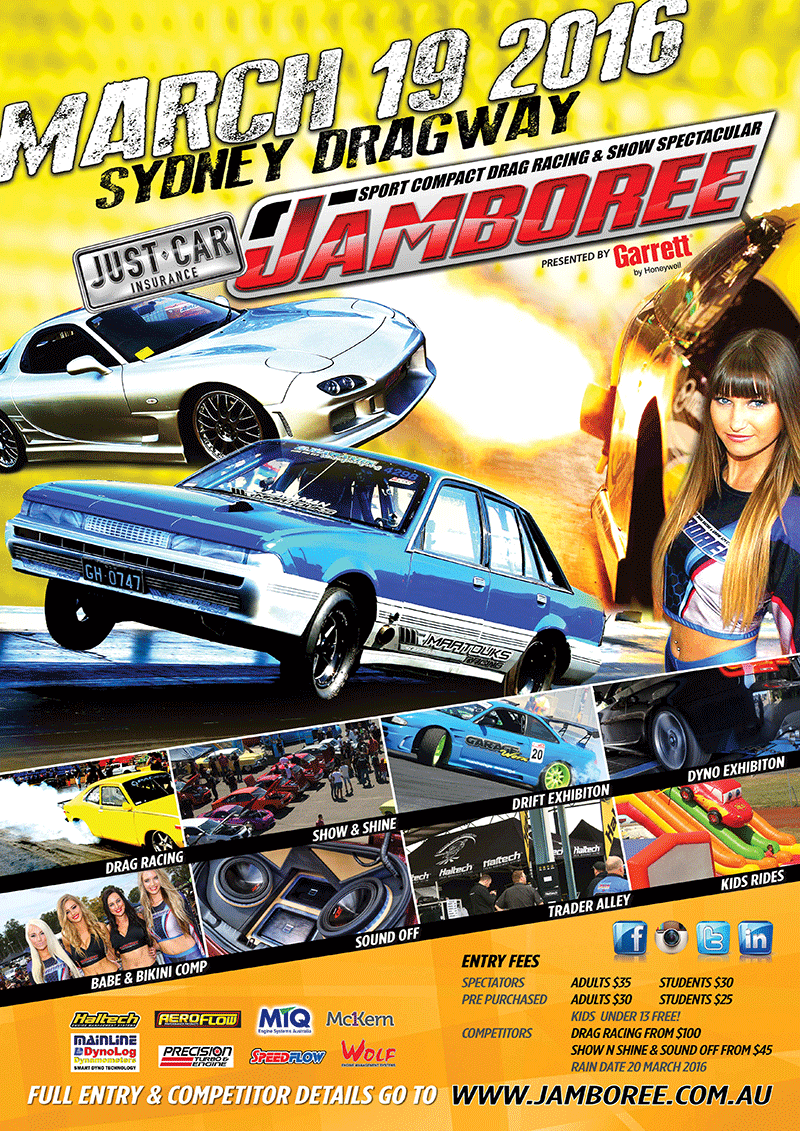 Just Car Insurance National Business Development Manager Simon Jreige is enthusiastic about the relationship and stated the following,
"The team at Just Car Insurance are excited to take on the Naming Rights Partnership of the Jamboree series for 2016. This event not only attracts drag racing fans, it also appeals to people that are into modified and imported cars, which are right in our space. We believe it's important to support and be a part of large events like the Jamboree as it gives entrants and spectators a place to really enjoy the sport and the festival environment it creates.
" Entries are already open for the 13th, Just Car Insurance, Sydney Jamboree scheduled for March 19th at Sydney Dragway, NSW. Come and join us and be a part of Australia's premier Sport Compact drag racing and car culture event. Every part of the event has undergone a facelift to bring you the best possible, action packed Sydney Jamboree. Drag Racing, Show-N-Shine, Show-N-Sell, Dyno & Drift Exhibition, Babe & Bikini Comps, Trader Stalls and more.
We look forward to seeing you at our events in 2016!
******
- Jamboree is the largest Sport Compact/import drag racing series on the planet. It regularly attracts up to 200 race teams and is held at some of Australia's premiere drag racing facilities including Willowbank Raceway, Sydney Dragway and Calder Park Raceway.
- 2016 will see three (3) Jamboree events gracing the calendar with the Melbourne Jamboree becoming a permanent fixture after it's successful debut on Oct 24th, 2015.
- 2016 JUST CAR INSURANCE SYDNEY JAMBOREE - MARCH 19TH
- 2016 JUST CAR INSURANCE BRISBANE JAMBOREE - AUGUST 27TH
- 2016 JUST CAR INSURANCE MELBOURNE JAMBOREE - NOVEMBER 12TH

- In 2015 Jamboree celebrated its 25th anniversary as the largest Sport Compact drag racing event held on the planet.
- Just Car Insurance covers drivers of high performance, modified and imported cars and takes into account their particular needs. What's more they'll cover an unlimited number of legal modifications.
- Just Car Insurance covers for an unlimited amount of street legal mods to your car
- Just Car Insurance provides its customers with a lifetime guarantee on the quality of the workmanship and the materials that they authorise in the repair of your car.
__________________________________________________________