NEWS - ITEM 263
HALTECH ONBOARD FOR JAMBOREE
Date: 1/03/16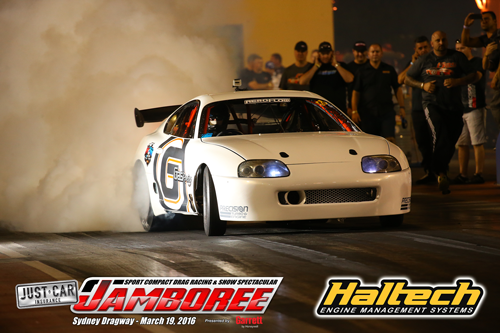 Haltech has been a part of the Australian sport compact drag racing scene for over a decade.
An active supporter of the Sport Compact Jamboree, Haltech has been a class sponsor for a number of years and this year secured the naming rights for the popular Street Compact class.
Haltech is Australia's premier engine management manufacturer, with their ECUs powering some of the fastest vehicles around the globe.
"Drag racing is an integral part of our marketing program," said Haltech CEO, Mark Bevan, "we manufacture products designed specifically for that market, so it's only natural that we support the largest sport compact drag racing series in the country."
Haltech will be displaying their 2016 product range at all three (Sydney, Brisbane and Melbourne) Jamborees so make sure to drop in and check out their latest gear.
For more information go to www.haltech.com