NEWS - ITEM 264
drift DEMOS RETURN TO SYDNEY JAMBOREE
Date: 7/03/16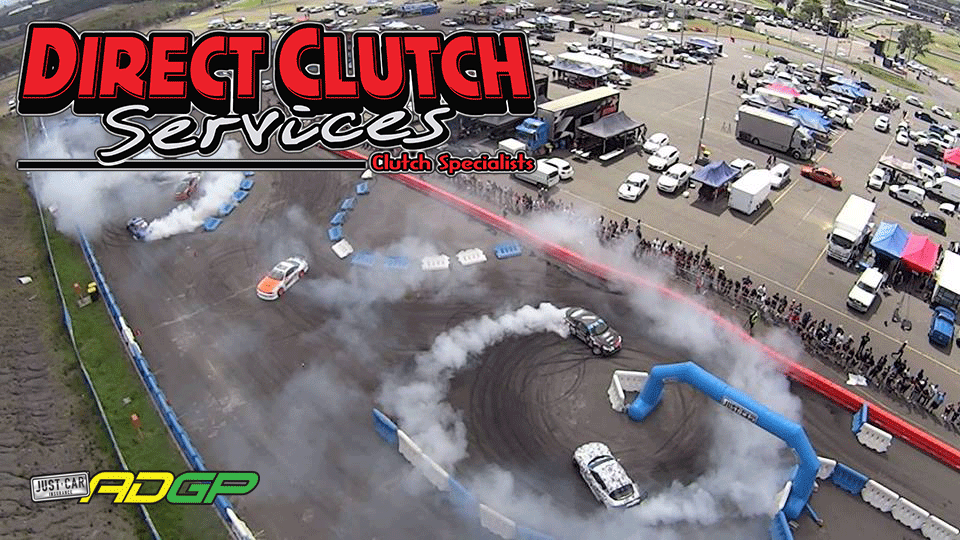 Direct Clutch and ADGP are proudly bringing the best drifters in Oz to Sydney Jambo
The wall-scraping, limiter-bashing action of the Australian Drifting Grand Prix heads to Sydney Dragway on March 19 thanks to Direct Clutch as the Just Car Insurance Sydney Jamboree cranks up the noise and pumps up the crowd.
Australia's top drifters will mix it up with some ultra, high quality, local talent with action kicking off early and not stopping until the last set has been blazed right down to the belts!
Currently second in the ADGP championship, Beau "The Show" Yates is bringing his incredible 2JZ-powered Toyota 86 to the party. Packing 500kW and skill to burn, Beau is looking to give the Jambo crowd an awesome show. But it's not just Beau set to impress! Fernando Wiehrl, Matty Hill and a cast of spectacular sideways steerers are locked in to show the excitable Jamboree crowd what it takes to compete at the highest level in the ADGP.
As a special treat just for Sydney Jamboree spectators, don't miss seeing Matty Hill's amazing 1JZ BMW E46 drift car in action for the first time at the event!
ADGP Championship Manager Brett Wilkinson is clearly pumped to for the event; "The ADGP team is extremely excited to partner with the Just Car Insurance Jamboree series. We can't wait introduce the sport of drifting to a new demographic and we are confident fans will be screaming for more as Australia's best tear it up at all three events this year."

The Direct Clutch Drift Exhibition is one of a huge range of exciting events happening at the Just Car Insurance Sydney Jamboree presented by Garrett Turbochargers, March 19 at Sydney Dragway. Tickets on sale NOW!
******
- Direct Clutch has been operating since 1988 in Brisbane, Queensland and supply clutch kits and clutch parts Australia-wide and internationally. They are manufacturers and distributors of clutch kits for the widest possible range of domestic, commercial and industrial vehicles to Brisbane and the world.
- Direct Clutch have their own well respected DCS range, which include standard OEM clutch kits, heavy duty clutch kits, sprung button, solid button, and cushioned button clutch kits. They are also the innovators of the highly regarded, DCS billet twin plate clutch & fly wheel assembly.
- Jamboree is the largest sport compact/import drag racing series on the planet. It regularly attracts up to 200 race teams and is held at some of Australia's premiere drag racing facilities including Willowbank Raceway, Sydney Dragway and Calder Park Raceway.
- 2016 will see three Jamboree events gracing the calendar with the Melbourne Jamboree becoming a permanent fixture after it's successful debut on Oct 24th, 2015.
- 2016 JUST CAR INSURANCE SYDNEY JAMBOREE - MARCH 19TH
- 2016 JUST CAR INSURANCE BRISBANE JAMBOREE - AUGUST 27TH
- 2016 JUST CAR INSURANCE MELBOURNE JAMBOREE - NOVEMBER 12TH
- The Just Car Insurance Australian Drifting Grand Prix is Australia's premier and national drift series where only the best professional drivers battle it out for the title of Australian Drifting Champion
- First founded in 2011, the ADGP (Australian Drifting Grand Prix) set a new benchmark for drifting and motorsport events in Australia. In 2016 they have embarked on their 5th Australian season and recently expanded the ADGP name internationally with Asian Drifting Grand Prix series kicking off for the first time in Indonesia.
- In 2015 Jamboree celebrated its 25th anniversary as the largest sport compact drag racing event on the planet.
- Just Car Insurance covers drivers of high performance, modified and imported cars and takes into account their particular needs. What's more they'll cover an unlimited number of legal modifications.
- Just Car Insurance provides its customers with a lifetime guarantee on the quality of the workmanship and the materials that they authorise in the repair of your car.
__________________________________________________________