NEWS - ITEM 270
JUST CAR INSURANCE SYDNEY JAMBOREE MEETING REPORT
Date: 1/04/16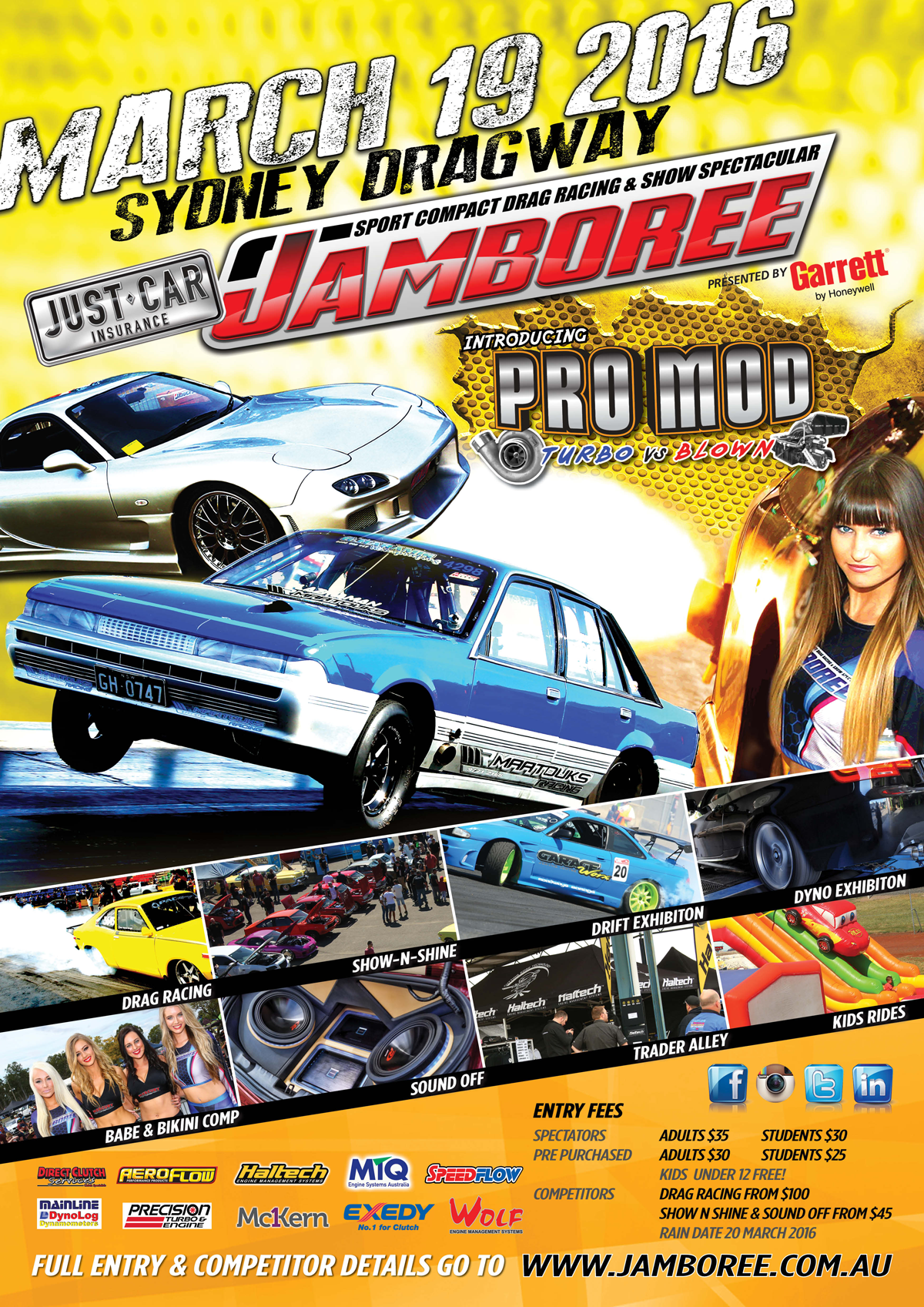 After finishing the year in fine style with the inaugural Melbourne Jamboree at Calder Park, Sydney Dragway again played host to the new Just Car Insurance Jamboree season with beautiful weather, a healthy drag racing entry list and plenty of fans piling into the sprawling facility throughout the day. Presented by Garret Turbochargers, the 2016 Jamboree series of events will feature more of the exciting formula of import car culture, world-class drag racing machinery and off-track festivities that set the standard higher than any other event of its type in the world. And judging by the quality and variety seen in Sydney, Jamboree continues to deal out the surprises. One of the "heavier" surprises was the introduction of a new "J" trophy design for participants to win. CNC machined, the billet aluminium trophies are like no other, and will definitely require some trophy cabinet reinforcement in many households. You'll certainly know you have won something big when you hold these bars of milled alloy! Another surprise was a visit from USA track owner Ozzy Moya, whose Orlando Speedworld facility hosts the Sport Compact Nationals. He was a guest of PAC Performance, and is committed to taking the PAC Mazda 6 to the USA to compete this year! His appearance at the facility reinforced how Sport Compact Drag Racing remains as a truly international and relevant motorsport.

From the sprawling Show n Shine, to the glitzy main stage, the tech-savvy trader alley and the packed pits, fans were treated to 360 degrees of activity. Whilst the drag racing aspect remains a strong drawcard, the Direct Clutch Drift displays always continue to offer up plenty of wild action, and with passenger rides up for grabs, fans were strapped into some of the finest drift weapons around for an experience they'll never forget. And for just buying a Jamboree merchandise item! Just remember that for Brisbane and Melbourne!

Priding itself on hosting some of the world's quickest and fastest import doorslammers, Jamboree 2016 has expanded its reach to include even more of the fast door car breed. The burning issue that has dominated Australia's mainstream drag racing discussion for a few years has been the exclusion of turbocharged cars from its premier Top Doorslammer category, despite an increasing population of the turbo V8 equivalent. And while several established supercharged teams still argue that these cars will dominate if allowed, the majority of fans want more variety than just blower cars. That's where Jamboree stepped in with the new Pro Mod class, and judging by the result, it lived up to all expectations. After an early delay to resolve an issue with the timing computer system, which saw some categories have a test hit by virtue of a flag start until rectified, all was in readiness for the 160-strong entry list to hit the track for a last-ditch qualifier before racing.
PRO MOD: Taylor
Aeroflow Pro Mod saw a 12-car field line up for what was touted as a Blower vs Turbo war. Initially balanced with 6 of each type, a couple of late scratching's from Team Turbo saw 8 blown cars take on 4 turbo cars. Paul Mouhayet has been a vocal proponent for the turbo cars, and his Moit's Mustang is the leading turbo car in Australia. After testing the week before with the original 2-speed auto and peeling out a 5.83/260, Paul changed to a 3-speed in an attempt to keep the blown boys at bay. Joining him was fellow 5-second Sydney racer Steve Petrovski's Camaro, Jeremy Callaghan's 6-second 10.5 Camaro and Australia's fastest LS turbo car, Gerry Sarafoglou's single-turbo Commodore Ute.

The 8-car Black Belt Brigade consisted of Australia's best doorslammer stars. The 5-second cars of Ben Bray, Mark Belleri, Andrew Searle and Rob Taylor joined the 6-second stars Sam Fenech, Jeff Wilson, and 10.5 heroes Michelle Davies and Danny Makdessi. All using the same blown Hemi engines and…….superchargers! With 8 blowers facing 7 turbos, the balance wasn't pitched evenly, but in the heat of battle, it turned out closer than expected! With a one-shot qualifier for every car in every class, anything could…and would…happen.

With every matchup there was drama and occasional carnage. Victorian Rob 'Mad Professor" Taylor nailed his only qualifying shot with a tough 6.042/238 whilst Mouhayet wrestled to a wild 6.41/179. With shake, wheelspin or breakage plaguing the remainder, the next 3 rounds saw both agony and ecstasy with almost each pair. Whilst the 10.5 cars of Callaghan and Davies struggled with the start line in round 1, Bray nailed his first 5.7 pass with a 5.79/251 against a shaking Searle, whose 6.04/260 made him the first blown door car in Australia to run 260mph.Unfortunately Bray found metal in the blower and had to retire for the night. Taylor faced Belleri and reeled off a 6.00/240 while the Monaro shook hard, and Mouhayet then turned out a stonking 5.87/257 against a shaking Wilson. Makdessi in his immaculate VC Valiant took out Sarafoglou with a tough 6.64/213.

Round 2 saw Taylor dismiss Wilson with a 5.94/249 to 6.04/238 come-from behind win, but the action didn't stop there. Wilson's parachutes failed, sending the silver split-window Corvette through both top-end catch nets and beyond. After several minutes of suspense, relief flowed as word came from emergency services that Wilson had been removed from the car unhurt. Racing resumed and Mouhayet faced Searle, escaping with a win after both shook hard, but with Searle red-lighting before that!!! Makdessi soloed with a wild run, as did Petrovski, again making his way through despite overpowering the track with shake issues.
Round 3 had the track cooling quickly, with Makdessi defeating a crossed-up Searle with a 6.57/208, and Petrovski reeling off a 6.172 against a too-loose Mouhayet. This meant that both Makdessi and Petrovski were even on 3 wins apiece. Taylor had a bye and would also score 3 wins, but needed a run quicker than Petrovski's 6.172 to win the event. If he had to abort the run for any reason, any run slower than Makdessi's 6.57 would see him finish 3rd. With a clear track, Taylor swung for the fence and ripped out a new PB with an aggressive 5.86/239. It was a fitting win for Taylor, whose crew chief is none other than long-time Melbourne rotary king and Jamboree heavy hitter, Maztech's Anthony Rodrigues. Brisbane Jamboree now promises to see if Team Turbo can even the score against Team Blower!
FACTORY EXTREME: PORTER
An initial 8-car field for Precision Turbo Factory Extreme was whittled down to 7 when Nathan Hagenson's Toyota didn't front, and Rod Harvey's Yuasa Celica retired after qualifying with a damaged head gasket. Colin Willshire's Jett Racing Eclipse and Jason Both's Rx7 retired after round one. PAC Racing's George Rehayem had the Mazda 6 running a new Quick Drive torque converter, and showed promise with a 6.44/213 in round one. Unfortunately the torque converter was deemed to be too tight, and any further collateral damage was avoided by parking the car after round 1. Making a welcome return to the start line was Gas Racing's Joe Signorelli's repainted Celica, but explosive start line demonstrations of power saw the car have no luck on the day, retiring before round 3. Mohammed Ibrahim's Queen Street Monaro with RB power managed to be the last car to remain alive in a big battle of attrition, with the exception of Scott Porter's VQ35 powered 370Z.

Porter top qualified with a messy 6.86, then defeated Signorelli in round one. From then on it was all solos for Porter, using a round 2 6.37/227 and a 3rd round 6.22/230 to put the result beyond doubt. The 6.22 was the quickest the 370Z has run, almost bettering his original Q35 Infiniti's worlds-best 6.21!

PRO TURBO: SADEK
MTQ Engine Systems Pro Turbo had an exciting 8-car field comprising of piston and rotor engines, radial tyres and flat-six engines! Gina Bullians ran a great 6.91, but retired after an oil line had come loose. As a result, "The Godfather" Sam Sadek top qualified with a one-shot 7.321, and threw out the challenge to the field. Pro Tek's Anthony Maiolo's stout r32 Skyline held 2nd with a 7.95, with the rest of the field experiencing issues on their only qualifying hit.
Round 1 saw an absolute screamer with Sadek defeating Anthony Maatouk on a big holeshot, using a 7.36/185 to down the VLGOD's quicker 7.24/197. Maiolo soloed to a 7.47/189 but then retired the car for the night, whilst Nikki Hepburn's amazing 4.5 litre Toyota 86 radial weapon lost to Elham El Ahmed's amazing 7.29/200, which was a world record for the quickest and fastest Subaru! That was enough for Ahmed and the car, retiring for the night. Alex Cirtoski's Birrong Automotive R32 was also charging strong, defeating Bakkar Arja's unique WRX tube car.

Round 2 saw more attrition, with Arja not making the call. Sadek red lit against Hepburn, whose new PB of 7.60/187 on radials is edging towards the record for six-cylinder radial cars. Cirtoski and Maatouk faced off in an epic all-RB30 battle, with Cirtoski's holeshot and PB 7.22/194 not enough to hold off Maatouk's 6.84/210. Cirtoski's 7.22 is a world record for a rwd Skyline.

Round 3 saw Sadek face Cirtoski in another potential epic matchup, but Cirtoski spun hard early, and Sadek rode the centreline with a tight 7.16/190. Hepburn soloed, but the chutes came out early in the run and she shut off. By virtue of points, Sam Sadek had outlasted the field, and claimed victory whilst Hepburn was awarded the runner-up billet J.
PRO COMPACT: MARATOS
McKern and Associates Pro Compact featured a tough 12-car field, with 10 rotary cars and 2 4-cylinders duking it out. PAC stablemates and Sydney siders Steve Barnett and Andrew Maratos had almost mirror-image performances from their 13b Rx3 coupes, with Barnett qualifying on the top with a 7.20, whilst Maratos' 7.21 was right behind. South Australian Mark Tischendorf 's "El Gringo" series 4 Rx7 was 3rd with a 7.71, whilst Queenslanders Aaron Tremayne and Ben Palmer qualified with a 7.86 and 7.92 respectively.

Round 1 saw Barnett lose on a holeshot to Tischendorf, whose PB 7.57/180 kept out the Rx3's faster 7.47/190. Barnett returned in round 2 to run a great 7.12/189 solo, whilst Maratos soloed to a nearly identical 7.13/189. Tischendorf lost rounds 2 and 3 to end his run, Jurgin Piscopo's neat 13B Datsun 1200 coupe claimed a win in round 2 whilst Alex Hayward won 2 races from 3, didn't have a quick enough ET to qualify for final determination. Kelly Bettes in the Lucky Bling Datsun 1200 also won 2 from 3, but fellow 4-banger racer Michael Baghdadi's SR20 powered 200sx put earlier gremlins behind him, winning 3 from 3, including a round 2 7.04/192 against Simon Ioannou's RX8. With Maratos and Baghdadi locked on 3 wins apiece, their round 3 ET's determined the final positions, with Maratos' round 3 7.153 edging Baghdadi's 7.157!
PRO 289: CANNISTRA
Speedflow Pro 289 took the top 8 qualified Street 289 cars and raced them on a pro tree. Po Tung put the GAS Supra on pole with a 7.23, with Frank "Mr Heli" Cannistra 2nd on a PB of 7.64. Chris Fakinos' new Rx3 was 3rd with an 8.47 and Paul Testa's "Mr 2600: Galant 4th with an 8.65.

Round 1 saw Tung boil the tyres on the hit against Fakinos, Cannistra nailing Testa to the tree, a Grant Henderson solo and NZ ace Brent Curran steer the RP Customs Rx3 to a win over Nour Jammas' Datsun. Po recovered to snare wins in rounds 2 and 3, whilst Cannistra consistently holeshot his prey, with Perera and Curran his victims. Based on 3 wins from 3, Cannistra claimed victory, whilst Tung claimed runner-up with 2 wins from 3 and a 7.43 run in round 3.
STREET 289: CLARK
Whilst the quickest 8 28x9 cars went heads-up Chicago Shootout in Pro 289, Speedflow Street 289 went dial-your-own elimination, and the racecraft in this class was some of the best. Rodney Spannenberg's Rx7 nailed pole with a 9.21, and soloed for round 1 of eliminations in the uneven field. He tried out his 9.21 dial with a 9.20 pass, and then nominated 9.20 for round 2. 5th Qualifier Ben Clark's VL Commodore had issues in round 1, but used a .067 light in round 2 to take out Dominic Perri in round 2. Spannenberg overcame a holeshot from Jay Sadek in round 2 by running closer to his dial-in with a 9.22 on a 9.20. Clark soloed in round 3 with a .040 light and 10.85 on a 10.30, whilst Spannenberg fought off Michael Battaglia's .013 light and 10.65 on a 9.58 with the LIGHT OF THE NIGHT .001 and 9.43 pass on a 9.20. The final had the VL out by 1.11 seconds head start on the tree with a 10.30, and Clark's better .040 to .091 light kept Spannenberg at bay for the contest, using his 10.41 on a 10.30 dial to fend off the Rx7's 9.28 on a 9.21. Clark had previously tasted Jamboree victory, and now has the new billet J trophy to put next to his other.
MODIFIED COMPACT: RUGGIER
WOLF EMS Modified Compact had a big 26-car field, with many varied combinations. Robert Marjan's tough street R32 GTR top qualified with an 8.71, but didn't return when racing commenced. The "Rotorgeek", Daniel Ruggier carved a swathe through the field to end up in the final and soloed to an easy win. The 13b auto coupe was on song all day, wheelstanding out of the hole and running good numbers. Pen Pascuzzo's tough VL Commodore found some performance with an 8.27 win over a breaking out David Richardson, soloed the next round and then found some luck when Sasha Tesic had issues. However Pascuzzo's luck ran out in the final with big issues, allowing Ruggier to pick up another J trophy, but this time in solid aluminium!
MODIFIED 10.5: HARAMIS
Garrett Turbo Modified 10.5 was a 10-car affair with George Haramis top qualifying with a first-up 7.63. Runs as quick as 7.60 and 7.65 during racing were enough to put Haramis in front of the field. Phil Penny's amazing 2JZ powered Honda 600 also fared well in the high-horsepower field, edging past tuner Justin Gregory's great 7.80/178 with a holeshot 8.31/180 in round 1. The Honda then had solos awarded due to a high attrition rate, and 3 wins from 3 had him equal to Haramis, whose 3rd round 7.60 was enough to edge Penny for the big trophy. It was a category with plenty of PB's, including Gregory's twin 7.80's,Danny Landsdowne's Spot On VL wagon running 8.08 and Bozin Georgevski's "KNG03T" VL belting out 7.57 later in proceedings.
EXTREME: COLES
Mainline Dyno Extreme seems to be a V8 domain in Sydney, with Victorian Andrew Darby reeling off an 8.06 from his 355TT VK wagon. Andrew Coles towed his Spot On Performance LSX Turbo VL from Queensland, and joined Joe Sorbello's LS powered Skyline, Albert Martin's TTSBC Rx3, Joseph DiGiorgio's tube frame efi Camaro, Clinton Bloodsworths nitrous efi VP commodore and Perry Bullivant's TTSBC Snickers Camaro in an elimination showdown. Darby didn't front for round one, Coles claimed victory when Sorbello ran under his dial-in and Bloodsworth took care of Martin. DiGiorgio claimed a poor-reacting Bullivant, who reeled off an amazing 7.14/212.04 pass to be the second fastest radial car in the world on a 275 tyre. Bullivant returned on a grudge run in an attempt to break the mark, set at 212.06, but could not break the mark. Coles soloed whilst Bloodsworth edged a slow reacting DiGiorgio. The final run saw Bloodsworth cut a poor .516 light to Coles' .248, running a breaking-out 9.61 on a 9.62 dial in to rub salt into the wounds whilst Coles ran nearly "Spot On" with a 9.31 on a 9.30 dial.

ALL MOTOR: FORST
With a 20-car field in attendance, Torque Calibration Services All Motor shows no sign of shrinking, with N/A performances stepping up with every event. Australia's quickest N/A 4 cylinder, the amazing Scion of Victorian Peter Moraitopoulos reeled of a 9.57 for pole and also ran 9.76 and 9.57 whilst Charlie Costanzo's wild 13bpp Datsun 1200 coupe rattled off a 9.65 and 9.53. Matthew Rice also took his 13bpp r100 into the nines with runs of 9.79 and 9.86. In fact there were more nine second passes than ever before! The field of Hondas, Mazdas, Volkswagens, a Mitsubishi and a couple of fords were soon ready for eliminations.

Rice and Costanzo red lit their chances of any more runs in round 1, with Moraitopoulos lasting an additional round, going down to James Forst's VW Beetle. Forst then took out Micheal Forward's 13b Galant with a better reaction time, then soloed into the final. Tim James took his Falcon 6-powered XF panelvan through the field, and scheduled to meet Forst. However James could not front when the final round was called, handing the solo win to Forst.

STREET COMPACT: TSIKIS
Haltech Street Compact always fields a large number of entries, and whist 22 cars was considered to be on the light side, there was nothing lightweight about the field. Ben Creswick put his Toyota on pole with an 11.11, but lost to Marcos Bahgdatis' Mazda in round 2. Bahgdatis was then taken out by Dimitrios Tsikis' Supra in the semis, and then met Shane DeSmet's Mazda in the final. DeSmet soloed in round 1, but then met Mark Costanzo in round 2, lucky to survive after a slow leave and troubled opponent. He then faced Ahmed Kaddour's Mazda who broke out with a 10.00 on an 11.00 dial in! Facing Tsikis in the final, DeSmet was slow off the line in pursuit, and breaking out himself with an 11.27 on an 11.30 dial-in to a safe 13.09 on a 13.00 dial-in.
LIGHT OF THE NIGHT: Rodney Spannenberg .001
SMOKEN: Andrew Coles
CREW STYLE: Alan Dodd/MRRX2
SKYS THE LIMIT: Majed Haddad