NEWS - ITEM 49
TCR STEPS UP THE PACE FOR 2009
Date: 19/12/08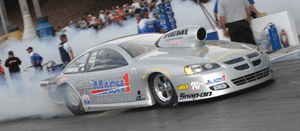 Belmore, Sydney based TCR Automotive Centre, have been involved in the Sport Compact scene for many years and today revealed the latest addition to the TCR Racing stable.

The team of George & Dib Taouil have just taken delivery of a 2008 Dodge Stratus R/T Pro Stock car, previously owned Erica Enders. The Jerry Haas built Dodge Stratus R/T has only 25 passes on the board and in Pro Stock trim ran a best of 6.60 @ 209mph.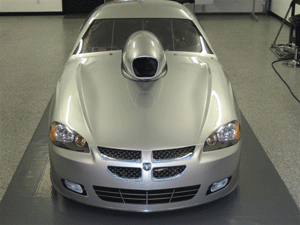 The car was purchase as a rolling chassis and will be fitted with a Mazsport / X-treme Rotaries Mazda 20B engine combination. Putting the 20B power to the ground will be done via an East West Triple Plate, a Liberty Extreme 5 Speed Transmission and Jerry Haas race spec custom titanium differential. Lamb adjustable front struts and Penske electronically adjustable rear shocks look after the suspension while a Racepak Data acquisition system will monitor the Dodges vitals.

The Mazsport / X-Treme Rotaries Mazda 20B engine, will run the Microtech LT16 Engine Management System and 2 M&W Pro Drag 6 ignition systems. The Dodge Stratus R/T will join the Sport Compact Groups McKern & Assoc Pro Turbo ranks in 2009 and the Team has their sights set on being Australia's quickest then followed by the worlds quickest rotary. Looks like the Pac boys have some competition coming their way.

To achieve this goal TCR Racing has initiated the support of Mazsport's Bill Nabhan, X-Treme Rotaries Rowin Ambrose, Pro Stock driver John Andriopoulos and Craig Burns of Street Car Fabrications. The Team plans to be out testing in early 2009 but will not attend any official race events until they believe that the vehicle is at its full potential. Stay tuned for more update in the coming months.
______________________________________________

MERRY XMAS TO ALL
The Sport Compact Group would like to take this opportunity to thank everyone for their valued support in 2008, and wish you all a Merry Christmas and a Happy New Year. It's the time of year to spend time with family, friends and be merry.

It's also the time when the roads out there are very busy, so please be careful. A few valuable slogans come to mind, Arrive Alive - Survive the Drive - Don't Drink and Drive and we look forward to seeing you in 2009.

______________________________________________
CASTROL EDGE JAMBOREE HITS
TV THIS SUNDAY DECEMBER 21
Hot on its heels of last weeks Mackenzie's Motor trimming Compak Attak comes the Castrol EDGE Jamboree, Grand Final of the 2008 Toyo Tires Sport Compact Group Drag Racing Series screening on SBS SpeedWeek, this Sunday, December 21st.


The 2008 Castrol EDGE Jamboree show cased the biggest ever fields in McKern & Assoc Pro Turbo and Pro Compact with a quality support field making up the 260 plus entrant list. This being the Grand Final, in the Four Round, Toyo Tires Sport Compact Series, the Champions in the eleven classes were crowned. Add to that the off track entertainment of the Show-N-Shine, Car Audio Displays, Performance Trade Stalls and the Babe & Bikini Comps, the Castrol EDGE Jamboree had something for everyone.

The 1-hours highlights show will also air on Fox Sport on January 7. As always check you local TV guide for start times in your state.
______________________________________________