NEWS - ITEM 106
LIND TURNS OUTLAW
Date: 13/7/10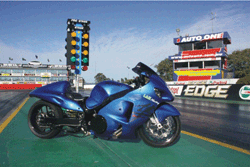 Rowan Lind has become the newest rider to enter the ranks of Sport Compact Group's Outlaw Sports Bike class.
After racing in Street Bike classes over the past few years, Lind will make the step up to Outlaw Sports Bike at the Jamboree in August.
Lind recently returned from a drag racing exploration trip to the US where he purchased his new bike.
"I'm really pumped about running in the Outlaw class" said Lind. "It's a tough class but I feel my new bike will be very competitive once setup."
The Stedman Performance built turbo Hayabusa was recently campaigned in AMA Dragbike and MIRock series in the Real Street classes. Lind's Hayabusa is fitted with a RCC TO4 turbo kit and plenty of go fast bits that will see Lind take it to the current Outlaw racers.
"I've only had a few passes since the bike landed and the potential of the bike is fantastic. Once I've had a bit more track time and get the setup right, I'm expecting very low eight second passes or better."
During licensing passes, Lind piloted the bike to high eight second passes at over 165mph. Lind went on to thank Alex Buxton and Sam Taylor from LAE Racing for their help with tuning and setup of the bike after it arrived from the USA.
__________________________________________________________