NEWS - ITEM 119
JAMBOREE STREAMS LIVE THIS WEEKEND
Date: 19/8/10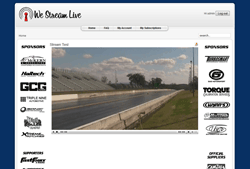 Gather round Australia, this weekend we defend our honour against the invading hordes from Puerto Rico; as well as from our more traditional rivals – the Kiwis!
For the first time ever, Jamboree will be streamed live on the Internet where Drag Racing fans from 38 different countries can log in to watch live racing action on both days. A state of the art fibre optic streaming system, comprising four separate cameras along the Quarter Mile, will treat viewers to an unprecedented display of action across the weekend as the Aussie's take on the worlds' fastest Sport Compact Race Teams from Puerto Rico and New Zealand.
We scoured the globe to find the fastest Sport Compact cars and we've flown them in to challenge the very best that Australia can muster to defend our honor. And what better way to celebrate this landmark 20th year of Jamboree, than to share the fun with hundreds of thousands of Sport Compact fans all over the country; and from all around the world.
There will be a 150km exclusion zone for the South East Queensland pocket, if you live within this zone, your only opportunity to catch the action is to attend Jamboree and soak up the atmosphere in person.
Over two big days, a high-octane weekend of Sport Compact Drag Racing has been planned, with a stack of Off-Track activity as well including a Show N Shine, Club Displays, Babes on Stage, Dance Shows, Car Audio Sound Off and Displays, Trader Displays and of course, plenty of drag racing.
Sport Compact Group and Jamboree Managing Director Ray Box said the Jamboree was set to have something for everyone with an action-packed schedule from start to finish. "Each year this event just gets bigger and better and we now have to cap entries so we can accommodate everyone over the weekend. Our visiting international teams represent the absolute best cars and teams in the world today and will be here to test the metal of the best Australian Cars, with over 250 of them arriving from every State and Territory.
"The Jamboree is the epicenter of Custom Car Culture in Australia, the 'must attend' event each year for Australia's wildest and most expensive rides. With more than 120 Custom Cars set to feature across the weekend, including Queen Street's 24 karat Gold Plated BMW M3 which is worth a cool million bucks, there won't be a dull moment.
"Our Bikini Competitions are infamous and attract thousands of fans each year, there's also a Babe Competition, Motorcycle Stunt Riders in a specially built Arena, Audio Sound-Offs, Trade Displays, the Wynn's Technology Centre, Hydraulic Race Simulators and so much more. And of course there will be plenty of racing from 10 categories including 999 Automotive Street Compact, Torque Calibration Services All Motor, Gas Motorsport Street 289, Haltech Modified Compact, Sonic Extreme, GCG Modified 10.5, Turbosmart Pro Compact, McKern and Associates Pro Turbo, Players Racing Sports Bike and Rapid Magazine Outlaw Sport Bike"
Saturday will see qualifying from 9.30am to 6.30pm, before racing takes place on Sunday from 9.30am to 5.00pm. Please see below for a full event schedule. Visit the www.westreamlive.com.au website, where you can pre-register and access live streaming for just $5 a day, that's incredible value!
A full Racing Schedule is available from the website so you will know approximate times of each Race Bracket, please remember that this is live Racing action so accidents may cause minor delays to the programmed schedule on each day.
For more information on Willowbank Raceway or the Jamboree please visit www.sportcompact.net.au
__________________________________________________________