NEWS - ITEM 123
JAMBOREE HITS ONE HD THIS SATURDAY
Date: 24/11/10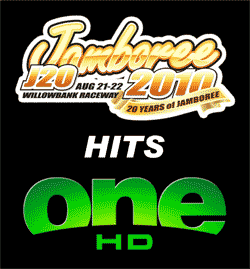 The 2010 Jamboree gets the full HIGH DEFINITION treatment when it hits ONE HD this Saturday, November 27th from 8.30pm in QLD, 9.30pm in NSW/VIC, 9.00pm in SA, 6.00pm in WA. (check your local guides)
from Australia's Premier Sport Compact Event, the Jamboree. This year we celebrate 20 years of the Jamboree from Willowbank Raceway in QLD. With some spectacular Queensland weather, roughly 360 competitors and thousands of fans, there was plenty of action both on and off the race track.
Rod Harvey in his Rayglass Boats Toyota Celica became the quickest & fastest sport compact car in Australasia in a dominating display at J20. Rob Campisi also impressed and brought the crowd to its feet as the time boards displayed a mind boggling 6.212 @ 237mph pass, making him the quickest & fastest turbocharged car in the country. Craig Dyson in the Graham Prior owned Pro Compact Mazda RX2 debuted at J20 and took out the final in the vehicles 1st competition event.
All this and more is heading your way this Saturday, November 27th from 8.30pm. (check your local guides)
The event DVD is nearing completion and will be close to 3 hours in length and will be available in the next couple of weeks. Stay tuned.
__________________________________________________________