NEWS - ITEM 126
SYDNEY JAMBOREE LAUNCHES
Date: 12/02/11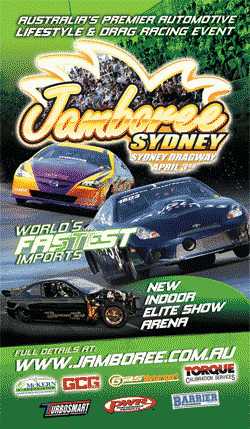 A New Year and a New Name. 2011 see's the Sydney Compak Attak event joining the iconic Jamboree brand and becoming the Sydney Jamboree.
This year we celebrate 21 consecutive and and successful years with the largest events of their type in Australia. The Sydney Jamboree is not just a drag racing event. It's an Automotive Lifestyle event.
Stages over an epic day/night here at Sydney Dragway. Alongside 10 Sport Compact & Sports Bike categories of racing scheduled for the weekend, there will be a huge Show-N-Shine static display, the essential Dyno Comp, Audio Sound Off Comp, Club & Trader displays, as well as sizzling Dance Shows, Babe 'n' Bikini Comps and the most extreme Stunt & Freestyle Demonstrations ever staged for Australian audiences. And that's just where the fun begins…
Spectator pricing Info
Pre-purchased
Adults - $25
12 - 16 years - $15
Kids under 12 FREE
On Day Purchase
Adults - $30
12 - 16 years - $20
Kids under 12 FREE
More info? Click HERE
Competitors
This is a Pre-entry event only. Entry price is date effective, the earlier you enter the cheaper it is.
Drag Racing
Show-N-Shine
Dyno Comp
Sound Off dB Drags
Club Displays
For pricing details click HERE
__________________________________________________________