NEWS - ITEM 128
TURBOSMARTS NEW HYPER-GATE45
Date: 11/02/11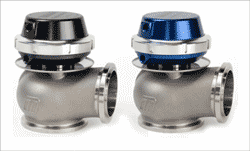 Completely redesigned for 2011, the new Hyper-Gate45 is a 45mm external wastegate designed with minimum size and maximum flow in mind. Smaller and lighter than the previous model, the new Hyper-Gate45 features a unique locking collar design. Tested and proven under the most demanding racing conditions, the new Turbosmart Hyper-Gate45 provides an excellent way of reliably controlling boost in a wide range of applications.

Features:
• 45mm high temperature stainless steel valve
• Lighter and smaller than old Hyper-Gate45: New weight: 1.77 lbs, height: 4.01". Old weight: 2.34 lbs, height: 4.49"
• Collar locking design for reduced size and quicker spring changes
• Fitted with 7 PSI Middle spring standard
• Suits welding to 1.75" O.D. pipe
• Choice of Blue or Black colors
• Is compatible with other popular 44mm inlet and outlet weld flanges
• Supplied with Inlet and outlet weld flanges and V-Band clamps, valve seat, 2 X 1/16 NPT pressure nipples, 2 X 1/16 NPT Blanks, Collar removal tool
Application:
Suitable for medium-large capacity engines with medium frame turbochargers systems. Street and racing applications. Suits 1.75" outside diameter pipe. Fits all popular 44mm flanges.
Part Number (Blue): TS-0506-1001
Part Number (Black): TS-0506-1002
For pricing contact your local Turbosmart Dealer.
__________________________________________________________