NEWS - ITEM 135
SYDNEY JAMBOREE MEETING REPORT
Date: 28/04/11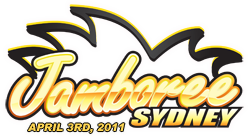 Perfect sunny Sydney skies greeted the more than 150 race teams, all of them ready to put on the biggest Sport Compact drag racing show in the track's six-year history. The track had been prepped to national event level by the Sydney Dragway staff and as the crowd of several thousand filed through the gates, the first burnout was already being performed.
Ten classes in all representing the best high-tech, turbocharged cars and bikes Australia has to offer were showcased with full fields in all classes. The Turbosmart Street Compact category is always very well subscribed and it wasn't long before the likely contenders started making their presence known in their radial-tyred and street registered drag weapons.
From the outset there were several names to look out for. Kade Young is always hard to beat in his turbocharged 1JZ Cressida but after making it through to round three fell short to The Skyline of Mark Sneesby. Similarly, Street 289 racer Rodney Spannenberg bettered the awesome 120Y of Michael Ramsay. Spannenberg, who was racing his tow car instead of his normal RX7, would eventually go on to win the over Luke Streatfield's Commodore.
Eight Sports Bikes and four Outlaw Sports Bikes represented the two-wheeled high-tech horsepower freaks presented by Rapid Bikes Magazine and they put on a spectacular show courtesy of some close racing and the incredible antics that only a street tyre and a turbocharged Suzuki can illicit. Leonard Azzopardi was again the star of the show with a number of epic 7sec rides and a best in racing of a 7.66 @ 193.32mph. Russ Thomas saved his best racing till last however, taking the win ahead of a red-lighting Azzopardi. Dean Dawes looked the one to beat in Sports Bike but after running a string of low 12's in racing he revised his dial-in from an 11.99 to a 12.10 and ended up running his first 11.9 of the day, handing the win to the 10sec machine of Edgell Mallis.
The final of Torque Calibration Services All Motor was one for the books with the VW Beetle of Ben Robinson lining up against the RX7 of Dragan Popovic. In the end it was the better reaction time of Robinson that forced Popovic to drive his naturally aspirated Mazda out the back door, breaking out and handing the win to the Beetle.
As with Jamboree 20 in 2010, the Sydney Jamboree split Gas Motorsport Street 289 into two classes come eliminations. The quick eight-formed Gas Motorsport Pro 289 – a heads-up class where first to the end wins and a dial-your-own category for everyone else. The Gas Motorsport Pro 289 class was run using a Chicago Shootout format to keep these incredible small-tyre cars in front of the crowd.
While this is a class traditionally dominated by rotaries, the car everyone was talking about was the wild Toyota Supra of one-time McKern & Assoc Pro Turbo racer, Po Tung. While his awesome RX7 has now found a new home, Po is never far from Sport Compact drag racing and now finds himself piloting the Gas Motorsport 2JZ-powered 289 Supra. With a number of low 8's under his belt, Po brought out the big guns in racing and posted not one but two 7.9sec passes with a best of 7.93 @ 177mph. After just one meeting, Po's new ride is already one of the quickest 289 cars in the country!
The Gas Motorsport Pro 289 final was an all-rotor affair though with old foes Damien McKern and Frank Cannistra facing off at the tree. While McKern was off his usual game, Cannistra was unstoppable all throughout racing as well as in the final running an awesome 8.21 @ 165mph – enough to stop the 20B RX2 in its tracks.
Gas Motorsport Street 289 was a hard-fought battle too with Kirk Grundy the pick of the bunch all through eliminations. His little Mazda 1000 ute was doing the damage and picking off opponents but again it was another piston-powered car mixing things up. Paul Testa who normally campaigns the MR2600 Galant had accepted driving duties for a friend's newly completed Sigma GSR. With a transbraked auto and a big turbo'd Astron donk, Paul couldn't be headed and took the final with a 9.5sec ET.
The piston versus rotor battle was hotting up in Haltech Modified Compact too with the 2JZ Datsun 1200 coupe of Scott Cousins taking on all comers and running a string of high sevens along the way. He would eventually face off against Scott Hook and while neither racer was at their best, Cousins did enough on the back of his aborted 9.1 pass to take the win.
Anyone that's been to Jamboree knows that it's not all about small engines. High-tech V8's get a look-in every now and then too in the 6Boost.com Extreme class and for fans of turbocharged muscle cars, this was one show to go down in history. Profab's Joe Gauci had the twin-turbo Windsor powered Cortina set to kill and while he came into the Jamboree with a PB of 7.45sec this was never going to stand for very long. On his way to the final, Joe ran 7.44 and 7.41 with the best coming in the final of the 6Boost.com Extreme class – a breaking out 7.37 on a 7.38 dial-in. Even more amazing was the terminal speed of 199.11mph! The EFI BBC Torana of Pete Papas would eventually take home the silverware on the back of a string of back-to-back 7.7's and 7.8's.
Jason Both's incredible 20B powered RX3 did enough to secure victory in the GCG Turbochargers Modified 10.5 category – his 8.0 in the final round of eliminations enough to defeat Daniel Soldatic's 13BT R100. Judging by the performances of racers in this tyre-limited category, GCG Turbochargers Modified 10.5 has a big future.
PWR Pro Compact and McKern & Assoc Pro Turbo put on a show that was worth the price of admission alone. The previous Friday night's testing had everyone talking about whether we'd see everyone's favourite madman, Sam Sadek run his first 6sec pass in his incredible 20BT RX3. With a 7.0 already on board and a bit left in the tank, all eyes were on the wild coupe.
Elsewhere in PWR Pro Compact, another pair of Pac Performance rotaries were carving up the timesheets and the competition. Jamil Jaafer made his return to racing behind the wheel of his stunningly prepared RX3 coupe and it was clearly a day the team could chalk up as a success. 7.6 after 7.6 was reeled off like clockwork with Jamil doing everything required of him to make the final against an equally on fire Jim Magliveras. The final came down to this pair with Jaafer taking the win with; you guessed it, another 7.6sec pass.
The action in McKern & Assoc Pro turbo kicked off early in qualifying where unusually, the big numbers came up from the first round! Joe Signorelli busted out a 6.48 on his first qualifier that had everyone on the edge of their seats. Kiwi Rod Harvey went one better and reeled off a 6.46sec pass and was quickly followed by George Rehayem's 6.63. Three of the quickest Sport Compact passes in history and it was only round one!
There was drama in the second round too with a loose fitting on the Pac Mazda 6 causing a methanol fire on the start line that was quickly and spectacularly extinguished by Gas Motorsport Pro 289 showman Po Tung. His quick thinking on the start line undoubtedly saved lengthy delays and allowed Pac to continue racing for the remainder of the event. It was a good thing for the team too and proved vital in their shot at the win.
Round one eliminations in McKern & Assoc Pro Turbo saw Signorelli and Harvey both on solos with only the former laying down the law – Signorelli's 6.55 @ 216mph was the low ET of the round. Rehayem aborted his first round and was defeated by Ibrahim who would go on to have a wild ride ending in a heavy meeting with the wall that saw the front end of his stunning black BMW damaged.
Round two matched up Harvey and Rehayem with the Aussie taking the win on the back of a super-quick 6.65 @ 207mph. Signorelli's solo gave him two wins while Harvey and Rehayem had only one each – a fact that would prove important come the third and final round. With the track cooling and conditions beginning to become less than favourable, track officials and event organisers took the decision to run the third and final round of the racing format as planned but have it determine the winner of McKern & Assoc Pro turbo. Were two or more drivers to finish on equal points, the driver with the low ET from that round of racing would be declared the winner.
Rehayem took advantage of a solo and the guaranteed win points, but because it was the final race of the day knew that he couldn't take it easy. With a failing top gear, George drove the Mazda 6 to a 6.729sec pass. The crowd looked on in anticipation at what was unfolding. With Rehayem and Signorelli now on two wins each, Harvey would have to not only win the next race but go quicker than Rehayem's 6.729 to take the even win. For Signorelli to take the win he would have to beat Harvey giving him 3 wins and the title. In what must be one of the closest finishes in Jamboree history, Harvey did indeed take the win but to everyone's amazement, ran a 6.730sec ET – just .001 slower than Rehayem and only good enough for the runner-up position.
Next event on the Sport Compact calendar is the Brisbane Jamboree, August 27/28 at Willowbank Raceway QLD. Checkout www.jamboree.com.au for details soon.
__________________________________________________________