NEWS - ITEM 147
MAZFIX CRACK THE 6SEC ZONE
Date: 30/07/11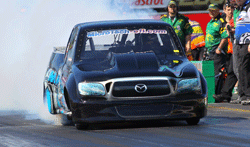 Recently the Mazfix Racing Team smashed back into the 6 second bracket at the Official warm up event for the 2011 Castrol Edge Winter Nationals.
The Mazfix BT-50 Ute amazed everyone with the aggression it showed off the line blasting its way to 160mph at the half track, before rocketing through for a 6.932 @ a cool 198mph showing the massive potential this ute is packing. Check out the video on MazfixTV below.
Team Principle Archie Kajewski, is looking forward to running the ute, along with other Mazfix customer cars at the
upcoming Sport Compact Jamboree, at Willowbank Raceway come August 27/28. Archie would like to pass on a massive thanks to the entire crew, East Coast Lubes, PWR, Mobil 1 for all their time and effort that has gone into making this possible.
__________________________________________________________