NEWS - ITEM 148
PRO 289 IS GO WITH SONIC PERFORMANCE
Date: 30/07/11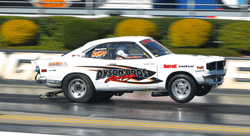 Pro 289 is GO with the support of Sonic Performance by MTQ at the 2011 Brisbane Jamboree.
The quickest 8, Street 289 competitors will again have the opportunity to race headups, Pro Tree in a Chicago Shootout battle.
"We are proud to supporting the Pro 289 Bracket at the 2011 Brisbane Jamboree" said Wayne Flaherty of Sonic Performance by MTQ.
Sonic Performance has a superior range of performance turbochargers and accessories on offer for you. Sonic products are carefully selected from a variety of local and global suppliers that have a proven track record for quality and performance so that you can be assured your purchase has been vigorously tested.
Sonic Performance parts include Turbos, Accessories, Blow Off Valves, Boost Controllers, Wastegates, Cooling systems, Exhaust, Filtration, Hoses and much more. Sonic Performance by MTQ Engine Systems has 12 branches Australia-wide with highly trained staff to assist you with your queries. Sonic products are the best of the best, from the best!
To be eligible for Pro 289, all vehicles must meet the minimum weights for the engine combination used. With the Chicago Shootout you'll see the quickest 289 cars in the country fighting it out over 3 rounds with the 2 competitors with the most wins in the final.
Sonic Performance Pro 289, bring it on!
__________________________________________________________