NEWS - ITEM 153
SPEEDFLOW THE OFFICIAL HOSE & FITTING OF J21
Date: 15/08/11

We welcome Speedflow Products, the manufacturer of Australian Made Performance Hose Fittings, as the Official Hose & Fitting supplier of the 2011 Brisbane Jamboree.
Speedflow has manufactured and supplied innovative and quality aerospace style fittings to the motorsport market in Australia and around the World for more than 25 years.
Speedflow produce innovative, high quality products that are unique due to the one piece formed bends with a smooth radial flow that are stronger and more compact than any other on the market today! These robust full flow fittings are not made the conventional way by brazing but are bent in specialised equipment to produce a compact solid one piece bend, which are as low and strong as a forged fitting but with the advantage of a swept full flow bend.
All other components are made from high quality 6061 billet material, they use no castings or forging which means there are no hidden flaws and an appealing billet finish is achieved with superior physical shape.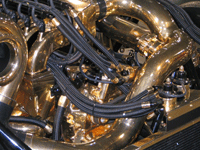 All aspects of manufacturing, from machining, polishing, anodising to packaging are done from their Taree, NSW factory to provide absolute control of every product through every process.
Speedflow has certainly delivered on their original goal to produce and supply the best quality products to the Australian market. With their on-going research and development in the demanding high pressure motorsport environment and their continual growth of new products, Speedflow will continue to manufacture, supply and support the performance industry well into the future!
Dealers are located through Australia, New Zealand, the UK, France, Italy, and the United Arab Emirates. Check out the Speedflow website for a complete list.
Speedflow's interactive 2011 Product Catalogue is also available online at www.speedflow.com.au or call 1800 242 918 or email products@speedflow.com.au so they can send you your very own free copy!
DON'T GAMBLE WITH CHEAP IMITATIONS... INSIST ON SPEEDFLOW, AUSTRALIAN MADE SINCE 1983.

__________________________________________________________