NEWS - ITEM 160
JAMBOREE 2.0 LAUNCHES WITH ENTRIES RE-OPEN
Date: 3/09/11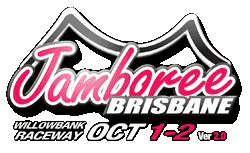 With the disappointment of the August 27/28 event postponement behind us, Brisbane Jamboree Ver 2.0 is born.
With that, entries for the October 1 & 2 event have re-opened for the drag racing, show-n-shine, club displays and the dyno comp.
We've had quite a few enquiries from people who couldn't make the postponed date or whose vehicles weren't ready in time.
So, if you'd like to join us on Oct 1 & 2 and be a part of Australia's Largest Hi-Tech Drag Racing and Show Spectacular click on the link below. For pricing information click HERE and we hope to see you there on Oct 1 & 2.

__________________________________________________________