NEWS - ITEM 162
PRO STREET SHOOTOUT HITS WILLOWBANK RACEWAY
Date: 15/09/11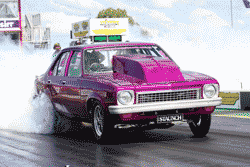 The Pro Street drag racing world will be focused on Willowbank Raceway, when the Pro Street Shootout Grand Finals hit Queensland's premier drag strip on Saturday September 17.
Over 130 Pro Street Stars and their Race Cars will take to the track for the APSA Pro Street Shootout Grand Finals on Saturday, with racing from the Pro Street Blown and Unblown, Modified Street Blown and Unblown, True Street Blown and Unblown, Outlaw 10.5, Outlaw Radial and Dial Your Own categories.
APSA co-owner and racer Johnny Wilson said fans would not be disappointed by the quarter-mile show expected from the turbo, supercharged and nitrous racers.
"Pro Street drag racing is all about street car enthusiasts and car lovers alike, having the chance to watch some of Australia's fastest Pro Street cars battle it out furiously for prize money and bragging rights," said Wilson.
"This is our Grand Finals event and the race is on to take out the championship in all categories"
While Domenic Luppino in Pro Street Blown and Matt Marsh in Pro Street Unblown are set to take the points series wins; in Modified Street Blown it's a different story with 3 racers, Joe Gauci, Simon Kryger and Harold Joss all in a fight to the wire. Danny Sharban leads Modified Street Unblown but needs to keep an eye on Greg Trapnell and Mick Brody who are both within striking distance. In True Street it will be a tough race between Andrew Searle and Janelle Scott for the title and Jamie Farmer and Rob Bertalacci will face off for the honors in Outlaw radial with Ben Bray and Tony Wedlock fighting it out in Outlaw 10.5.
"Cars of all sorts of power combinations and power adders, including Blown Injected, Turbo Charged and Nitrous injected V8's right through to Tube chassis Toyota Powered exotics, running anything from 300 HP to 3000 HP, are eligible to run our Pro Street Categories said Wilson.
"We will have Pro Street Blown and Unblown, Modified Street Blown and Unblown, Radial Outlaw which basically asks the racers to go as fast as they can on a street legal tyre, and the True Street category which is for pure street animals!
"A look at the entry lists shows some of the fastest and quickest street racers in the country – including from the Pro Street ranks the awesome Domenic Luppino Twin Turbo Mustang, then in Modified Street Blown the incredible Twin Turbo Cortina of Joe Gauci, the "Aussie built" Torana of Johnny Wilson / Simon Kryger and Peter Pronesti's 555 cu in LJ Torana as well as Danny Sharban's amazing 632 cu in Capri, Jamie Farmers 565 cu in Twin Turbo Mustang and Janelle Scotts 417 cu in LX Torana.
Steve Bettes, Managing Director of Willowbank Raceway said " The APSA Pro Street Show is one of the best events we have at Willowbank Raceway. The cars and drivers are phenomenal ambassadors to Pro Street Drag Racing and we are delighted to host this first class show twice every year. These racers are deadly serious and their race cars are as good as any in the world so we look forward to a great show on Saturday"
Entry is $25 for adults or $20 for students with ID, and children aged 13 and under enjoy free admission. Gates open at 8am with Qualifying from 10am and racing from 1pm to approximately 6.30pm.

For more information on Willowbank Raceway, please visit www.willowbankraceway.com.au
For more information on the Australian Pro Street Association visit www.austprostassoc.com.au
For Further Information Please Contact:
Steve Bettes - Willowbank Raceway - Phone: 07 54615461 or email steve@willowbank-raceway.com.au
Johnny Wilson – Australian Pro Street Association – 0427 111975
__________________________________________________________