NEWS - ITEM 169
DATES ANNOUNCED FOR 2012
Date: 11/12/11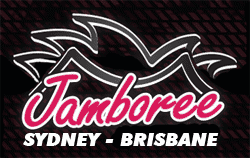 2012 is just around the corner! With that we are happy to announce the dates for the Sydney and Brisbane Jamboree's in 2012.
2012 SYDNEY JAMBOREE - MARCH 31ST
The Sydney Jamboree will be moving to a Saturday in 2012. With the unpredictable weather these days we'll have the Sunday (April 1st) available as a rain day just in case...
2012 BRISBANE JAMBOREE - SEPTEMBER 22ND & 23RD
2012 will see the Brisbane Jamboree move back into September in search of better weather. The Brisbane Jamboree had been in the month of August for 5 years, with 2 of those being rained effected.
The Sport Compact Group would also like to take this opportunity to wish everyone a Merry Christmas and a Happy New Year. We look forward to seeing in 2012!
__________________________________________________________