NEWS - ITEM 177
2012 SYDNEY JAMBOREE MEETING REPORT
Date: 28/04/12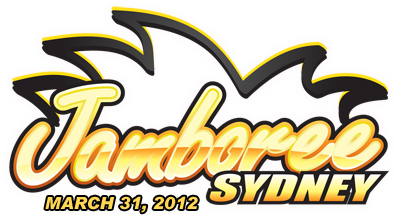 Great weather, world records and a field of over 170 entries made the 2012 Sydney Jamboree an event to remember for fans of this unique motoring spectacle. With the beautiful Sydney sky belting out our favourite shade of blue, the punters came in their droves to see what the day had to offer, both on and off the track, and they weren't disappointed.
The Sydney Jamboree stage schedule never fails to impress, with a beautiful bundle of babes wooing the judges in the Fabre Australia Jamboree Babe contest, and then many returning later on to compete in the Fabre Australia Bikini contest. Needless to say, the attention they received from the adoring crowd was plentiful. Plenty of attention was also afforded for many who wished to pick up some much-needed hard parts from the massive Turbosmart and GCG Turbos garage sales, as well as all the latest bits from all of the usual class-leading traders who support the scene both here in Sydney and at the Brisbane event. The Servin It Up motorcycle stunt nuts also took every chance possible to entertain the grandstand masses, with Dave McKenna travelling up from Melbourne to perform, and accompanied by the Drift Mob car club, whose members proceeded to take the burnout pad apart with tight showings of drift skill, as well as accepting the challenge to pop their bumper-mounted Fusion aliens against the concrete barriers, even if it meant destruction in the process.
The Drag Racing element is of course what the crowd demands to see, with nearly every conceivable combination in attendance. From Pro Turbo, Pro Compact to Street 289 and Pro 289, Modified Compact, All Motor, Extreme and Factory Extreme, Modified 10.5, Sports Bike and Street Compact, the variety was as diverse as it was powerful. The on-track schedule ran smoothly; with the stunt guys provide the valuable turn-around time need. With no major incidences on track, the performances came thick and fast, with even a world record coming out of the blue.
Scott Porter's rookie status changed at the Sydney Jamboree, with the Queenslander going from running high sixes to uncorking an unbelievable 6.48/216 pass, making his VQ35 dett-powered Nissan Infinity the quickest and fastest Nissan in the universe. This shot was heard right around the world in pretty quick time, and shows that now the Nissan V6 is more than a match for the Toyota 2JZ and the 20B triple rotors.
McKern and Associates Pro Turbo saw a four-cylinder car qualify in number one spot due to the inclusion of the new Factory Extreme class that sapped some big cars from the ranks. But there was nothing shabby about Rob Novak's 7.35 from the Jett Racing 4G63 powered Datto 1200 ute, improving to an all-time best 7.28 in racing. Novak then ran a 7.40 in round 2, and with that did enough to make the final against fifth qualifier and the first ever-female Pro Turbo driver in Australia, expat kiwi Gina Bullians. Bullians is virtually a rookie, driving a Bill Nabhan-prepped streetcar before taking the wheel of Bill's original RX7 Pro car for the event. Her 8.01 in the final was a personal best whilst still learning, but Novak's slowest pass of eliminations was too good for the rookie with a 7.50.
Factory Extreme had all the usual Pro Turbo heavyweights do battle in their production-engined door cars. The Rayglass team from New Zealand again showed how it's done, with their trusty Celica, driven by the trusty Rod Harvey running no SLOWER than a 6.59 all day, demonstrating what persistence, testing and a whole lot of horsepower can achieve. His 6.55 led a tight top 5, with Ben Bray's 6.57, driving the new Karl Hammoud Plumbmaster Scion, Craig Dyson's 6.64 in the Top Rpm Celica, Joe Signorelli's GAS Celica 6.68 and Zoran Gajic's GAS BMW with a 6.70. Scott Porter's VQ35 Infinity ran a PB 6.89, George Rehayem's PAC MX6 couldn't keep the big rotary power glued going 7.05, and Collin Willshire's 7.24 was tough, considering his 4G63 gives up a litre in capacity. All round one winners were sixes, with a 6.88 from Dyson over Rehayem, Porter's amazing 6.48 against Gajic, Signorelli's 6.63 against Willshire and Harvey's 6.59 against Tony Wedlock. Round Two had only one highlight as all encountered problems but Harvey's 6.57 showed the kiwis had the hot ticket to the winners circle. Round three confirmed this, as Gajic's 6.81 took care of Willshire's Eclipse, Signorelli's 6.69 handled George's wild 6.93, but Harvey's 6.51/219 showed they were ready for the final. Signorelli faced Harvey in the final, but after blowing a turbo during the day, his 6.38 personal best tuneup may have been hard to hit with a replacement unit not exacting. When the pro tree lit up, Signorelli's holeshot looked hard to beat as both recorded 1.05 60ft times. But as both Celica's passed the 330ft markers, Harvey's took off like a rocket straight and true, whilst Joe's ride moved wildly as the power curve kicked in hard. This washed off some elapsed time, with his 6.62/215 eclipsed by low ET and top speed from Harvey at 6.42/221 on the final pass of the evening, capping off one of the most dominant performances by a Sport Compact team ever seen.
Sonic Performance Pro Compact again thrilled as the 4-cylinder and 2-rotor brigade saw more names appear and personal bests achieved. Steve Dimech's 13B SDR Datsun 1200 coupe topped off a tight top 6 with a 7.66 edging Lee Docherty's PB 7.69 in his MX5, Ben Bray's 7.76, Jim Magliveras 7.83, Johnny Criticos 7.86 and Craig Dyson driving Graham Pryor's R100 with a 7.95. Round One saw tough times from Magliveras 13B KE20 with a 7.57, and Dimech's fantastic 7.35, however that was as good as the times got, with Magliveras and Docherty facing off for the final. Jim put the returning Docherty to the sword with a .059 leave and a 7.64 to win over a troubled run.
Rapid Bikes Magazine Pro Sports Bike had limited numbers, but regular turbo Hayabusa pilot Matt Gildon fronted, top qualified and raced Glenn Northridge in the final with his 1507cc version of Suzuki muscle bike, which had been running in the high eights. Gildon's low eights were repeated with a 8.15 defeating Glenn's valiant 8.88.
Gas Motorsport Street 289 saw plenty of small-tyred action, with the top eight breaking away into Speedflow Pro 289. Damien McKern leapt his GRUMPE 20B Rx2 into top spot with a 7.87, whilst fellow Queenslander Ben Hunt drove the borrowed RX2 coupe of a customer to a 7.95 to be the only other 7-second performer. Chris Fakinos was next on the list with his 13B R100 with an 8.04, followed by a wild 8.28 from the popular RB30-powered Gemini from Queen Street Smash, driven by Sam Meintanis. Round One of Pro 289 saw McKern's 7.82 take care of Archie Kajewski, who was driving his old RX7 after rolling his brand new Pro car the week before. Hunt's 7.97 was consistent, edging South Australian Tony Grgich's 10.72. Fakinos ran an 8.38 to defeat Tim Kreis, and Meintanis soloed. Round Two was minus McKern, who punctured a front tyre at nearly 180mph after running over a bolt. Hunt stayed in the sevens with a .94, Meintanis took care of Kreis with an 8.39 and Fakinos soloed with an 8.01. Round Three rolled with Meintanis cracking a stellar 7.96 over Kreis, Fakinos 8.13 over Grgich and Hunt's solo 7.91. This put the two quickest cars into the final, with not much between them in elapsed time. Hunt responded with a .084 light and a 7.94 to shut down Meintanis' slow .417 light and 8.08. Hunt has been on a roll, taking out the Speedflow Pro 289 class more than anyone else in the history of the class.
The Gas Motorsport Street 289 final was a variety-packed affair as well, but instead of a 20B vs RB30 match up, it was Ray Fairfull's innocent-looking low 10-second EL Falcon turbo taking on Andrew Stavrou's innocent-looking, sierra-cosworth Mk2 Escort. Fairfull's 10.48 on a 10.36 dial in bettered Stavrou's later-leaving 10.08 on a 9.90.
Haltech Modified Compact again saw big numbers from a variety of contraptions. Scott Cousins 2JZ Datsun 1200 coupe was top of the pops again with a 7.70, followed by Simon Hay's 13B Datsun 1600 (8.06), Jim Grillis turboed BA powered Cortina (8.58), Lee Crow's 13B KE10 (8.68) and Rob Tarabay's SR20 powered RXx3 (8.91) amongst others!! In a war of attrition that saw many break throughout eliminations, Hay and number 7 qualifier Ben Palmer emerged as survivors, and faced off in an all-13B powered final. Queenslander Palmer kept the 9.00 dial-in on his RX3 whilst ACT opponent Hay retained his 8.00. As the staggered tree fell, Palmer's .080 to .211 holeshot had Hay grabbing his clutchless gears in futility, but running a great 7.99 breakout to Palmer's winning 9.32.
Torque Calibration Services All motor saw Piston vs rotor, Honda vs Volkswagen, youth versus cagey veterans. Matthew Rice top-qualified with his just-finished R100, ripping out a 10.69 from the clutchless-equipped 13B PP. Roy Yaghi's 13B RX3 ran a 10.81, followed by an 11.36 Luke Philps R100, 11.65 from Joseph Di Giorgio's H22 Honda Civic and 60-something VW stalwart Henry Spicak's 2332cc Beetle with a stout 11.77. Attrition can also hit the aspirated mob (too many revs!), and half the field was gone before round One. Spicak took care of Adrian Terre with an 11.94 on an 11.75 dial-in, whilst Yaghi's Rotormaster-powered machine used a backing off 11.09 on a 10.80 dial to dispose of Colin Munro's 2322cc Beetle, which broke out. In the final Spicak nailed Yaghi to the tree with a .070 to .356, but backed off a little too much and lost with a 12.36 on a 11.75 to Yaghi's 11.11 on a 10.85, the margin was just .059, not even a tenth of a second!!
Barrierpro.com.au Extreme class was an all-V8 affair, but it didn't seem to worry the fans too much. Especially when Steve Petrovski's single-turboed LS1 Commodore ute went 6.93/201 to top qualify. Peter Papas' EFI nitrous big block Torana was second with a 7.70/177, Ali Rayan's now turboed HB Torana running a 7.78/183 for third, Joe Geri's twin turbo 1UZFE-powered street Capri running an 8.43/164 for fourth and Bobby Mihaljevic's LJ Torana going 8.74/150 for fifth. After three rounds of racing, including the largest combined capacity of any Sport Compact event in the world (1080 cubic inches Rayan vs Papas round one), the C&V tuned cars of Petrovski and Papas faced off as the finalists. In a classic boost-building small block vs Big Cube nitrous matchup, Papas left with a great .073 light to Petrovski's .524, and held off the big top-end charge with a 7.74/168 on a 7.60 dial-in to the ute's 6.93/201 on a 6.80.
GCG Turbochargers Modified 10.5 also had a V8 flavour, with APSA regulars "Pistol Pete" Pisalidis and Joe Gauci bullying their capacity against much smaller rivals. And it was no surprise when Pisalidis punched out a 7.07/198 pole from his amazing turbo small-block 2000 Camaro, with Gauci's trusty TD Cortina not too far behind with a 7.36/196. But at half the V8's capacity, Aleksandar Cirtoski and George Haramis were only a few tenths behind. Cirtoski's RB30/26 R33 was third with a 7.81/177 and George fourth with his clutchless RB Commodore on a 7.83. Po Tung was off pace in fifth with a 8.03 at only 136. Pisalidis was an early casualty and put the orange beast away before eliminations got under way. Shane Crichton's Blacktrack-tuned Cressida racked up three wins from three rounds; he had the unenviable task of meeting a red-hot Gauci on a heads-up tree. Gauci ran 7.38 in round 1, 7.39 in round 2 and a 7.40 in round 3. Crichton was hoping for a miracle in the final, but Joe again showed how impressive the car is, winning his second event in 7 days in 2 states, running a 7.41/198 in the final.
Turbosmart Street Compact is always popular as an entry-level drag racing class, and the numbers continue to swell. 27 entries from Nathan Predo's VL turbo top-qualifying 10.99 to Matthew Treanor's XR6 on a 15.96 did battle over 3 fun-filled rounds. Queensland's Travis Beckman broke an axle in his CA18-powered Datsun 1200 sedan after qualifying eight with an 11.49, and then blew a head gasket during eliminations. He however was able to dial the car back after a round one solo, and then luck his way through where he met the impressive 1GGTE 76 Celica of Steven Johnson. Johnson qualified fourth with an 11.14, and was to chase the feeble 16.99 dial-in of the dying Datto with his 11.80 dial. But as luck would have it, his 11.78 broke out, and Beckman took home the big J trophy with a 17.06.
Rapid Bikes Magazine Sports Bike shows just how tough today's street bikes can be. Rob Wilkinson's 1300 cc Hayabusa was one of the larger capacity bikes in the field, top qualifying with a 9.63, but it was the 1000cc machines of Simon Stevens and Matt Tansley who were in the nines as well. Stevens' CBR1000RR went 9.64 and Tansley's GSXR1000 9.74, which shows how much power these screamers make. Stevens had gone to the semi finals at the ANDRA event the week before, and was nursing a slipping clutch. Both Tansley and Stevens scored three wins from three, and Stevens had even bagged Light of The Night in round two with a .016 against Gary Tansley until it was lowered again to a .011 by Scott Cousins. However come finals time, Stevens had softened his dial-in from a 9.65 to a 9.70,whilst Tansley retained his 9.80. Stevens then pulled a .008 leave on Tansley's .131 and used a backing-off 9.84 to defeat Matt's 9.85 to make up for the disappointing semi-final loss a week earlier.
Light of the Night for best reaction time went to Sports Bike winner Simon Stevens with a .008, Best Wheelstand was won by Adam Nuner's Modified 10.5 RX3, Johnny Criticos' JC racing team won Crew Style and biggest Burnout went to Anthony Maatouk's "VL God" Pro Turbo Commodore.
Willowbank Raceway is the place to be this September for the largest Sport Compact event in the world, the BRISBANE JAMBOREE, held over the weekend of September 22 and 23. Keep your eye on www.jamboree.com.au for details soon.
__________________________________________________________