NEWS - ITEM 181
AUSTRALIA'S 1ST 6SEC 4 CYLINDER
Date: 15/09/12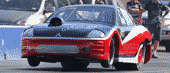 The push to be the 1st 4 cylinder into the 6 second zone in Australia has been on for young and old since the 2011 Brisbane Jamboree. It's basically been a 3 way between race between Collin Willshire with his 2Ltr 4G63 Mitsubishi Eclipse, Chris Tait with his 3RZ powered 200SX & Micheal Baghdadi and his SR20 powered 200SX.
Two weeks ago on the 1st of September at Willowbank Raceway the race was won with Willshire, stopping the clock at 6.98 @ 197.68mph. After the 1st pass of the day it seem the like it wouldn't happen, during the burnout on the 1st pass of the day the Lenco transmission in the Eclipse let go. The Jett Racing crew towed back to the pits and decided to park the car for the day and concentrate on the Datsun 1200 ute driven by Crew Chief Rob Novak.
Novak was on fire, knocking out PB after PB with a 7.24 followed by a 7.22 and finishing of with a 7.19 @ 190.24mph out of the 2Ltr 4G63 powered ute.
The 1200 ute runs the same Lenco transmission as the Eclipse, so Novak suggested they swap the ute's transmission into the Eclipse and give it a go. With that done Collin punched out a 7.02, ever so close to that 6 second time slip. With the track temp starting to drop the race was on for another pass.
With conditions starting to change it was now or never for Willshire and the Jett Racing Team. With what seemed a pretty tame launch, it looked like the 6 second pass would have to wait for another day but that wasn't the case. The score board said it all, 6.987 @ 197.68mph, the 1st 6 second pass by a 4 cylinder in Australia.
Collin would like to take this opportunity to thank Crew Chief Rob Novak and the rest of the team, Phil O'Brien, Jamie Page, Steve Manning, Terry Schroeder, John Patrick & his son Jett and off course his wife Katie and younger son Rusty for their ongoing support.
Willshire now has his eyes firmly set on the Jamboree next weekend, where he'll compete in the Factory Xtreme bracket and hopefully improve on his 6.98.
__________________________________________________________