NEWS - ITEM 203
JAMBOREE QUEENSLAND CONFIRMS DYNO COMP FOR 2013
Date: 5/09/13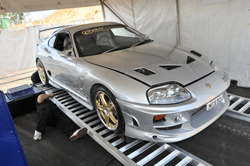 Sports Compact Group can proudly announce the return of a dyno comp to Jamboree Queensland in 2013, after striking a deal with Queensland's favourite roaming dyno, Dyno Hire Services.

"The team from Dyno Hire Services are the perfect fit for Jamboree – they're used to operating a mobile dyno having run comps at other major events in Queensland, and they're enthusiasts themselves," explains Ray Box.

Dyno Hire Services supply their dynamometer and equipment to automotive events such as Powercruise and Cruise for Charity, and are used to operating the highly technical piece of equipment outside the confines of a workshop.

And for anyone worried about the dyno's ability to hold the grunt when it's set up in the pits at Willowbank Raceway for Jambo', there's no need to, the Dyno Hire Services crew regularly witness runs of over 800 rear wheel horsepower whilst on location, with the dyno capable of reading up to 1,600kW!

The dyno at Jamboree Queensland 2013 will be 2-wheel-drive only, so to get your fix of high-horsepower all-paw vehicles you'll have to keep your eyes on the track, however with a bevvy of tough 2WD vehicles lined up to compete in classes ranging from naturally-aspirated 4-cylinder through to Power Aided V8, there's sure to be something for everyone on the dyno at Jambo'.

To celebrate the Dyno Comps return to the Jamboree, entry to the Comp is FREE to all Jamboree Competitors in the show-n-shine, sound off or drags. These entries will be taken at the Dyno during the event. If you'd like to only enter the Dyno Comp the cost is $65 for 2 runs and comes with entry for one person for one day.