NEWS - ITEM 220
SMOKE SHOW HITS THE PITS AT SYDNEY JAMBO' 2014
Date: 21/02/14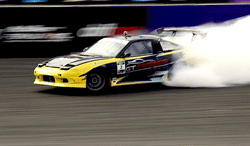 The rolling changes for Sydney Jamboree, held at Sydney Dragway on March 15, 2014 just keep coming, as promoter Ray Box responds to the data collected in the event's biggest ever market-research campaign early in 2014.

"We want to expose the sport to as many enthusiasts as possible, and one of the best ways we can do that is to diversify. I can't think of an event in the history of Jamboree where people will get more bang for their buck than at Sydney in 2014, and we're excited to keep announcing these huge format changes we've been planning."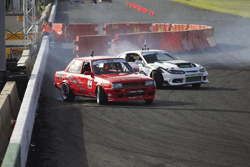 As part of a collaboration between Sports Compact Group, Sydney Dragway and Australian Drifting Grand Prix (ADGP)/Motive DVD front man Andrew Hawkins, the Sydney Dragway pits will come to life with the sound of highly-strung engines and tortured rubber as some of the country's best drifters duke it out in a specially-designed demo' course.

"There's no denying that the action is squarely on-track at a Jamboree event, but we're always trying to lift the bar in terms of what we offer for off-track entertainment, and I think a drifting display in the pits really raises the stakes!"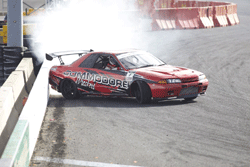 ADGP Promoter Hawkins explains, "When Oran Park closed, drifting in Sydney suffered massively but we've been slowly gaining ground over the past few years. We've worked with Ray for years doing driving demos on the burnout pad at Sydney Jamboree before, and when the opportunity arose to drift in the pits it was a project we had to work on together!"

"Drifting is great for the public to watch in quick, small doses and at Sydney Jambo' that's what we'll be going for – a custom-designed track and at least eight pro drifters from around the country doing Top 8 comps and some hard-fought battles for the crowd.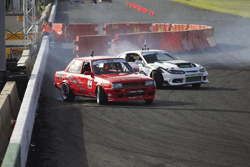 "To be clear, this isn't going to be a small circuit shoved down the back of the car park with drifters doing donuts, this is going to be a professional demo' that allows spectators to get right up close to the action and still be totally safe," exclaims Andrew in his usual highly excitable manner.

Hawkins and his ADGP drifters will be on site with a trade stand promoting his new digital publication, MotiveDVD the magazine, with some display cars promoting his other motorsport ventures too.

For more information keep your eyes peeled on www.jamboree.com.au and the Jamboree Facebook page.

__________________________________________________________