NEWS - ITEM 231
INTERNATIONAL INJECTION FOR UPCOMING BRISBANE JAMBOREE
Date: 25/08/14
When the Brisbane Jamboree hits Willowbank Raceway on Saturday August 30, it will be hosting none other than the UK's world record-breaking John Bradshaw amongst its Sport Compact ranks.


The UK's quickest import drag racer, Bradshaw will take the wheel of the now-complete Nissan 350Z he sold to Australian Factory Xtreme racer Scott Porter when he got out of the UK drag racing scene in 2012; as part of Australia's largest hi-tech automotive lifestyle event.

While Bradshaw has been taking a break from the UK quarter-mile – citing a lack of competition – he is looking forward to soon racing in the country he calls the 'best in the world for sports compact racing.'

"Up until two years ago I had a great team behind me and we really smashed all records for import drag cars in Europe, including setting the fastest ever time for a Nissan Sykline in the World at 7.45 seconds, and being the first team to ever run a six second pass with an import car (6.75s, Project Zed 3.51 Twin Turbo Nissan 350z)," said the 45 year old Managing Director of procurement consultancy Ebit Business Solutions.

"We won numerous championships and set records in the UK, Germany and Sweden, and those still stand today. Unfortunately, we ran out of competition to race against and so we turned to circuit racing, as I am never one to be excited by having heaps of trophies where all you had to do was turn up to collect.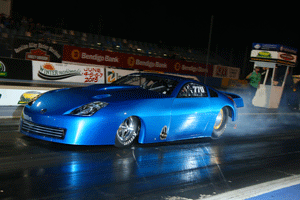 "Racing in Australia is a dream I have held for years. Competitive competition is what gets me excited, and I have been watching hundreds of videos and it is clear that the best place in the world for sports compact racing is Australia.

"I am so excited to be able to get to race with the best and where better than at the best meeting in the world – the Brisbane Jamboree has grown brilliantly and taken Factory Xtreme racing to another level in terms of professionalism and exposure – I can't wait to get amongst it."

At the Brisbane Jamboree, Bradshaw will race a car built by the renowned Jim Geese in his days at Vanishing Point Cars in the United States, which he sold prior to completion to Australia's Porter.

"After becoming frustrated at the lack of competition in the UK drag racing arena I decided to sell both cars that I had. Scott and I came to a deal for the brand new chassis that had never been run before, and Scott and his team have done a lot of great work to finish it and debut it recently with a phenomenal 6.5 second performance on its first ever visit for testing!" said Bradshaw.

"It has been two years since I sat in a six second drag car and I want to do myself, the car and Scott Porter Racing justice, so I will be doing some serious testing before the event.'

"My goal is to just try and enjoy it and take in every single second, to be 'living the dream', but of course I want to be competitive as well and will take great job in being that 'pain in the butt Pommie' should I run good numbers!"

Bradshaw has already been enjoying his time in Australia, with wife Cher and three sons Callum (15 years old), Connor (13yo) and Harry (11yo).

"What an amazing country this is in terms of sheer size, amazing variety, wonderful people and just the best take on life in general – I can't wait to come back again," said Bradshaw.

"I really have to thank Scott Porter and his superb team for helping me to have something so amazing to drive, and a huge thank you also goes to event organiser Ray Box for helping me sort out the formalities so I could come over here and race, and to the Factory Xtreme racers for letting me come and join in on the fun!

"There is quite a bit of interest back home in Europe at the moment, so I hope my racing here will help ignite some interest in compact racing over there as it has not been in the best shape for a few years now. Most of all, I hope I can return to join in the fun again here in the future, if you will have me back!"

Bradshaw is expected to be joined on track by more than 200 racers competing across a range of Sport Compact brackets including an exciting field of Outlaw 10.5 cars. Also on-site at the event will be a Motive DVD Drift Exhibition, a range of competitions and the Just Car Show n Shine, traders and more. In 2014, the event has changed to a one-day format, with more bang to be delivered for the spectator's buck guaranteed by this change which has been praised by entrants and fans alike since its announcement in March. For more information on the Brisbane Jamboree, go to www.jamboree.com.au

__________________________________________________________