NEWS - ITEM 234
JAMBOREE AGAIN SETS NEW RECORDS IN SPORT COMPACT
Date: 17/09/14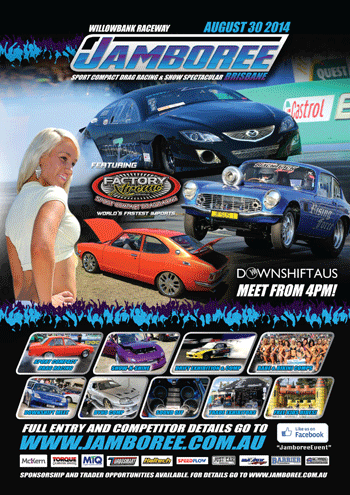 A year of record setting performance upgrades has culminated in one of the biggest days for world Sport Compact excellence at the 24th Jamboree. Willowbank Raceway is the birthplace of the Jamboree, and this year went back to its roots with a one-day format full of what Jamboree is famous for. And judging by the atmosphere that engulfed the sprawling Ipswich raceway, sentiments from all corners echoed of "Best Jamboree Ever" considering the sheer quality of cars both on and off the track and performances witnessed on the readout boards.

193 Entries for the one-dayer brimmed with plenty of refinement and depth, and with an international flavour. UK racer John Bradshaw battled with Factory Extreme's elite in Scott Porter's new Nissan 350Z, which was previously owned by the Englishman as a spare car to his own Iconic "project Zed" Motul 350Z that was the king of the European drag racing and Sport Compact scene. SPR had only recently completed the car with enough time for Scott to shake it down with a stout 6.53 weeks before Bradshaw arrived. He duly shook out the cobwebs from a 2-year absence and proceeded to gain his ANDRA licence with his own 6-second passes in readiness for the battle that loomed.

It seemed as if every square metre of the Willowbank Raceway was covered with something either loud, shiny, smoky or sideways, which saw fans flock to its every corner. From the Just Car Insurance Show n Shine area with amazing old and new-skool detailing, to the far reaches of hardstand where for the first time, the Motive DVD Drift track hosted thousands of fans for their demos throughout the day. The scrutineering road became Drift Central around a tight, but highly entertaining layout. Even drag racing fans couldn't escape the drift presence, with the smoke from the drift cars fogging in the dragstrips braking area. The Main Stage was again alight with beauty, kicking beats all day and amazing crowds all flocking to get a glimpse of glamour.

With qualifying kicking off bright and early, many fans had set up their makeshift viewing areas on the grassed mound to protect them from the warm sun and perfect weather. The main grandstand filled and emptied throughout the day as the other activities drew them away, but when the biggest names in the game came to the line, all eyes were on the sticky Willowbank surface.

PRECISION TURBO FACTORY EXTREME: HARVEY
Factory Extreme saw the A-List field attempt to gain supremacy from the word go. And with a hot track and 30 degree air temperature, all teams had enough power to qualify well. Fresh off his Winter nationals 6.19, Rod Harvey showed right from the word go that he was going to be the man to beat, with an off-trailer 6.222/231. Jett Racing's Collin Willshire, hot off his 6.69 test pass during the week, also hit close to the mark with a 6.717/211 straight off the bat. Session 2 saw the field fill with tough numbers, including the GAS Celica of Joe Signorelli's weaving 6.368/227 to take 2nd spot, George Rehayem's PAC Mazda 6 fill 3rd with a 6.397/223 and again eclipse his world rotary speed mark. Top Rpm's Milos Pavlovic was the big improver, running a PB 6.506/210 to bump Willshire's 4-banger into 5th, whilst John Bradshaw's 6.717/189 was ahead of Scott Porter's 6.936/203. Mazfix's Archie Kajewski took his Mazda 6 to 7th with a 6.961/212 whilst Mark Jacobsen's Godzilla Motorsport R35 mustered a 7.24, closely followed by Jerry Kehl's Direct Clutch Services Rx7 with a 7.28.

Round One saw Porter and Pavlovic have solos, running a 6.63/214 and 6.76/171 respectively when Kehl and Willshire had issues and couldn't front, whilst Bradshaw claimed his first international scalp when he edged Kajewski with a holeshot 7.111/179 to 7.01/207. Signorelli faced Jacobsen, and used a 6.49/213 to despatch a 6.79/208 from the R35, whilst Harvey faced Rehayem in a classic piston vs rotor matchup. Rehayem got the jump on Harvey, but the Kiwi stormed to a new PB of 6.169/222 to despatch the rotor's 6.49/215. Harvey's 6.16 was just short of the all-time Sport Compact world record of 6.148, held by UAE's Ekanoo Supra.

Round Two was even more promising, as the track was showing signs of epic traction, with many teams underestimating its quality in round one. With the power and clutch levels raised, all eyes focused on the line for what was going to happen.

Harvey faced Kajewski first up, and the anticipation was thick. As both cars left the line, the focus turned to the fast-disappearing white kiwi Celica as it rocketed to an earth-shattering 6.123/238mph, making it the single most dominating pass in Sport Compact history.

The hits just kept on coming with the next pairing of Porter and Willshire. Whilst Porter's 6.512/216 won the race, Willshire's 6.57/223 made him the 2nd quickest 4 cylinder door car in the world, and the fastest outright by over 5 mph. Bradshaw faced Jacobsen next, but a split wastegate hose saw the boost go through the roof, causing a large explosion from under car, and the first ever windowed billet SPR VQ35 for the team. Jacobsen recovered from a bad start to run a 7.559/210 to edge ahead of the coasting 350Z. Kehl soloed with a 7.37/184 with the absence of Signorelli whilst Pavlovic ripped off a .988 60ft and 6.364/218 to oust Rehayem's 6.778/196.

Round 3 had Willshire despatch Kajewski with a stout 6.633/211; Harvey edge Jacobsen with a tight 6.643/184 to 6.6629/216 and Porter over Rehayem with a cherry to the Mazda 6.Pavlovic showed that the 6.36 wasn't a fluke with a 6.395/223 to Kehl's consistent 7.32. With 3 wins apiece, it was an all 2JZ Celica final with Harvey and Pavlovic to face off.

The final was all class too, with Pavolvic giving Harvey a real race with another tough 6.423/203, but it was Harvey's 6.281/215 that hit the stripe first, making it the quickest side-by-side Sport Compact race in history.
MCKERN & ASSOCIATES PRO TURBO: AMATO
Pro Turbo had more local content than ever before, with some regular NSW stalwarts not making the trip for the event. But the 9-car field was brimming with new blood in qualifying, notably Loues Cosentino's swoopy RX7 with 2JZ power (7.54), Jason Payne's RB-powered R32 Skyline (7.61), Careem Amhaz's 20B Rx3 (7.65), Justin Cook's 2JZ Chev S10 (7.76) and Victorian Dion Amato's Falcon ute with destroked Barra power.

Round One saw an all-20b matchup with Craig Dyson, driving a customer's Rx4 take on Nick Tsoltoudis' Rx3. The orange Rx3 faltered at the start, allowing a 8.639/157 through for the win. Amato racked up his first Pro Turbo scalp by beating Amhaz with an improving 8.167/175 over the Rx3's 8.56/179, whilst Cook took care of Cosentino with a troubled pairing. Payne Soloed with a consistent 7.626/177 when Mick Farrall couldn't front. Phil Penny's wild 2JZ powered Honda s600 was also a no-show after qualifying.

Round two started with Dyson wheeling a wild 7.91/167 over a slow-leaving Cook, Amato soloing with a great 7.875/178 and Payne taking out Tsoltoudis with a 7.708/178. Amhaz soloed with a 7.761/178 to show just how tight the remaining field had become.

Round three saw the same 4 remaining racers return, with Payne edging Dyson with a 7.75/181 to an 8.175/162, Amhaz solo with a 7.64/182 and Amato doing the same with a 7.869/178.
The final was an all-rookie, all-piston affair with Payne and Amato facing off. But consistency failed Payne in the final, dropping off to an 8.56/180 whilst Amato remained on the ball, using a 7.92/175 to put the Falcon into the history books as the first domestic bodied car to win a Pro Turbo final.

MTQ ENGINE SYSTEMS PRO COMPACT: BETTES
An 11-car field qualified for the event without the presence of Ben Bray, who is recovering from serious injuries he received when he crashed his SR20 powered Nissan Altima at the Winter nationals. Bray had run a then-best Aussie ET record of 6.68 on the pass before the accident, and is a long way from a complete recovery.

Jett Racing's Kelly Bettes stormed to the top of the list on the very first pass with a 7.22/190, whilst Lee Docherty's 13b Mazda Mx5 was second with a 7.53/178. Michael Baghdadi's troubled 7.61/137 nailed 3rd, Andrew Dyson's 13b R100 4th with a 7.78/170 and Ben Palmer's 13B Rx3 5th with a 7.89/156. Michael Trovato (8.13), Kym VonHoldt (8.20), Sam Kiprios (8.32), Brett Morgan (8.67) and Chris Tait (15.88) anchored the field.

Tait had a throwout bearing issue, and then seized a camshaft, resulting in an engine change for the 3RZ-powered 200sx before round one. But mechanical failure set in for a few teams as well, resulting in a battle of attrition with the field decimated before eliminations.
Tait scored a round one win when Docherty was disqualified when the Mx5 went wild, crossing the centreline. Morgan's 13B Morris Minor ute prevailed over Palmer with a 9.11 when the Rx3 went nuts, and Bettes soloed with another tough 7.20/180.84 in the 4G63-powered Datsun 1200 ute.

Round two started with Bettes shutting Morgan out with a 7.234/190, and Tait staged for a solo. That was it. Docherty and Palmer had dropped out of the round, allowing both Tait and Bettes to score 2 wins apiece.
With only Bettes and Tait remaining, the final pairing was declared. But with Tait experiencing more issues on the line in the final, Bettes needed no invitation to drop the hammer, running a winning 7.219/180.

HALTECH MODIFIED COMPACT: FARDELL
Modified Compact also had its fair share of variety, with new blood and machinery on hand. From Trent Whyte in the 'Nitto2"R32 on top with an 8.01/178 to Kurt Scott's FWD Mazda 3 on a 13.72 on the bump, many awesome combinations fronted for battle. But it was another rookie in the form of Joad Fardell's R31 Skyline coupe that made it through to the final against seasoned Sydney competitor, Daniel "Rotog33k" Ruggier in his auto 13b Rx3.

Fardell took care of Brett Stirling's errant 20B R100 in round one with a 9.82 whilst Ruggier's 9.30/115 backed off against Chris Hall's slowing Mazda ute for the win. Round two had Ruggier face local hot shot Rodney Moore in his neat 2JZ-powered tube frame Hilux, and an 8.89/150 was closer to his dial-in than Moore's 8.851/159. Fardel fought Andrew "Gus" Fitzgerald's Rb30-powered Datsun 1200 sedan with a tight 9.73/133.98 to 9.33/146 win. Round three was again a fight for Fardell, but his better reaction time proved to be the difference against Nick Moroney with a tight 9.801/124 to 9.81/126 victory, whilst Ruggier dispatched Troy Visser with a sharp 8.93/149 over a 9.38/142.

The final saw Ruggier pull his worst light of the day, and his 9.08/147 was unable to catch Fardell's white-hot 9.75/140 to claim yet another win for a rookie.

MAZFIX MODIFIED 10.5: WILKINSON
A tight grouping of numbers from a variety of cars made MTF very exciting. Couple that with heads-up racing and a field of automatics, staging with boost and leaving on a good light was going to be the key to success. Barry Turner's v6 Holden-powered Datsun 1200 ute led the field with an 8.052, closely followed by Brendan Markham's R33 Skyline with an 8.059. Shane Crichton's Cressida with 1.5JZ powered Cressida (8.15), Scott Hoffman's 2JZ Ke20 Corolla (8.22), Ben Pearce's VL Commodore (8.352), James Thomas' Rx3 (8.355),Justin Wilkinson's new VL (8.58), David McLeaish's Supra (8.593), Stephen Hale's RA28 Celica (8.675) Matt Kelly's 2JZ Torana (8.676) and Adam Cruden's Corolla (9.10) showed the parity with variety.

Round One saw Thomas prevail over Cruden with an 8.32 to a 9.32, Turner prevailed over Markham in a tight 8.01/172 to 8.083/166 battle and Wilkinson left first against Kelly to make his slower 8.53/165 victorious over a quicker 8.507. Mcleaish used an 8.31/170 to stop a troubled Hoffman and Pearce Ignited to an 8.28/167 to take out Hale's 10.01.
Round Two got interesting with Pearce's 8.29/167 taking out Crude's 8.821; Thomas ran an 8.392/153 to stop Kelly's 8.562 whilst Turner (8.08), Wilkinson (13.42) and McLeish (8.34) soloed when their opponents didn't make the call.
Round three saw James Thomas return to take out Turner, Kelly wasted an 8.517 against Mcleaish with a cherry and Pearce and Wilkinson went at it big time, with the white VL's 8.242/167 edging the red VL's 8.34/165. Cruden's 8.788/152 solo finished the round.

Wilkinson and Mcleaish were the finalists, and faced off for the trophy, but Wilkinson's 8.302/165 was too good for a slowing 10.36, making Wilkinson another Jamboree rookie winner.

SPEEDFLOW PRO 289: HAGENSON
The quickest 8 cars from the Street 289 class faced each other for 3 rounds of heads up action. And with a mix of piston vs rotor, clutchless vs automatic gearboxes, the unpredictability makes for a great tussle amongst the protagonists.
Po Tung's 2JZ Supra nailed pole with a 7.63/184, whilst Stanley Kreis' 20B Cortina was 2nd with an 8.05. Nathan Hagenson's GAS 2JZ powered Rx2 held the bump with a 8.78, but an 8.82 and 8.83 from Nick Berry and Ciprian Pascu made the field when Moustafa Sakina and Ben Graham withdrew .

Round One saw Hagenson find his feet against James Moore's 13B Rx7 with a stout 7.68/190 to 8.89/153, whilst Tung had to recover early to hook up against Gee to edge a win with a 8.34/176.Berry dispatched David Medwin's Rx3 with a 8.78/154 to 9.04 whilst Damien Mckern bogged off the line, allowing Pascu's 9.11/143 to snare a win.

Round two started with a win for Medwin over Pascu, Hagenson used a 7.71/180 to narrowly defeat Mckern's best of the day 8.01/172 and Tung's well-tuned 7.743/147 took care of Moore's 9.67. Gee soloed when Berry didn't front.

Round three saw Pascu and Medwin retire for the night, whilst Tung ran the quickest 28x9 pass in history against Mckern with a 7.09/204 against the 20B Rx2's 8.37/168. Moore used an 8.77/158 to send Gee's immaculate blue Rx2 back to South Australia whilst Hagenson used the solo to run a quicker 7.548/191 and be ready for the final against Tung in an all-GAS final.

The final was over on the hit for Tung, who may have been trying for the six second pass, overpowering the now cold track against Hagenson's stout 7.59/190 winning pass.

MICROTECH EFI.COM STREET 289: ROBINSON
With the top 8 qualifiers running heads-up in Pro 289, Street 289 continued into eliminations on a DYO format. And after several tight rounds, it was the 808 of Andrew Robinson facing off against finals veteran Chris Adams in his CA18 Datsun 1200 ute.

Adams started his march to the finals with a bit of luck. The car wasn't leaving on boost for most of the day, and round one wasn't any different, but Brent Coles broke out, making Adams' 16.79 a winner, whilst Robinson soloed with an 8.98/154.

Round two had Adams back to his best, and he fought NSW heavy hitter Rodney Spannenberg's 13B Rx7 with a 9.291/144 against a fast-closing 9.14/148 whilst Robinson hauled in Kirk Grundy's 9.64/137 with an 8.968/154.
Round three saw Adams solo and take it easy, but Robinson had to fight Shane Elliott's Corolla for a spot in the final. Another neat 8.987/150 had him closer to his dial-in than the 9.737/135 of Elliott.

The final saw Adams slip off his previous low nine-second form with a 9.79/142, whilst Robinson used a backed-off 9.082/150 to snare his first Jamboree final win.
TORQUE CALIBRATION SERVICES ALL MOTOR: CAVANAGH
A record 21 entries showed resurgence in the aspirated form of racing, and new records set along the way. A barrage of beetles and many Mazda's joined the occasional oddball combo (Scott Alder's wild Kombi to name just one) in an aspirated orgy of gear-jamming, exhaust-howling and high-revving action. And after qualifying was done, the quickest field in All Motor history was set.

Alf "The Axe" Axiak in his 7/8 scale 20BPP RX7 nailed pole on the very first pass of qualifying with a world-class 8.83/155. Fellow Sydneysider Charlie Costanzo in his lightweight 13BPP Datsun 1200 coupe snared 2nd with a wild 9.549/137. The Beetles of Michael Nash, Andrew Murphy and Dave Butler grabbed 3rd, 4th and 5th with a 10.32/128, 10.71/128 and 11.20/120 respectively. Tony Gooderham's Rx7 scored 6th with an 11.51/118, Andrew Swanson's beetle 7th with an 11.98/109 and Glenn Alcorn's K20-powered Civic was the last 11-second qualifier with an 11.99/119.

After the clutch dust settled, it was 10th qualifier Ben Cavanagh who was to meet number 11 qualifier of Morgan Smith in the final. Smith in his beetle took out Costanzo's crazy-leaving Datto in round one with a better reacting 12.96/96 over a 9.60/136 whilst Cavanagh's Suzuki Swift barely survived against Brendon Burnet's beetle with a 13.44/97 to 13.93/99. The margin of victory..0.0053!!

Hot off his amazing .001 reaction time in round one, David Butler went too far and cherried against Cavanagh in round two whilst Smith used a 12.70/90 to keep Gooderham's 11.42/119 at bay.

Round three saw Morgan scrape through by 0.084 against Rob Barac's new fwd Lancer with a 12.733/93 to 12.14/115 with Cavanagh soloing to an almost identical 12.732/106.
Smith soloed through to the final with a rolling 14.30 whilst Cavanagh had to fight off Matt Berry in another beetle. His 12.90/95 edged past Berry's 13.55/95 by a margin of 0.0114.

The final was tight from start to finish and the margin was again small…0.0923. Cavanagh's 12.654/106 held out Smith's 12.562/100 for the win.

TURBOSMART STREET COMPACT: HARDING:
Turbosmart Street Compact was one of the fastest fields in Jamboree history, with 15 11-second cars in a 52-car field, led by Ben Cruickshank's Capella with an 11.09. And it was the 11-second street cars of Daniel Harding and Ryan Feeken that survived the viscous competition to meet in the final.

Harding in his Swift started with a lucky break when Christine Thomson's XR6 ute red lit, whilst Feeken's Bullet Roadster charged down Alan Dodd's R100 with an 11.69/107 to 13.38/84. Round two saw Feeken take care of Pete Franz's Skyline with an 11.79/109 to 13.18/114 and Harding handled Jason White's VL with an 11.93/82 to 12.84/105. The competition was tightening for round three, with Harding's on-the-brakes 12.43/77 keeping out Scott Townsend's Mazda 1300 11.95/122 by only 0.0197, and Feeken catching DYO heavyweight Russell Sticklen's Falcon with a 12.94 to 13.69.

Feeken returned to the 11's in the semi with a tight (0.0843) victory over Graham Dodd's Mazda 1300 with an 11.63/114 to 14.68/92, whilst Harding also went 11.99/90 to stop Craig Cooper's too-fast 10.99/130 in his Supra.
30 minutes later, Harding faced Feeken in what promised to be a great race. But both drivers fell off the pace, with Harding's better-reacting 12.44/78 keeping the roadster away with a 12.26/113. Harding's win made a great night for Suzuki's, joining All Motor mate Ben Cavanagh in the winner's circle.

WOLF MOTORSPORT EXTREME: ROMANIN
Extreme again combined 12 pieces of wild machinery in both sedan and open-wheeled design, led by Ben Diggles' FJ20 dragster with a new PB of 6.86/193 .Ashley Mason's turbo LS Rx7 was 2nd with a 8.14/172, Nathan Farrugia's twin turbo LS RX3 was 3rd with a 8.33/161, Megan Anderson's Pinto 4-banger rail was 4th with a 8.62/154 and Jed Sladden's 4000LB twin-turbo hemi Valiant was 5th with a 8.65/168. Mark Van der Togt's twin turbo XW street car was 6th with an 8.74/155 and Ricky Fenwick's turbo v8 Triton was the last in the eights with an 8.97/154.

But not everyone made it through the rounds once racing got under way. Diggles started well, running a 6.967/190 to despatch Fenwick, Sladden downed Danny Lansdowne with an 8.57/168 when the Spot On Performance turbo LS Hilux blew the tyres off on the line, and Anderson's 8.666/149 was never caught by Mason when the RX7 encountered problems enroute to a 10.03. Corey Hamilton's screw-blown Falcon V8 ute soloed with a loud 9.08/150 when Andrew Darby's turbo v8 Commodore wagon didn't front, whilst Fabian Romanin's turbo small-block Capella soloed too when Farrugia was a no-show.

Round two started with Sladden's 8.55/152 taking out Hamilton's 8.98/150, Diggles rounded up Anderson with a backing-off 6.98/170 whilst Romanin again soloed.
Round three saw Romanin match up against Sladden, and a 9.13/147 was enough to put the off-pace 8.80/168 Valiant out.

Diggles was set to solo into his 3rd straight Extreme final in as many years, but the FJ20 cried enough after round two, splitting the block. This saw Romanin solo again in the final to make another rookie result for Jamboree 2014.

OPTION AUDIO EXTREME 10.5: FENECH
The inclusion of Extreme 10.5 was welcome by all in attendance, even though there were more blown and injected cars in attendance than at any other Jamboree held before. Touted as one of the hottest forms of drag racing, these small-tyre machines put on a great show with side-by side wheel standing antics and big numbers.

Qualifying in the top 4 spots was an all-Sydney affair, headed by Sam Fenech driving the JS racing Pontiac Grand Am. The blown KB-powered beast ran a new PB of 6.28/236, whilst Michelle Davies put her similarly powered Torana hatch into 2nd with a 6.75/216. The efi twin-turbo small block Fords of Paolo Todarello and Michael Haimandos were 3rd and 4th, with a 7.24/191 for the Cortina and a 7.31/189 for the Mustang respectively. Queensland 10.5 queen Nikki Hepburn was the best qualified Queenslander in her twin-turbo big block Gemini with a 7.38/194 for 5th, whilst James Horan's twin turbo Toyota v8 Hilux was 6th with a 7.84/185 on radials. Central Coast racer Matt "Grubee" Grubisa's immaculate twin-turbo 1970 Camaro was 7th with an off-form 7.85/162, Graham "G Man" Harrison's awesome LSX powered Firebird 8th with a 7.96 and 'Mr 10.5" Frank Mamone on the bump with a rolling 15.50.

But as with most times in the past, more track time sees these machines eventually find their small feet, and round one started with a vengeance.

Fenech faced Horan with 280 more cubic inches and used it well. His 6.42/197 was enough for the Hilux's 7.60/183, Davies wheel stood away from Todarello with a 6.68/218 to a 7.22/192 whilst Haimandos soloed to a 7.01/199.Harrison and Hepburn soloed when Grubee and Mamone regathered their setups for round two.

Mamone faced Hepburn at the start of round two, and used an almighty 6.478/231 to make the Gemini disappear, mainly due to the powerstand the Nova pulled from half-track all the way to the stripe, obviously claiming the crowd's approval for best wheelstand of the event. The action kept coming even though Fenech was on a solo, running an awesome 6.115/234 to be Australia's baddest blown 10.5 car again. Grubisa went down with troubles against Haimandos who used a 7.10/205 to the Camaro's 8.03 whilst Davies improved again to a 6.61/218 to take out Todarello's consistent 7.24/192.

Round three saw Fenech take on Haimandos, and again proved that the 6.11 was no fluke, running a 6.246/208 to a consistent 7.03/202. Todarello faced Mamone and won with a 7.26/195, but only because the Nova decided to start the wheelstand earlier than ever before, climbing higher and higher at half-track, crossing over the centreline pointing completely sideways at over 170mph. This of course became the "new" best wheelstand of the event!. In an all-local affair, Hepburn faced Harrison, and "Casper" prevailed with a 7.54/198 to a snaky 8.68.

The final was between the 2 fastest cars of the day, being Fenech and Davies. But Michelle lifted early with problems and allowed Sam to streak to another 6.24/205 pass and victory. This marked the first final round for Davies, and also the first for a female 10.5 racer in Australia, and possibly the world.
BARRIERPRO.COM.AU OUTLAW EXTREME:
Turbo Top Doorslammers are not officially recognised in the ANDRA rule book, but are alive and kicking in the shape of Zoran Gajic's GAS KB Mustang, Steve Petrovski's KB Camaro and Rob Campisi's Moran Mustang. In a world of the world's fastest small engines, these 5-second beasts were in attendance to shock and awe the audience. But the track never seemed to allow them to show their muscle, either shaking violently on each launch, or wildly moving around down track. Campisi top qualified with a 7.23, but again when the sun went down and the track cooled a little, glimpses started to show just how bad they can be.

Campisi backed the power right down to eliminate the shake, running a 6.32/251 in round one, whilst Gajic and Petrovski battled a "shake fest" , with Goran first across the line with a 7.46/207 to 7.88/185.
Campisi faced Gajic in round two and started to get a handle on it, with no power dialed in until past 330ft. His 6.24/250 easily took care of Gajic as he shook badly on the hit. Petrovski also shook violently and cruised to a 12.16.
Some fans may have been a little disappointed with the anticipation and subsequent shake and shut-off show, and considering a 3.2 litre six-cylinder (Harvey) was quicker to this point, these big v8's were definitely showing less efficiency.

But Campisi and Petrovski soldiered on whilst Gajic parked the Mustang for the day after another 6.91/221 attempt to repeat their 5-second performances in Sydney. Campo's 6.18/248 and Petrovski's 6.6/236 raised eyebrows a little, but the 6.123 and 6.11 passes from Harvey and Fenech were still quicker.

All was forgiven when Campisi finished with a no-boost launched 6.05/253 solo, followed by Petrovski's 6.06/232 to restore some credibility for the beasts. Rest assured, these cars will go 5.70's when the shake can be tamed!

The traditional Jamboree awards of" Smoken" (best burnout) went to Michael Silk's Datsun 1200 wagon, whilst "Sky's the Limit" (wheelstand) was awarded to Mister 10.5 x 2 . David Butler won "light of the night" with his round one .001, whilst Dyson Bros racing won "Best Crew Style".
And that's how the 2014 Brisbane Jamboree went down!
__________________________________________________________