NEWS - ITEM 278
JUST CAR INSURANCE BRISBANE JAMBOREE MEETING REPORT
Date: 5/09/16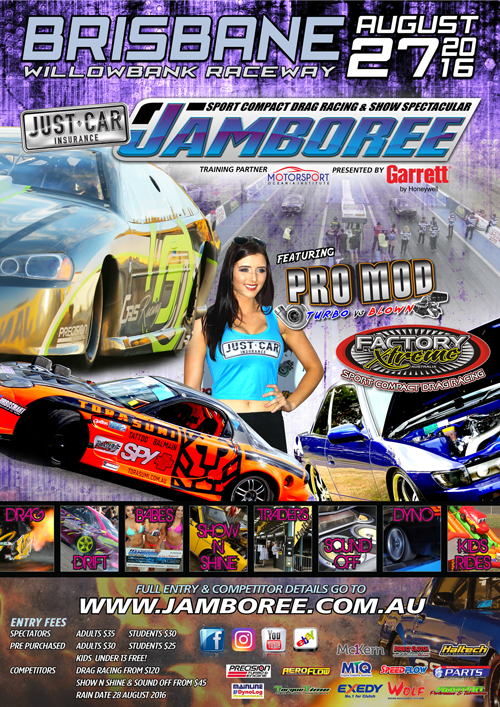 With 25 years of History, the 26th Just Car Insurance Brisbane Jamboree can be described as an Iconic Australian event, combining all the very best of high performance motoring with a strong emphasis on the traditionally smaller vehicle. But just as the industry has grown around this amazing event, so has its fan base. And with this growth comes new names, new cars and new attitudes, which makes the Jamboree a "Must Attend" event at its original Brisbane birthplace, Willowbank Raceway.

A Chrome Bumper crowd took in the beautiful winter skies of the Ipswich venue as the entire complex filled quickly with all the disciplines that Jamborees are made of. The Show n Shine was swamped by a chrome bumper bonanza of 70's JDM, with Gemini, Datsun and RX styles out in force, whilst the ADGP Drift machines were starting to make some noise on their custom track set up at the lower end of the venue. Jam Central and the Main Stage were also up early and ready for the day as well as a massive Trader Alley, Sound Off and of course….the pits!

Drag Racing is what many come to see, and many come to race as well! 170 drag racing entries filled the respective categories in the hope of having a good day with their combinations on the killer track. A large Victorian contingent of entries shows that the inaugural Melbourne Jamboree last November didn't go without its drag racing devotees. Add some of the very best interstate competitors and the staging lanes were packed with enough horsepower to melt the earth!

If a truly interstate entry list is exciting enough, imagine when news broke of Makoto Wantanabe, Builder/owner/driver of Japans fastest rotary, packing his 7.6 second FD 13BT Rx7 tube car into a container and heading to Brisvegas. Unloading successfully at Willowbank on the days prior, Wantanabe's first full-power test hits at Willowbank Raceway had already yielded him a new PB in the 7.5's, with the team from Japan ready to compete with some of the very best in Pro Compact. In fact, there were many cars from other parts of Australia looking to do the same thing as well…to run a number! Be it a PB or a goal to be Australia's…or the world's…fastest something!

Whilst milestones are rarely any bigger than seeing a 5-second pass, Drag fans were treated to many other achievements and unfortunately, incidents that made the 2016 version quite a rollercoaster ride…in more ways than one!

Long-time Jamboree competitor Mick Mcgregor was making a return to Modified Compact when his immaculately tough 9-second street 1600 nailed the wall when it lost fluid at half-track on its first qualifier.Mick was unhurt, but his pride and joy was bent badly. Bundaberg's Jason Payne also experienced high and low moments, running a PB in testing with his new stroker combination and then splitting the intercooler near half-track on Q1 and spinning the R32 around several times. Jason narrowly missed hitting the wall, which fired up the crowd to fever pitch when he saved his car from doom. There were many more moments over the day, with as many as possible being covered in the drag racing results below.

With Melbourne Jamboree locked in for November 12 at Calder Park Raceway, expect the date to arrive sooner than you think, so make sure you come join the Melbournites and fellow lovers of all things "J"

FACTORY XTREME: CANNISTRA
Precision Turbo and Engine Factory Xtreme saw 8 entries on the sheet, quickly reducing to 7 when Jett Racing's 4G63 Eclipse withdrew. Jason Both, Jerry Kehl and Archie Kajewski led Team Rotor against the 2JZ might of Rod Harvey and Nathan Hagenson and the Scott Porter V6 Nissans with Frank Cannistra driving the black SPR Infinity.

Q1 saw all the rotary vehicles experience small on-track dramas before even making a pass. The Porter Nissans ran an unusual pairing, with both experiencing start line sluggishness and aborted passes. Hagenson's 6.96/163 also showed distress, but Harvey's pedalling and big power saw the Yuasa Celica smash out a 6.20/245 that was far from prefect.

Q2 saw Kajewski, Kehl, Porter and Both all register a time, albeit from aborted runs whilst Cannistra improved to a slipping 6.71/213. Harvey Towed out, but returned to the pits with an issue, which turned out to be with the cylinder head. Hagenson reported that he was out after damaging the Camry's powerplant whilst Both also experienced a terminal oil leak with his 20B.

With numbers down to 5, 4 cars paired up for round 1. Kehl and Kajewski lined up in an all-20b battle; with Kehl prevailing after Archie experienced another startline gremlin. Porter nailed Cannistra with a .061 to .080 light and used a 6.91/214 to Cannistra's aborted 7.47. Round 2 Saw Cannistra face Kehl, who experienced issues and gave Mr Heli a shut-off solo. Porter faced Harvey, but the Kiwi Celica shut down with terminal issues. Round 3 was again a battle of attrition, with Cannistra doing enough to secure a finals spot against Porter, whilst Harvey ran a stout 4.30/162 to half-track and buttoned off. The final between the SPR cars was agreed to be an 1/8th mile contest, as the team had limited engine life after a challenging day of engine swaps and hard luck. Cannistra nailed a .013 light and never looked back, running a stout 4.37/167.
PRO TURBO: CIRTOSKI
Castrol Edge Pro Turbo had Sam Sadek in his Pac 20B Rx3 as the only rotor against a field of six banger bullies. Nikki Hepburn put her amazing Toyota 1FZ 86 on top spot with a 7.44/190 on radials, closely followed by the V6 Focus driven by Aaron Gregory. Using a pushrod 4.3 litre Ford v6, the "Flying Egg" turned out a stout, clutch slipping 7.48/181. The Rb30 in Jason Payne's tube R32 blew the intercooler and looped the beast in front of the Birrong Automotive R33 of Alex Cirtoski, who had to abort his run. Justin Cook's 2Jz S10, Sadek, Sam Preece in his 'Barradore" and the Domenic Rigoli-driven 300zx of Billy Rajab all shut off with various issues.

Q2 saw only Cirtoski improve, belting out a top-spot 7.29/197 whilst the field was reduced with Payne withdrawing. Q3 was where Justin Cook's 8.00/134 moved him into 5th, Preece's 7.55/184 earned him 4th whilst Gregory improved to a 7.30/182 for 3rd. Hepburn's 7.24/197 PB saw the 86 carry the wheels in true radial-style for 2nd whilst Cirtoski ran a mph PB with a 7.15/199.17.

Round 1 started when Cirtoski ran another 7.15/199.79 against Gregory's troubled 9.15, Cook used a great 7.65/170 to despatch Hepburn and Preece defeated a troubled Rigoli with an 8.21. Sadek retired the Rx3 reluctantly with a flywheel breakage that saw parts fly inside the car, narrowly missing "The Godfather".

Round 2 saw Cirtoski roll the beams to record a loss to Gregory's consistent 7.42/185. Sam Preece needed a pass quicker than a 7.33 to regain his "quickest Barra" title, falling short with a 7.342/187 to beat Cook's aborted pass. Hepburn retired the 86 with a broken transmission and did not return. Round 3 Cook succumb with an 8.04/118 to Cirtoski who shut off with a 7.60/156. Preece defeated Rigoli with a new PB and title of Quickest Barra when his 7.25/187 set the startline alight with joy. Gregory soloed and smashed the tailshaft into a million pieces. The final saw Preece and Cirtoski bump-off against each other on the line, with the World's quickest R33 GTS taking out the Ballarat Barradore with a 7.65/169 to a 16.71/50.
PRO COMPACT: BARNETT
McKern Pro Compact had an international flavour with Makoto Wantanabe, the 52-year-old Japanese rotary gun bringing his home-made Rx7 with his self-built 13B turbo. He joined fellow rotary royalty Steven Barnett in his Pac Rx3, Victorians Andrew Dyson in his R100 and Jurgin Piscopo's 13BT Datsun 1200 coupe, Shane Bugeja's neat 13BT 1200 coupe from Sydney and debutant Brett Stirling's slammed Rx2. Chris Hall had his now-chassised Rx7 in the mix as well after a lengthy rebuild. The 4-cylinder duo of Michael Baghdadi and Kelly Bettes were out-numbered, but not outclassed.

Q1 saw a 7-second flurry, with Dyson's 7.79/174 nailing 5th,Piscopo nailing 4th with a 7.71/176, Barnett 3rd with a wild 7.65/177, Wantanabe 2nd with a new PB of 7.42/175 and Baghdadi's clutch-slipping 7.39/144 pass for pole. Q2 saw Bugeja emerge as the only improver, using an 8.14/163 to push Kelly Bettes' 9.08 into 7th whilst Baghdadi cemented top spot with a 7.14/192. In Q3 the Lucky Bling Datsun with Jett Racing 4G63 power wedged itself into 2nd with Bettes nailing a 7.16/167, whilst Barnett's improving 7.45/187 was still a wild car to watch.

Round 1 started with a pair of dominant 4-cylinder wins, with Bettes taking out Piscopo with a 7.10/189 and Baghdadi using a 7.18/190 against Wantanabe's troubled 8.02/148. Wantanabe experienced a transmission issue and quickly had the gearbox out. With parts supplied by Rod Harvey and Co, the team thrashed to make at least round 3. But Barnett swung the attention back to the rotors when his 7.05/194 easily covered Bugeja.

Round 2 was exciting to say the least, with Bugeja's solo 7.86/166 a new PB for the team. Piscopo faced Barnett. All eyes were on Barnett, as his previous form had shown true 6-second potential. One of the remaining Australian Sport Compact benchmarks then fell when Barnett's 6.998/198 came up on the timing board, making him the first person to break into the six-second zone with a 2-rotor, and only 2nd outside Puerto Rico to NZ team Abbott Racing's 6.98! All focus returned to the start line when Baghdadi faced Bettes in possibly a side-by side six-second 4-banger battle. With a .091 to .236 light, Baghdadi outdrove and outran Bettes with a 6.878/198 to a 7.038/193.

Round 3 saw Bettes use a 7.032/194 to despatch Bugeja's 8.14 and a trans-troubled Wantanabe became a part of history beside Barnett, watching the 6.932/199.61 of the ¾ chassied, 13B Pac-powered beast, making Barnett the quickest 2-rotor outside Puerto Rico.

Bettes faced Barnett in the final, and all eyes were on whether Bettes could run her first 6-second pass against Barnett, who had 200mph in his sights. Bettes nailed Barnett to the tree with a .092 to .313, and was showing all the signs of a six, pulling away from the Rx3 when the Datsun went wildly out of shape in the top end, forcing her to shut off and watch Barnett scream past for a 7.050/200! An amazing end to an amazing bracket, with exciting racing to the very last pass!
MODIFIED COMPACT: RICHARDSON
WOLF EMS Modified Compact had plenty of variety and combinations. Like Scott Alder's flat-six Porsche-powered Kombi running a 10.98, Vaughan Cameron's 13b Fiat 124 a 10.58, or Rob Barac's Mitsubishi-powered Proton Jumbuck Ute running a 10.78 in qualifying. Vince Rigoli piloted Team Karam's wild Rb30-powered Mazda 323 to a 7.98/170 top spot, followed by Rodney Moore's 2JZ Hilux tube car with a 8.03/175. Robert Marjan's "JunII" R32 street skyline belted out a crazy 8.06/176 for 3rd whilst Ryan Blank's neat S14 was 4th with an 8.72/162, closely followed by Kristian Goleby's sleeper Corolla wagon with an 8.77/154.

Qualifying 7th and 8th, David Richardson's wild Manx buggy and Naomi Van Der Togt's neat 200SX were to meet in the final. Both 9-second machines, Richardson's manual transmission and wheelstanding antics fly in the face of consistency whilst Van Der Togt's automatic transmission wasn't lending itself to great reaction times. Round 1 saw solos to both when their seeded opponents had retired without notice, but round 2 saw Richardson face the Kombi of Alder. With a 1.15 second head start, Alder used a .097 light to flee the line, but Richardson dropped the clutch and nailed a .089, forcing the Kombi to breakout on Alders'10.85 dial with a tight 9.80 on a 9.70. Van Der Togt was to give Michael Holman's boosted bug a 1.2 second advantage, but scored an automatic win when he wasted a cherry on a 10.74 on a 10.70 dial in. Her 9.65 on a 9.50 was coupled with a 1.172 reaction time. Round 3 saw Richardson soften his dial-in, but was in early trouble against the Fiat of Cameron when he missed a shift, but despite a tight .071 to .081 start line advantage, Cameron broke out with a 10.50 on a 10.61 dial. Van Der Togt won with a 1.785 reaction time when Barac cherried the Jumbuck with a -.034.

The final saw .025 of a second split between Van Der Togt and Richardson on the tree, with Naomi's 9.50 chasing the 9.75 of the Manx. Richardson went one better than Melbourne, scoring the win with a backing-off 10.13 by virtue of his .056 light and Naomi's 3.072 leave, coupled with a closer 9.53 on a 9.50 dial. Richardson is reportedly keen to return to Melbourne to repeat this success, and to go one better than his runner-up from 2015.
STREET 289: BRITTAIN
Goleby's Parts Street 289 saw a smaller than average entry list, but that didn't stop competitors from NSW, VIC and QLD bring out the action from these small-tyred, big powered cars. In Q1, Mick McGregor's immaculate 9-second street 1600 met the Willowbank concrete wall at half-track, virtually destroying his pride and joy. Mick was unhurt as a result, but the green Datsun had sadly made its last pass. Bundaberg's Karl Herbert reeled off an 8.65/161 for top spot, with Kevin Aouad's brand-new Rx8 making its debut with an 8.89/142 for 2nd. By the time the dust had settled from Q3, the top 4 were 8-second cars, with Aouad on pole with an 8.30/177 to Herbert's 8.49/160, Errol Brittain's EJ25 Brumby held 3rd with an 8.64/157 whilst James Moore nailed 4th with an 8.79/150.

Round 1 saw Moore out-run Victorian Mathew Maltaric's neat Datsun 1200 ute, Brittain shut down a tough chase over Mark Field's Capella, Herbert shut off to a surprising win over Rodney Spannenberg's tight -.008 red light and Victorian Andrew Meyers survived a double breakout against Aouad, who was happy with his great 7.83/179 on a 7.90 dial-in to Meyer's 8.597 on a 8.60! Regular runner Ben Clark and Steve Sloan both soloed for their round 1 wins.

Round 2 started tight with Brittain eeking out a win over Clark with an 8.78 on an 8.75, whilst Clark's 10.20 on a 10.17 kept the Brumby at bay as long as he could. Herbert soloed and ran an 8.68 on his 8.20 dial whilst Meyers easily despatched a troubled Moore.

Round 3 saw Brittain leave on a .091 light to Herbert's .702, allowing him to back right out to a 9.71 win, whilst Herbert fought his Rx3 all the way to an 8.87. Meyers soloed into the final and did not try to test his dial.

The final promised to be tight with only half a light the margin on the tree. Brittain left first with a .147 light to Meyer's .300, but the 323 never could catch Brittain, who slowed accordingly to claim his first Billet J trophy.

J275: GAUCI
New for J26, Spot On Performance J275 showcased the increasing development of Drag Radial racing in this country, and with 21 entries all brimming with variety, the field didn't disappoint. And although on paper some of the bigger names didn't get a good run down in qualifying, they never gave up. Due to the large entry numbers, it was decided to run the Top 8 in a J275 Pro category on a Chicago Shootout basis. Joe Gauci top qualified with a great 6.90/212 with his twin-turbo sbf Cortina, followed by Nathan Farrugia's wild turbo LS Rx3 with a 7.25/186. Victorian Cameron Powell surprised all with a 7.67/179 from his neat VL Calais, as did Sam Scoutas' turbo chev-powered VR HSV with a 7.77/181. Next was Ash Mason's turbo LS Rx7 with an 8.03/164 being the quickest Queenslander on the list followed by Andrew Zada's wild 20B street Rx3 with an 8.22/161. Fellow street car weapons Mark Van Der Togt's twin turbo XW ran an 8.57/161 for 7th whilst Doug Day's twin turbo Holden Calais nailed 8th with an 8.63.

Round 1 of J275 saw Terry Seng improve from qualifying with a 8.04 win over Victorian Brad Lane, brother Jason out ran Danny Landsdowne's rebuilt VL wagon with a 9.46, Steven Smith's Holden downed John McDade's 200sx, James Horan's wild TTBBC Hilux edged out Ben Bray's new Datsun 1200 radial car and Andrew Coles soloed with a 9.21, as did Anthony Briggs with his Ford 6 powered Cortina.

J275 Pro Round 1 Saw Scoutas solo to a 7.97/178 when Day didn't front, Farrugia outran Zada's wheelstanding Rx3 with a 7.19/193 to a 8.20/170 and Gauci toyed with Mason's Rx7, rolling off to an easy 7.70/141. Powell then despatched of Van Der Togt in an uneventful 12.56 to 8.50 after Mark sat on the line for 4.78 seconds.

Round 2 of J275 Saw McDade improve to a 9.44/152 to despatch the 9.13/149 by Spot On Performance co-owner Coles, Terry Seng showed his potential with a 7.80/156 solo, as did Horan with a 7.61/165 against a broken Jason Seng. Brad Lane took out Smith whilst Landsdowne and Briggs each soloed with 8.68 and 8.84 runs respectively.
J275 Pro Round 2 had Scoutas powering out of the hole in true radial fashion, with the LHF wheel held in the air for several hundred feet against Mason, and with a 7.67/183 to 8.08/161 win, whilst Day had returned for round 2 against Powell. Powell outreacted and led Day to half-track until all hell broke loose, getting loose and smashing the wall hard. Powell has unhurt, but disqualified, handing the win to Day. Gauci faced Zada and gave the Cortina its head, recording another 6.90, but this time at 215.24 mph, making it one of the fastest speeds in the world on a 275 radial. Zada's ongoing wheelie antics beside Gauci were not forgotten, nor was his 8.15/171 PB. Farrugia ran another wild pass at 7.23/186 against a troubled Van Der Togt.

Round 3 of J275 had Smith against McDade, and his 9.08 defeated a slower reacting 8.84/156 from the 200sx, but Mcdade's crew didn't mind the loss after running their new PB. Terry Seng then faced old radial rival Horan, and his great .056 light and 8.21/150 covered the .140 light and 8.14/187 from the Hilux. Seng's Commodore was blowing plenty of smoke on the run, indicating some mechanical peril. Briggs finally faced an opponent, being Brad Lane, and despatched the Victorian with an 8.80/154. Coles soloed with a 9.16. Seng and Briggs were due to face each other in the final, but Terry had blown a turbo, and didn't make the call in time, handing the win to Briggs.

J275 Pro Round 3 saw the field halved, with Farrugia, Van Der Togt, Scoutas and Powell all not making the call. Mason fronted and held out Day with a 9.41 to Doug's snoozy 8.58/159 from his street car. Gauci then ran an 8.18 to hold out Zada, who won the wheelstand award with repeated wheel-carrying prowess throughout the day.

Gauci and Day met in the final, and in a one-horse race, galloped his mighty blue steed away to a 6.85 PB at 213 mph to Doug's valiant 8.55/159.
MODIFIED 10.5: ROSELUND
Oceania Motorsport Institute Modified 10.5 again featured some wild machines from QLD, VIC and NSW. Mitch Roselund stood at the top of qualifying after the 3 rounds with the only 7-second time at 7.76/176 with his 2JZ Datsun 1200 ute, but there were more 7's to come during racing. Making their comebacks after some time off, Scott Hoffman and Matt Kelly had their 2JZ powered beasts ready, with Kelly's 8.19/171 good for 3rd, and Hoffman's famous Ke20 was 4th with an 8.19/146.

Round 1 saw Hoffman's 9.43 fall to Victorian Nigel Perera's 8.72, Fred Karam's VL use an 8.62 to defeat Rod Anderson's VR and Roselund's 10.65 was already at the finish line when Kelly's 2.94 reaction timed Torana broke the beams with his first 7, a 7.96/175. An 8.08/172 from John Ricca's VL then won over a red-lighting Phil Penny in his amazing 2JZ Honda 600.

Round 2 started with Perera taking out a troubled Kelly with an 8.79, whilst Hoffman demolished Karam with a .017 light and 8.02/159. Roselund then handled Anderson easily with a 9.66 to 16.48.

Round 3 had Perera against Roselund, who found his 7-second form again with a 7.86/174 over Perera's 8.59 whilst Hoffman and Kelly faced off in the other semi. Hoffman nailed Kelly at the tree with a .055 to .643, but was hauled down by a charging 7.91/178 to a slowing 8.74/145.

In an all-2JZ final, Roselund used a better reaction time and 7.71/176 to keep Kelly's Torana at bay with a 7.93/175
EXTREME: MARSH
Garrett by Honeywell Extreme had the largest contingent of turbo 4–cylinder dragsters ever seen in one place at once, with Megan Anderson driving the Esslinger-powered Weldwell rail, Roxanne Thomas in her twin-turbo Ecotec dragster built by husband Lee, and the Ben Diggles/Jeff Watson FJ20-powered S&W dragster. Adding to the open-wheelers were competition eliminator regulars Shane Seawright in the SBCTT altered and Darryl Marsh's 2JZTT altered. Throw in Gerry Sarafoglou's tough six-second single-turbo LS Commodore ute and Greg Murray's awesome new single-turbo SBC Torana and the battles were to be as diverse as they were fast.

Diggles qualified at the top with a 6.84/187 PB, but had to retire the FJ20 for round 1, making Sarafoglou's 6.89/196 the new top spot. Anderson qualified 2nd with a 7.31/180, Marsh 3rd with a 7.48/175, Roxanne's 7.80/174 was 4th, whilst Seawright's 8.00/209 was 5th and Murray's 8.28/159 sixth.

Round 1 had Anderson out first with a .174 light on a 7.24 dial whilst Seawright waited with a 6.50 dial. His .318 light saw him with no option but to scream past Anderson in an effort to catch the dragster, but broke out with a 6.44 at 222 to a safe 7.30/180. Marsh easily handled Murray's 8.61 with a 7.92 and Sarafoglou had issues against Thomas, whose 8.23 on a 7.60 dial-in was enough to send both the v8s home.

Round 2 saw Marsh face Anderson, and his 8.30 on a 7.40 dial was enough when Megan went red with a -.006, and Roxanne soloed into the final.

With an unresolved issue, Thomas lowered her dial-in to 8.60 and staged against Marsh in the hope of a red light, but Marsh held out long enough for his light to go green, and coasted to his first ever Jamboree win.
ALL MOTOR: BURNETT
Direct Clutch Services All Motor again showed a strong 15-car field, with Honda's, Volkswagens, Toyota's, Mazda's and a couple of oddball entries. Jason Frost qualified his beetle on top with an 11.11, followed by Dave Butler's 11.29 from his big VW-engined beast, Jason Stoodley's Barra-powered Cortina 3rd with an 11.58 and Glenn Alcorn's 11.77 from his Honda Civic. But despite the variety, the final came down to a couple of VW beetles from different ends of the country. Hailing from the coastal NSW town of Pottsville, Brendon Burnett had qualified his "patina Herbie" 8th with a 13.16, whilst Matt Berry qualified 10th, and had towed his Beetle down from Cooroy in QLD.

Burnett faced his brother Jason in round 1, forcing him to break out with a great .068 light and 13.13 on a 13.10 dial-in to a .076 light and 15.07 on a 15.20. Berry started his campaign by taking on bracket racing heavyweight Stoodley, surviving with a .070 light and forcing Stoodley to red light.

Berry fronted for round 2 and had to chase Dennison Seeto's Honda with a 13.20 to 14.40 dial-in. his .281 light was better than the .400 and sub sequentially was able to back off with a 13.92 win. Burnett on the other hand had to be chased by one of Queensland's All Motor hotshots in Alcorn. Leaving on his 13.10 dial, Burnett's .079 light and 13.37 did the job, as Alcorn tried too hard, cutting a -.010 red light.

The semi-final pairings didn't get any easier, with Berry keeping out the number one qualifier in Frost with a .199 light and 13.36 on a 13.20 to Frost's better .143 light but off-dial 11.46 on a 11.20. Burnett cut a .119 light against Ben Cavanagh's Suzuki, and earned a spot in the final when Cavanagh went -.113 red.

Both dropping their dial-ins to 13.00, Berry and Burnett were set to duel for the title and put it all on the line. When the tree dropped it was Burnett that moved first with a .135 to Berry's .319. With no real performance advantage, both beetles screamed through the gears and hit the line virtually together, with the win light going to Burnett with a 13.02/100 over Berry's 13.14/98.
STREET COMPACT: THOMSON
Haltech Street Compact showed a great field of nearly 40 competitors, showing substantial growth at the street-entry level of Jamboree. With an eclectic blend of late-model high-tech, to chrome bumpered old-school, and everything in between, Street Compact remains the place to race street cars legally and safely. Nathan Wilson put his GTR on pole with an 11.04/125, but there were plenty of others who could easily drop into the 10's if the rules would allow. With the DYO elimination format in place, the finalists would have to survive a few rounds in order to get the chance to claim a billet J trophy. And again an interstate final was seen, with Christine Thomson's XR6 ute from QLD taking on NSW's Sebastian Nadjer and his low-11 second VW Golf.

Thomson almost went out in round 1 when chasing Mark Kilby's VW. Kilby's sharp .070 light was looking .165 better than Christine's .235 reaction, but he backed off on his 12.40 dial-in with a .470 over 12.87, allowing Thomson to scream past with a closer .006 over 11.41 on a 11.35. Nadjer was also lucky against Scott Maxwell, as his breaking-out 11.74 on his 12.25 gave the win to Nadjer, who also broke out with an 11.33 on an 11.35 dial-in.

Round 2 saw Nadjer and Marke Bilbow leave with .233 and .249 lights respectively, but the VW's 11.40 on a 11.30 was a tiny bit closer than a 11.72 on a 11.60 from Bilbow;s Mazda. Thomson again had some luck on her side when she slept on the tree with a .551 chasing Graeme Manietta's best light of the round with a .037, but fell off the 13.90 dial-0in with a 16.00. Christine went to the line anyway with an 11.39 on an 11.35.

Round 3 had Nadjer chasing down David Cox, who is known to be no lightweight in Jamboree folklore. Cox' electric .033 light and 14.85 dial-in really put the pressure on a waiting Nadjer who had dropped his dial-in to 11.20. His .258 light was nowhere near an advantage…until Cox triggered the beams with a 14.72 breakout run. Nadjer's flat-out 11.37/117 was enough for a spot in the final. Thomson had no easier path, having to take on previous Street Compact winner Tim Donselaar in his Nissan. With .90 head start, Donselaar's .332 light wasn't perfect, but neither was Thomson's. Her .236 first light meant that she was going to have to meet Donselaar at the last light..flat out! As both cars crossed the finish line, the win light came up for Thomson when Donselaar's timing board read a 12.23 on a 12.25, and Christine's read 11.40 on an 11.35.

The final saw only .10 of a second split on the tree, with the ute of Thomson leaving first. Both cars had run similar times and speeds, so no advantage could be placed on outright performance. It would come down to the tree. Thomson caught her last amber first with a .187, whilst Nadjer was late at .290. With no brake lights for either lane, both headed to the strip at full speed. Thomson's .04 over 11.39 on the 11.35 dial-in put Nadjer's .08 over 11.33 on his 11.25 away. If all the planets align, there's a good chance there could be a repeat of this battle in Melbourne!!
LIGHT OF THE NIGHT Vaughan Cameron (Fiat 124) .004 R/T
SKYS THE LIMIT Andrew Zada (Rx3)
SMOKEN Phil Penny (Honda 600)
CREW STYLE Makoto Wantanabe (Rx7)