NEWS - ITEM 289
TUNERS EDGE PRESENTS FOR 2017 JAMBOREE SERIES
Date: 20/02/17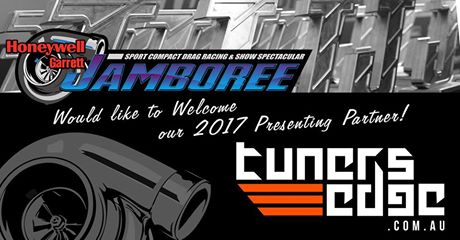 After their success as a presenting partnership at the 2016 Melbourne Jamboree, Tuners Edge returns as a presenting partner for the entire 2017 Jamboree Series.

The Melbourne-based performance parts, accessories and tuning business supply a massive array of performance parts from EFI equipment, to turbos, wheels and tyres, American muscle and Japanese parts, engine parts the list goes on and essentially everything performance based. They buy direct from the manufacturers to keep prices affordable for racers and carry a huge range in stock.
"The feedback we received from the 2016 Melbourne Jamboree was very positive so we made the decision to spread our wings and support the entire 2017 Jamboree Series. It's going to be a big year for us and we are extremely excited at the opportunities the sport compact scene and Jamboree will bring to the table" said Arthur Manidis, manager of Tuners Edge.
Check out the Tuners Edge Facebook page https://www.facebook.com/tunersedgecoburg/ or for more details visit www.tunersedge.com.au or call 03 9354 6666 during office hours.
Tuners Edge are located at Factory 4/35 Catherine St, Coburg North VIC 3058