NEWS - ITEM 291
SYDNEY JAMBOREE MEETING REPORT
Date: 8/05/17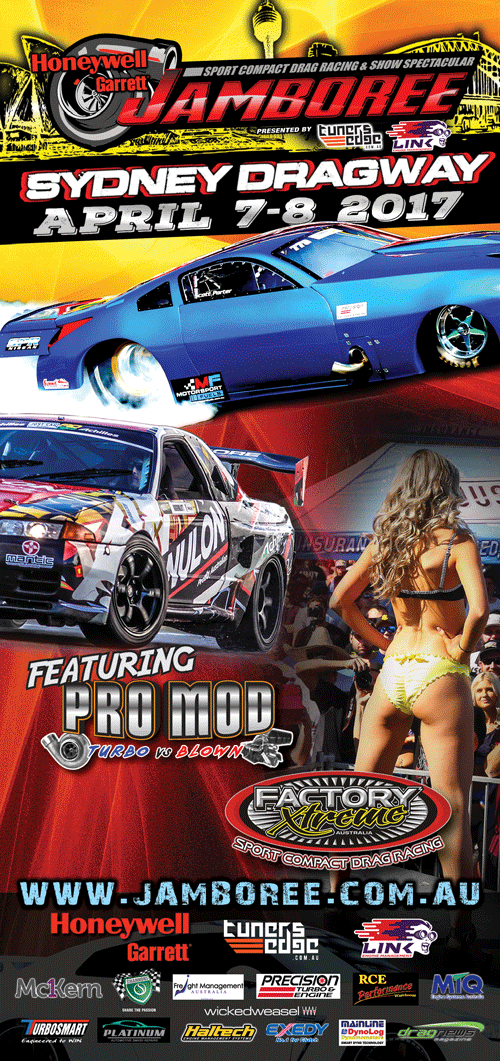 The 2017 Honeywell Garrett Sydney Jamboree presented by Tuners Edge and Link ECU exceeded expectations with close racing, records falling and wild rides.

The event was moved to Friday night qualifying then Saturday racing format on April 7th and 8th after rain forced the postponement from the event originally scheduled for March.

Friday night qualifying was nothing short of spectacular with the crowd holding their breath as George Rehayem took a wild ride in the Queen Street BMW. Rehayem's courageous driving kept the BMW from impacting any walls ensuring the immaculately presented vehicle was ok for race day.

Nathan Hagenson set tongues wagging with a string of six second passes in Precision Turbo Factory Xtreme however it was Scott Porter in the Nissan 350Z who grabbed the top qualifying position with a great 6.34 at 200mph.

As the sun rose on Saturday morning it became obvious the weather was going to be on our side as bright skies and a cool breeze welcomed everyone to Sydney Dragway. The Shannon's Show N Shine competitors cruised in early with Sydney's finest on display. The Link ECU Drift Exhibition once again filled the pit area with plumes of smoke as Australia's top drifters set their limiters to the maximum in what was an epic demonstration of bumper tearing, wall scraping driving skill. Although the crowd converged to the Jamboree stage for the annual Wicked Weasel Babe and Bikini shows, it was the drag racing everyone was pumped to see.

PRECISION TURBO FACTORY XTREME – SCOTT PORTER
Nine cars entered in Precision Turbo Factory Xtreme, consisting of George Rehayem and Anthony Maatouk teaming up in the Queen Street BMW and Holden Monaro. GAS Racing brought out Joe Signorelli's Celica and Nathan Hagenson's Camry and Queensland team Scott Porter Racing were represented by Scott Porter in control of the 350Z and Frank Canistra in the Nissan Infinity. Archie Kajewski also made the trek south to bring the Mazfix Mazda 6 to join the party. Jason Both also represented the rotary brigade in his 20B RX7 and Dion Amato completed the field in his spectacular Dodge Avenger.

Round 1 Nathan Hagenson and Frank Canistra went head-to-head with Hagensen storming home for the win running a great 6.53 at 221mph to Canasta's 6.95 at 195mph. Archie Kajewski grabbed a win his 20B powered Mazda 6 peddling his way in 7.26 seconds at 164mph over Dion Amato's 7.98 and 162mph. The third and final pair of the round saw Anthony Maatouk start to come to grips of the Queen Street Holden and run a 7.09 at 191mph to win against a Scott Porter who crawled down the track at just 120mph in 7.97 seconds.

Hagenson was quickly becoming "Mr Consistent" when he rattled off a 6.38 at 219mph in Round 2, winning against Scott Porter's 14 second pass. Amato left before the Christmas tree was activated handing the win to Canistra who struggled to get down the track in 7.95 seconds at just 120mph. Maatouk got his second round win due to a bye run going 7.46 at 191mph.

By the time Round 3 came there were just 4 Factory Xtreme soldiers standing. A multitude of mechanical breakages meant a number of competitors were unable to front. Hagenson faced Amato and won giving him 3 out of 3 wins. Hagenson's 6.38 at 221mph was too quick for the Dodge Avenger that ran 8.03 at 149mph. Scott Porter struck luck when Canistra was shut down due to an engine problem. Porters 14.35 at 59mph was good enough to secure him a place in the final.

The final was shaping up to be a great battle. GAS Racing's Nathan Hagenson had been running 6.3's all day; Scott Porter despite being the worlds fastest Nissan, had not put down a representative pass and made the finals thanks to luck and a hard working crew. Hagenson got the better reaction time, a .073 to Porter's .095 but by the finish line the Nissan had driven around the Toyota. Porter's best pass of the day, 6.39 at 234mph, crowned him Precision Turbo Factory Xtreme champion while Hagenson had to settle for runner up running his slowest pass of the day, 6.52 at 219mph.

HONEYWELL GARRETT PRO MOD – PAUL MOUHAYET
John Briscas stampeded Friday night qualifying running a personal best of 6.10 at 247 mph to claim top qualifier in Honeywell Garrett Pro Mod. Joe Gauci's 6.79 at 172mph was good enough to place the mustang in second. A total of 5 cars qualified in Pro Mod with Paul Mouhayet , Steve Athens and Rob Taylor completing the field . Unfortunately a broken diff housing would destroy any chance of Taylor fronting race day leaving 4 cars to do battle.

Round 1, Briscas lowered his personal best to 6.01 at a huge 252mph in the twin turbo Corvette to take the win from Mouhayet's 6.54 at a slowing 171mph. Gauci notched up a win against Athens with a 6.62 at 193mph to a losing 7.64 at 190mph.

Round 2 gave Briscas a solo pass as Athens failed to front. The pass was troubled only managing a 7.60 at 141mph. Mouhayet got the win over Gauci running 7.45 at 145mph over Gauci's aborted 10.31 at 87mph.

Mouhayet was using the 2017 Sydney Jamboree to make his return to racing after crashing his world record holding mustang at Sydney Dragway 12months prior. Making the most of his allocated bye run in round 3, Mouhayet layed down his cleanest pass of the weekend lighting up the score boards with a 5.89 at 217mph, also earning himself a finals spot. Joining Mouhayet in the final would be Briscas who won 3 out of 3 races as he beat Gauci's 11sec pass with a 5.99 at 251mph, his first ever 5 second pass.

The Pro Mod final came down to the Corvette of Briscas and the Mustang of Mouhayet. Mouhayet got the jump at the start with an 0.21 reaction to Brisca's .226. In front, Mouhayet would stay in front the whole race crossing the finish line first running 6.11 at 215mph. Briscas gave it all he could but just came up short with a 6.20 at 249mph.

PLATINUM AUTOMOTIVE SMASH REPAIRS PRO TURBO – DOM RIGOLI
During Friday night qualifying the 5 Pro Turbo competitors struggled to find their feet. Dom Rigoli was the only competitor to lay down a time that was representative of the bracket top qualifying with a 7.45 at 145mph. Gina Bullians from her Mazsport RX7 to an 8.08 at 125mph to claim number 2 qualifying position while Alex Cirtoski, Nick Tsoltoudis and Nikki Hepburn rounded out the 5 car field.

Round 1 on race day saw performance improvements and a good close race between Bullians and Hepburn in the Toyota 86. Bullians was the quicker of the two running an outstanding 6.87 at 204mph but it was Hepburn who grabbed a holeshot win running 7.08 at 205mph. This pass also gave Hepburn back her import-radial world record. Tsoltoudis found some form in his RX3 against Rigoli and took the win with a 7.57 at 176 to Rigoli's slowing 11.99 at 70mph.

Round 2 was a battle of the rotaries as Bullians and Tsoltoudis went head to head, Bulllians was first off the startline and first to the finish line punching out a 6.99 at 203 to win over a 7.49 at 176mph. The second pairing was the battle of the pistons as Rigoli's 300ZX lined up beside Hepburn Toyota. It was terrific race which saw the Toyota cross the finish line in 7.04 seconds at 206mph ahead of the Nissan's 7.21 at 204mph.

Rigoli scored the bye in the semi-final as Bullians could not front in the RX7. Testing the car, Rigoli lay down a 7.36 212mph and won a spot in the final. Tsoltoudis drove the wheels off the RX3 as he raced Hepburn but the 20B rotary could not catch the power of the 6 cylinder who cemented her spot in the radial world record books and the final running a 7.02 at 206mph to the 7.74 at 183mph.

So much excitement surrounded the Pro Turbo final. Hepburn had been running faster and faster all day. Rigoli had been number 1 qualifier and run low 7's most of the day. As the Christmas flashed, Hepburn mashed the pedal and got the advantage but it all went sour as the Toyota 86 made a hard turn left shooting Hepburn across the track and colliding hard with the wall in front of Rigoli. The car then ping-ponged back across the track and made a second impact with the wall. Nikki walked away from the wreck unscathed and though the car did not look the beautiful piece of machinery it once was, it held up well with all safety features doing their job. Rigoli was crowned winner of Platinum Automotive Smash Repairs Pro Turbo despite no elapsed times recorded by the race cars.

MCKERN PRO COMPACT – STEVEN BARNETT
Rodney Rehayem came to race day as top qualifier courtesy of his 6.94 at 184mph leading the strong 9 car field made of up 13B rotary and 4 cylinder piston powered vehicles.

Steven Barnett faced Andrew Maratos in first round and won in the slowest race of the event. Both cars rolling over the finish line out of puff. Kelly Bettes proved she was serious about race day and lay down a 7.04 at 190mph to win against Mario Rehayem's slowing 8.84 at 102mph. Sammuel Travato red lit his chances away against Jurgin Piscopo who ran 7.92 at 171 to Travato's 8.55 at 159mph. Rodney Rehayem took his time on a solo pass rolling through the finish line in 19 seconds and just 35mph.

Competitors stepped up in performance in Round 2. Travato on a solo pass went 8.20 at 165mph. Piscopo kept his winning form alive running 7.74 at 167mph against Rodney Rehayem's 12.44 at just 60mph. Barnett raced to the win in 7.04 seconds at 189mph beside the Jett Racing Datsun ute of Bettes who went 7.24 at 187mph.
The final saw Barnett's RX3 take on the 2016 Melbourne Jamboree winner, Datsun driver Piscopo. This time Piscopo would settle for runner-up as the win went to the PAC Performance RX3 of Barnett.

RACE CAR ENGINEERING J275 – STEVE BEZZINA
Danny Landsdown had everyone talking with his spectacular wheelstand in his Commodore VL Wagon but it was Nathan Farrugia who lit up Race Car Engineering J275 by qualifying storming to number 1 in 6.94 seconds at 201mph. Farrugia lead field ahead of competitors Steve Bezzina, Landsdown, Steve Smith, Michael Della, Craig Everleigh and Sper Vega.

Vega found form on race day as he faced Della in round 1. Although Della had the quicker of the reaction times, his 9.70 elapsed time at 143mph could not fight off Vega who marched home in 7.94 seconds at 174mph. Bezzina started the day well with a win at 7.08 at 200mph against a losing 9.52 at 139mph run from Smith. Farrugia showed Landsdown who was boss when he went 6.94 at 200mph to win against Landsdown's 8.58 at 181mph.

Round 2 Landsdown faced Vega who ran a solid 8.95 at 170mph but it was the Commodore Wagon that turned on the win light running 8.17 at 182mph. Bezzina drove his Falcon to another win against Della in the Datsun ute – a good 7.49 at 193mph to a 9.57 at 143mph. Farriguia lit up the boards and the faces of his crew when he ran 6.84 at 205.66mph to become the worlds fastest LS powered radial car and take the win against and 8.67 at 162mph from Smith.

Farrugia continued his winning ways in the semi-fian as he raced Della. Earning his finals spot, Farrugia's 6.85 at 204mph was simply too quick for Della's 9.38 at 145mph. Landsown notched another win and the best wheelstand award lifting his from wheels skyhigh then running a 9.61 at 168mph. But it was Bezzina who would win his way to the finals as his 7.18 at 197mph beat the broken Vega's 38 second pass at just 26mph.

Farrugia left first in the RX3 but it was Bezzina who got the win, driving around a slowing 7.25 at 171mph from Farrugia to become J275 champion in 7.21 seconds at a huge 201mph.

LINK ECU MODIFIED 10.5 – VINCE RIGOLI
Crowd favourite Phil Penny steering his Honda S2000 delighted crowds with his long smoky burnouts and impressing speeds in Link ECU Modified 10.5 in a field dominated by VL Commordores. Penny, along with Vince Rigoli in the Mazda 323 had the task of keeping the Holden drivers of Aamer El Houli, Fred Karam and Ben Pascuzzo at bay.

The qualifying was tight with every competitor running in the 8 second range. Penny led the way with a quick 8.04 at 171mph while Rigoli slotted in second running an 8.05 at 167mph followed by Pascuzzo, Karam and El Houli.

Round 1 Penny was fortunate to score a bye run win as the Honda struggled to get down the track in an aborted 20 second pass. Karam lined up alongside team mate Rigoli but leaving late at the startline made it an easy win for Rigoli who stopped the clocks at 8.50 seconds at 167mph. Karam's pass was still quick though at 169mph in 8.54 seconds. Pascuzzo turned on the win light beating El Houli with an 8.27 at 165mph.

Rigoli had the by run in round 2 and pushed the Mazda to its best pass of the day, an 8.04 at 168mph. Karam's 10.43 at 127mph gave him the win as El Houli once again struck problems while Penny went 7.96 at 179mph to run away from Pascuzzo.

The semi-final was Pascuzzo's turn for the bye run and he raced down for a 8.35 at 169mph. Rigoli cemented his place in the final with a against El Houli. El Houli managed to make it down the track in 9.59 seconds at 155mph but it was Rigoli who lead start to finish, crossing the finishline in 8.83 seconds at a slowing 136mph. Penny became the second finalist with a strong 7.98 at 179mph win against Karam's 8.60 at 155mph.

Rigoli saved the best for last, cutting a .004 reaction time to win himself the Honeywell Garrett Light of The Night award.

That was not all Rigoli won as he stayed ahead of Penny the length of the track. Rigoli's 8.19 at 170mph to Penny;s 9.41 at 139mph crowned him the Link ECU Modified 10.5 champion.

SHANNONS MODIFIED COMPACT – JAY SADEK
An impressive 18 cars qualified in Shannon Modified Compact. Emmanual Mann in his PAC Performance RX3 lead the field in qualifying with an 8.36 at 170mph.

Mann's qualifying glory was short lived though as he was eliminated in round 1 of racing by Majed Haddad.

After 4 rounds of great close racing 3 competitors battled out the semi-finals. Jay Sadek was fortunate to have a bye run and set himself up nicely with a 9.60 at 145mph. George Rehayem did battle with Majed Haddad. Haddad the slower of the 2 dialled in a 9.40 and left with a better reaction time of .630. Rehayem doing the chasing dialled in an 8.90 and left with a .788 reaction time. Unfortunately for Haddad he strayed from his dial in running an 9.71 at 146 mph allowing Rehayem to drive away and run a 8.98 at 149mph.

The finals were set. George Rehayem, one of the pioneers and superstars of sport compact racing worldwide would take on the young gun, up and coming racer Jay Sadek. Jay dialled in an 9.35, Rehayem again to chase dialled in an 8.90. Sadek left with a good 0.74 light and was well in front when Rehayem launched. Sadek lead the entire quarter mile and a 9.47 at 146mph was good enough for the win as Rehayem had troubles and rolled down in 32 seconds.

MTQ ENGINE SYSTEMS STREET 289 – MOUSTAFA SAKINA
Although qualifying saw twelve competitors make the MTQ Engine Systems Street 289 field, a hoard of breakages would see the field shrink to eight cars come race day.

Round 1 had win lights for Sam Meintanis, Rodney Spannenberg, Moustafa Sakina and Alex Koutrodimos and move into round 2.

Meintanis and Koutridimous paired up first in the second round but it was all over at the hit of the throttle for Koutridimous who red lit by -.004 of a second. Meintannis took the win staying close to his dial in of 7.77 by running a 7.86 at 174mph earning him a spot in the final. Seasoned racer Spannenberg lined up against Sakina in what was a battle of the RX7's. Spannenbergs dial in of 9.25 would mean he was to leave first as quicker Sakina dialled in with 7.95. Spannenberg was unusually late at the Christmas tree with a .415 reaction time and gave Sakina huge advantage when he reacted in .191 seconds. Though Spannenberg pressed hard and went 9.27 at 143mph Sakina was just too good and won in 7.96 seconds at 175mph.

Meintanis who was also number 1 qualifier in the Queen Street Gemini was set for the final against Sakina. Just .15 of a second separated the dial-in's – Meintanis a 7.80 and Sakina 7.95. Meintanis left with a .261 reaction but Sakina went better, a great .005 reaction gave him what he needed to become MTQ Engine Systems Street 289 champion. Meintanis went 8.03 at 175mph and crossed second to Sakina's 8.11 at 171mph.

FREIGHT MANAGEMENT AUSTRALIA ALL MOTOR – TIM JAMES
Freight Management Australia All Motor brought out some of the best naturally aspirated cars in the country. Mark Costanzo belted out a 9.33 at 138mph to be number one qualifier in a field of 8 competitors.

Costanzo took the Datsun through to the semi-finals on race day where he met Tim James in the mighty Ford Falcon Panel Van. James out reacted Costanzo and got the win running 12.03 at 112mph on his 11.95 dial in. Costanzo's 7.94 at 137mph could not catch the big van.

The second semi-final was the Mitsubishi Lancer of Trent Bianco and Brendan Burnett steering the VW Beetle. Bianco ran his quickest pass of the weekend, an 11.88 at 112mph but it was too quick and he handed the win to Burnett courtesy of a break-out. Burnett's 12.59 at 103mph won him his spot in the final.

The final in All Motor was a very close race. Burnett had a great reaction time of .008 but the advantage at the start was not enough as he strayed from his 12.90 dial in and ran 13.14 at 103mph. James drove around the panel van and ran closer to his dial in, a 12.01 at 109mph was good enough to win.

TURBOSMART STREET COMPACT - MARCOS DILLMAN
A healthy field of Turbosmart Street Compact competitors fronted at the Honeywell Garrett Jamboree. Number 1 qualifier Ibrahim Aouad lead the field which comprised of street based vehicles of all makes and models.

The final pairing came down to Steven Johnson in his Toyota Celica and the Mazda 808 Wagon of Marcos Dillman. Both competitors had been in good form throughout eliminations but it was Dillman who reacted better at the startline and lead the race to take the win. Dillman's 11.84 at 106 good enough over Johnson's slowing 19.60 at 55mph.

The Jamboree would like to take this opportunity to thank our partners, competitors, our Jamboree crew, the Sydney Dragway management & staff, spectators and all those that help with the event.

Eyes now turn to the Honeywell Garrett Brisbane Jamboree on August 26 & 27 at Willowbank Raceway. Visit www.jamboree.com.au for more details.