NEWS - ITEM 306
MICROTECH EFI SIGNS UP FOR BRISBANE JAMBOREE AGAIN IN 2018
Date: 9/5/18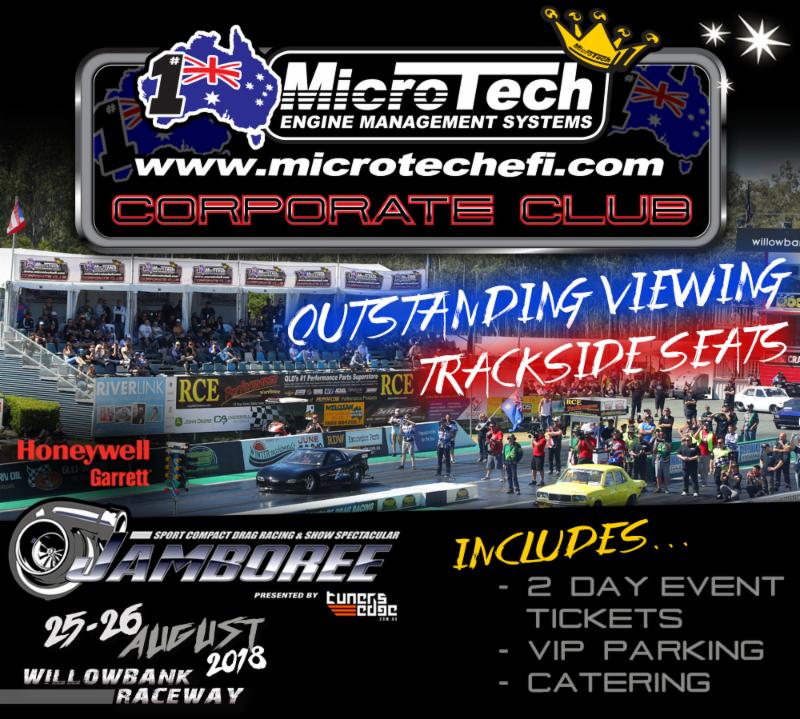 Today, Jamboree Australia Pty Ltd announced, that Microtech EFI will be the naming rights partner of the Corporate Club at the Brisbane Jamboree for the second year in a row.
The Microtech Corporate Club provides outstanding startline viewing of all of the action at Brisbane Jamboree and is also available to the public, in limited numbers, who are looking for something more in their Brisbane Jamboree experience.
Microtech EFI are a long-time partner of Jamboree Australia over many years, and have secured this "must have" viewing facility at one of greatest drag racing spectacles the "Honeywell Garrett Brisbane Jamboree".
Microtech EFI boss, Jon Blanch, said "The Honeywell Garrett Brisbane Jamboree is one the most iconic Sports Compact Drag Racing events in the world and provides Microtech EFI with world-wide coverage of our brand that's very important to our marketing plan"
"The Microtech EFI Corporate Club provides the greatest viewing position on the facility for our corporate guests, who literally get the feeling that they are "ringside" when the action starts with world record performances achieved by the racers.....We Love it!"
Jamboree Australia Director Collin Willshire welcomed Microtech EFI's continued support of Brisbane Jamboree and said.... "This is great news for Brisbane Jamboree and we are very proud that Microtech EFI, are providing continuity with their support on an annual basis, as it provides the strong foundation for us to continue with our development plans for the event"
Drag Racing must be seen live, as it is the complete assault of the human senses that provides an unforgettable experience. A lot of motorsport is better on TV than the live experience, but not so with Drag Racing, which is a "must be there" experience and the Microtech EFI Corporate Club is certainly that place to be at the Brisbane Jamboree.
Microtech EFI manufactures complete engine management systems, pro dash's, egt modules, pro boost controllers and much more for the total control of your EFI system.
The 2018 Honeywell Garrett Brisbane Jamboree at Willowbank Raceway on the 25/26th August will feature the two car USA Team from TITAN Motorsports Plus over 250 competitors from Australia, New Zealand, Japan and Thailand!
LIMITED SEATS AVAILABLE! BE QUICK TO SECURE YOURS!
TICKET INCLUDES:
2 DAY EVENT TICKET
VIP PARKING
CATERING BOTH DAYS
CASH BAR
$240 PER TICKET