NEWS - ITEM 340
GARRETT SYDNEY JAMBO 2.0 SHOWS REAL FIGHT FOR 2019
Date: 05/04/19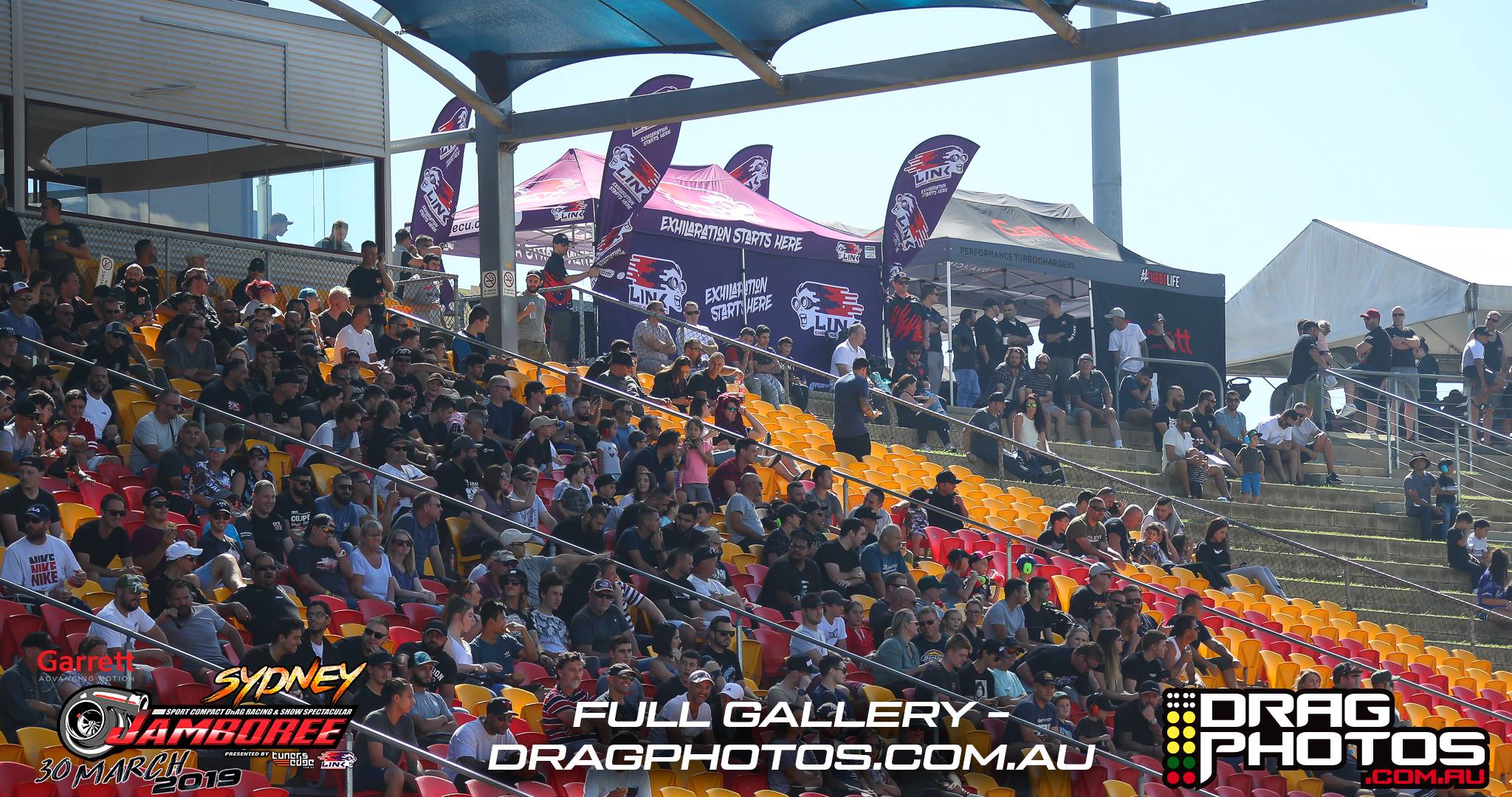 The Garrett Advancing Motion SYDNEY Jamboree, presented by Tuners Edge and Link ECU is always a great indication of what the Australian tuning industry has to offer for the New Year, being the first JAMBO hitout of 2019 at Sydney Dragway. When the looming March 16 weather forecast turned 100% rain for the Saturday, and a rain date set for Sunday had an expected similar outcome, the call was made to postpone SYDJAM2K19 to March 30.
Fridays testing saw many teams find their feet fast, none more than Rod Harvey's "Fresh off the Boat" Camry. His amazing 5.85 PB, set in Orlando just months before, was lowered again with a stunning off-trailer 5.81/253!!. Rod almost couldn't believe the number, as it "felt too slow" to be that quick! Kelly Bettes also pushed the Jett Racing Pro Mod Mustang closer to the magic 5-second zone, clicking each pass early with promising short times. Teams from Queensland, Victoria, South Australia and the ACT joined the ever-growing field of Sydneys drag weaponry for what was promising to be a day for the record books.
But when rain started to fall just after midnight, and only became heavier as the hours passed, the heavy onslaught saw the venue completely saturated, however the sun rose to clearing conditions!
The Shannons Show 'n Shine and Hi-Tec Oils Drift track action kicked off with limited delays, and all drag teams hoped that they could set their machines loose once the moisture was under control. With a forecast of clearing conditions, all hope was held for a start on-track from lunch time on. Sydney Dragways incredible effort to reinstate the track to a premium was realized soon after, and qualifying kicked off with a one-shot Qualifying session near 2pm.
The track was killer immediately, which normally sees a number of phenomenon arise at a Jamboree: Big numbers, big wheelies…..and great racing. But after a killer first burnout and off-trailer 7-second run in session 1, Phil Pennys amazing 2JZ Honda S600 unfortunately hit the wall hard after an o-ring sent oil under the front wheels at the end of another massive crowd-pleasing skid. Due to the delay, a 2-round racing format was then implemented. This saw an end to all of the drama of the day, and what was seen afterwards showed how exciting 2019 will be!
It was announced that this exciting event will return to Victoria in 2019, with the very first Swan Hill Jamboree set for November, and a Brand new Series Championship for Jamboree Thanks to Billet BY PAC rewarding Winners for their commitment in 2019!
FACTORY EXTREME: HARVEY
Precision Factory Extreme saw Nathan Hagenson grab the PWR Cash Boost with a great 6.41, ahead of George Rehayems 6.48 and Ben Brays 6.80. Many of the other teams struggled to get their big power down first up, with Rod Harvey one of them. Round 1 saw him recover to a 5.93/248 win over Sam Meintanis' BMW, whilst the PAC flagship prevailed over Joe Signorelli's GAS Celica with an exciting 6.41/210 pass in a classic local derby pairing. Bray's 1FZ Solara peeled off a 6.48/216 against Jerry Kehl, and Gina Bullians in the Mazsport RX8 soloed with a shut-off 10.22. Once the launch is nailed, this lady is going to give the 20B top 10 a real shake!
Round 2 was the last shot to be declared a winner, with 2 wins from 2 the ultimate goal. Bray's troubled 8.16 edged Meintanis, Harvey's 5.82/213 (!) blew away Bullians'8.47 and Rehayem's loose 8.01 ended Hagensons night too. Rod's 5.82 and George's 8.01 were declared as winner and runner-up respectively.
PRO TURBO: SADEK
Bosch Motorsport Pro Turbo saw Victoria's Daniel Camilleri nail a PB, top spot and the PWR Cash Boost with a one-hit 7.14/189 from the mechanically injected RB30 firebird. The remainder of the 6-car field struggled, but round 1 loomed with anticipation.
Jay Sadek came from bottom spot in the "Godfather" 20B RX3 to reel off a crazy 6.77/197 to wipe number one Camilleri's troubled 10.18. Nick "Superman" Tsoltoudis holeshot out a tight win in his 20B RX3 against Elham El-Ahmed's crazy EG33 WRX with an 8.686 to 7.98, and Lee Docherty's 13B Mx5 soloed with a great 7.62.
Round 2 saw Sadek again prevail, this time over a shutting-off Docherty. Tsoltoudis was hoping that the cold air was going to see him run his first six on a solo, but after a good launch the RX3 shut off after eventually bringing the wheels down a fair way out and a bit loose. The six will come, hopefully at Willowbank in front of the fans! Sadek's impressive comeback earned him the bracket win, with Tsoltoudis 2nd
PRO COMPACT: BARNETT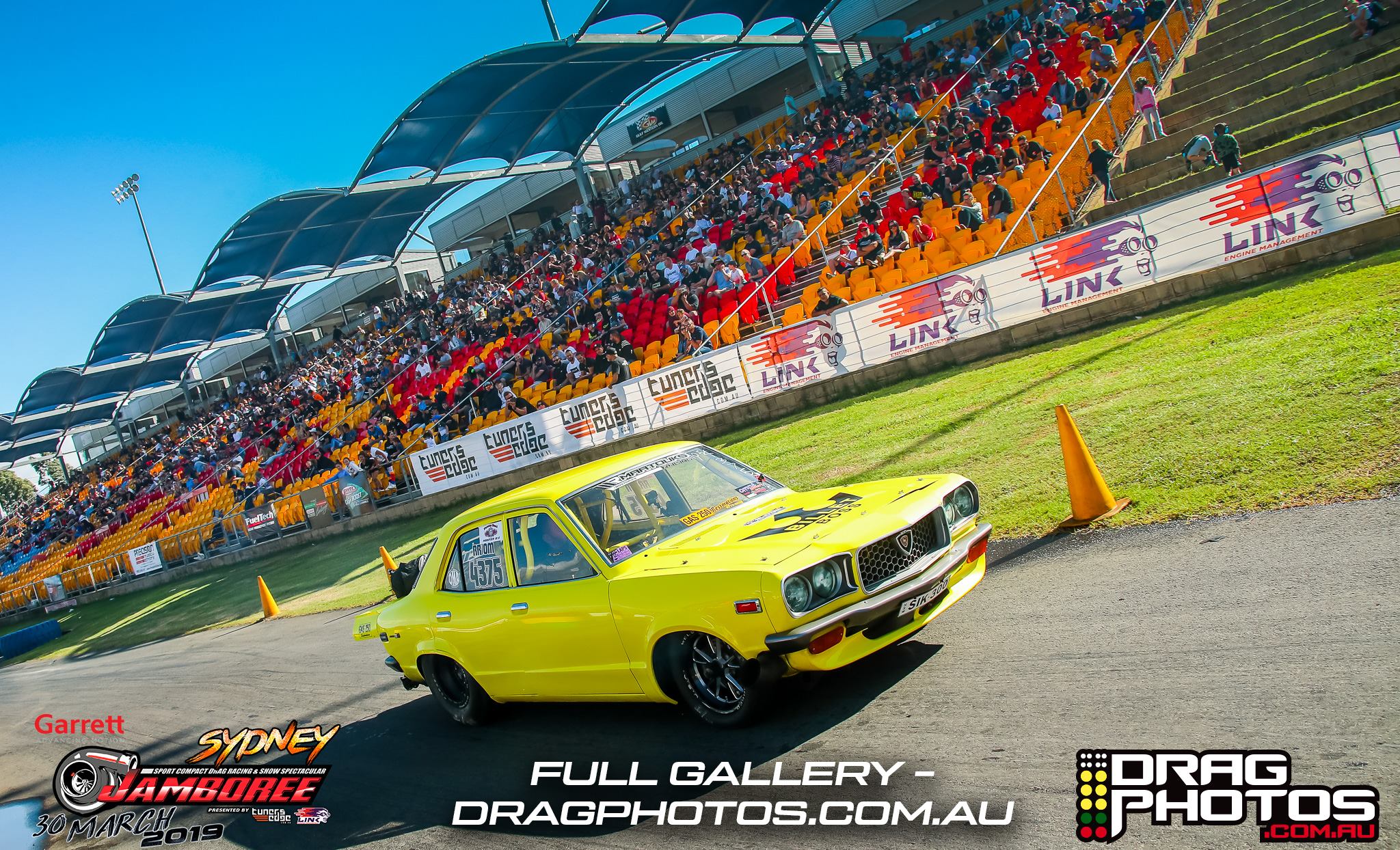 McKern Pro Compact saw a hot dozen turn up for round 1, with Sydneysider Mario Rehayem's Starlet smashing out a 7.09/192 with the world's baddest T-bar 2-rotor to nail pole and the PWR Cash Boost cheque. Victorians Simon Ioannou (7.19) and Jurgin Piscopo (7.27) were the only others to crack a seven, with Steve Barnett (8.42) and Tony Grgich (9.46) making the top 5.
Round 1 saw Jo Sabato in the Micks Motorsport S15 (and only 4 cylinder) defeat Anthony Daquino in a far from perfect pairing. Rehayem handled Ibby Aouad's Rx3 with a backing-off 8.04, whilst Barnett's alarming shut-off 7.066 at only 159.93 solo against the broken Rx8 of Elia Hajja raised several eyebrows! SA's Mark Tischendorf's "El Gringo" Rx7 covered Piscopo with a shut-off 8.14. John Sharrob soloed in his Rx3, as did Matt Lisle in his 13B Silvia. Ioannou's 7.40/186 covered Dave Clark's Rx3 to complete round 1.
Round 2 saw Sabato on another wild launch in the SR20-powered Silvia, crossing the centreline in the process. Piscopo's 7.43/184 from the 13b Datsun 1200 against a shutting-off Clark ended both their nights, whilst Tischendorf and Ioannou battled out one of the best side-by side runs in Pro Compact history. Tischendorf's .059 light to the .165 of the Rx8 saw them glued together all the way through, with PB's both sides the result. Tischendorf's 7.156/191 covered Ioannou's 7.179/193!. Just as everyone recovered from this epic race, Barnett then soloed and peeled off Australia's quickest ever 13B pass with a 6.70/213.03! This run, along with Tischendorf's 7.15 stood as the winner and runner-up in the category.
PRO MOD: Makdessi
Fueltech USA Pro Mod saw Danny Makdessi in the amazing blown BAE521 family VC Valiant nail the top of the field with a 6.40/221, with Greg Tsakaridis in the 526 turbo Mustang 2nd with a shut-off 6.80. Kelly Bettes in the Jett Racing turbo Mustang match-raced Shelly Davies in her blown 67 Mustang over the 660 distance, due to concerns about a strong tailwind blowing at the time. Kelly's .034 light was slightly better than Shelly's .072, but the blown car zinged the tyres at the hit, the black beast hitting the stripe at 4.02/203! This surely would have nailed top spot over the full distance, but round 1 would reveal all that potential for all to see.
Round 1 saw Stuart Bennett's twin-turbo LS Pontiac GXP cover Jeremy Callaghan's Camaro with a 6.81/205 to 8.13, whilst Bettes faced Greg "Mauler" Tsakiridis in virtually-indentical, state-of-the art turbo doorslammers. As the bump-in flame show settled, Bettes ripped a .008 light against Mauler's .056. As both cars barrelled down the track, Tsakiridis' car made a big move on the 2-3 shift, sending it to both edges of the lane as the power came in. As he aborted the run, all eyes saw the 5.871/249.90 time come up on the boards, making Kelly the quickest and fastest female doorslammer in the country. Needless to say, celebration erupted as a result! Hunter soloed to a 7.04/196, and Makdessi ripped a 6.46/218 from the 67 Valiant.
Round 2 saw Craig Burns' "Villian" BAE RVW Mustang out-pedal Tsakiridis to finish their nights, whilst Kelly's loose 8.19 was enough to cover Callaghan's shut-off 10.25, even though his .023 to .030 holeshot was the only highlight of his racing day. Bennett backed up his 6.817 with a 6.816, enough to cover Hunter's 7.02/197 and to cement his place as a contender for the bracket win. All Makdessi had to do was run quicker than Bettes' 8.19 to feature, but he nailed an exciting drive-job on his solo. It was loose, and fast!..with a 6.36/225.6 coming up on the boards to seal his destiny as the victor. It would be nice to see the "Devils taxi" make it to Brisbane for the next Jamboree to defend this title!
MODIFIED COMPACT: BENNETT: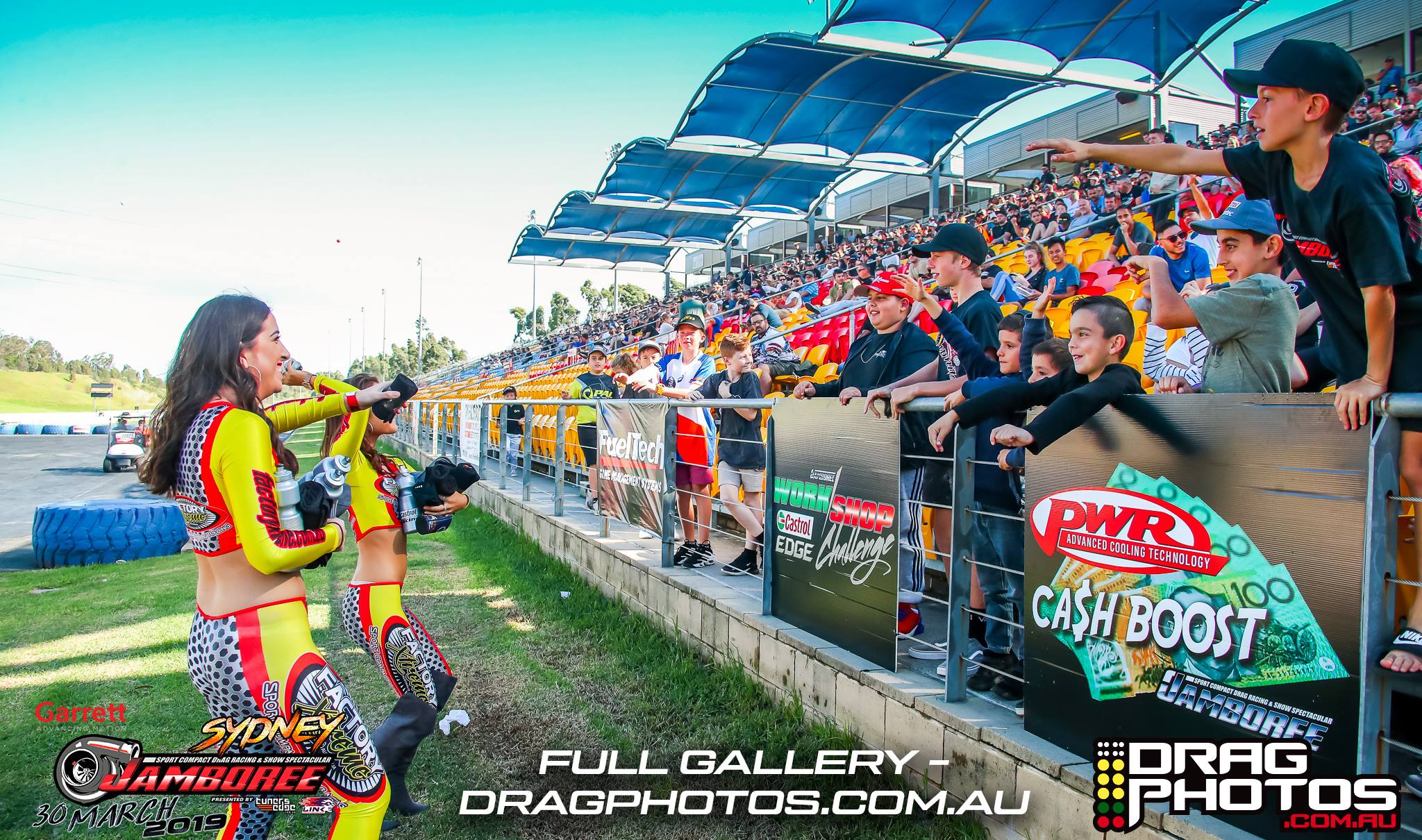 NAPA Auto Superstore Modified Compact saw a dozen tough machines of all persuasions do battle over the 3 hits, with Anthony Maatouk nailing top spot in the GTR with a great 7.77/196. It was a mixed bag of results through the 2 rounds, with 2 wins coming for Ali Houblos in his 8-second WRX, Daniel Bennett in his 8-second 13B Rx3 and Eddy Hawach's 7-second 13B R100
Houblos' chance of a finals berth ended 1.97 seconds after breaking the beams, breaking his Subaru. Bennett then prevailed over Hawach in the final, with a 9.63 on a 8.90 dial keeping Hawach's 8.50 on a 7.90 at bay.
MODIFIED 10.5: EL JAMMAS:
Power Seals Modified 10.5 attracted four tough RB30 VL's, a 7-second 2JZ Cressida and 2 13B Mazdas. James Thomas and Alan Dodd's rotors took each other on in round 1, with the Rx3 trouncing the Rx2. Nour El Jammas' VL likewise disposed of David Jelaca's VL, whilst Shane Crichton soloed in between with a great 7.89. Ertan Ozer's VL then edged a troubled Bozin Georgievski's similar ride.
Round 2 saw Ozer go 2 from 2 with a win over Thomas, El Jammas trounced Georgievski with a 7.83 and Crichton soloed with a 7.85 to ensure it would be a VL vs Cressida final. Crichton nailed the heads-up lights to El Jammas' helmet with a .030 to .217 light, but fell short when the Toyota limo buzzed the tyres, albeit early, when the blue VL smashed out a 7.52/176 that would have been hard to cover on a holeshot.
J275/315: BUSBRIDGE/SMITH:
Race Car Engineering (RCE) brought the radial phenomenon to Jamboree again, and the mix of cars shows how the radial bug is biting everyone hard. The ¼ mile distance saw a bunch of 6-second timeslips recorded during testing, but the one-shot qualifier didn't see representative results for some. Danny Busbridge's "2wizzas" turbo SBC Torana grabbed a great result on his only shot, with a magic 7.233 taking J275 pole. Steve Bezzina's incredible PLR481X-powered XW Fairmont was 2nd with a pedalling 7.35. A wild mix of import, domestic and muscle filled the 16-car heads-up, pro-tree category.
Steven Smith and Ryan Holz with their 315 tyres were the only cars for the J315 class, and match raced each other over the 2 rounds.
Round 1 commenced with Dimitri Petrou's 447TT Falcon fending off Robert Marjan's wild and loose 6-second GTR with an 8.01, Jimmy Cannavo's RB30 R33 left Maria Passos' full-street BA Falcon on the line to run a 8.35 win. Passos' 2.89 reaction then saw everyone forget the bad light immediately after an 8.03/184 came up on the boards, making it the baddest full-street Falcon in the land! Other notable performances were Frank Tarabay's 7.75 win over Micheal Della's Datsun 1200 ute, Luke Cartledge's .065 holeshot and 8.86 holding out Trent Bink's 8.99 in an all-VL affair, and Andy Coles' 7.74 win in his LSX VL over Ender Esenyel's wild 2JZ Silvia. Bezzina then unleashed on Kevin Aouad's 20B Rx8 with a 6.84/208. Busbridge used the solo for a nice wheelie and 7.36.
Round 2 saw Esenyel find some form with a 8.26 over Tarabay, Marjan's 7.34 and 5.8 reaction lost to Jakov Kujundzija's 8.57 in his RB30 VL, and Busbridge then despatching Cartledge with a 7.29. Passos then soloed to her first seven, setting the startline alight, with a full-trim 7.96/184. Bink handled Aouad with an 8.97, Coles pedalled to an 8.82 over Cannavo and Bezzina's 7.48 was enough to cover Petrou.
Busbridge and Bezzina were the two quickest double winners, and met in the finale. Busbridge's .064 light and 7.233 (same ET in qualifying) shot away from Bezzina, whose troubled 7.66 couldn't cover the Torana. This also gave Dandy Engines enough points to claim the Castrol Edge Workshop Challenge.
STREET 289: PULIAFITO:
Hurstville Towing Street 289 attracted a smaller than average field, anchored by Moose Sakina's 13b Rx7 with an 8.50. Sakina did enough through the 2 rounds to make the final, soloing to an 8.32 in round one, then running an 8.46 in round two against Blayne Fullford-Hurst's Datsun 1600. Victorian Ross Puliafito's 13B Rx3 also scored two from two to meet in the final after Rodney Spannenberg's red light in round two. In the final, Puliafito's .084 light and 8.86 on his 8.55 dial was just enough to cover Moose, whose .245 light and 8.50 on the 8.30 dial missed by inches.
ALL MOTOR: FROST: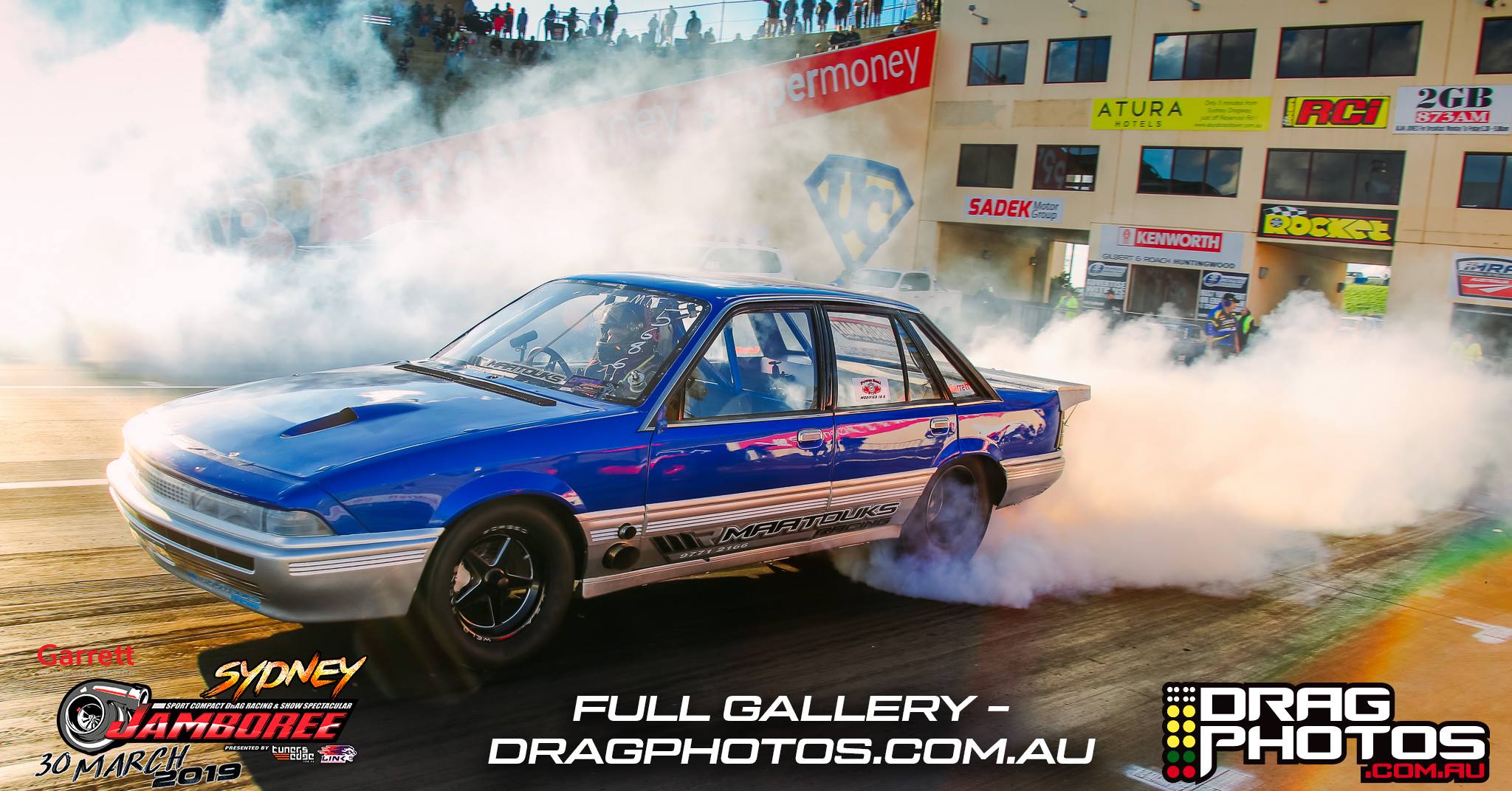 Maintenance Plus Group All Motor saw some screaming Atmo action, led by David Mills ripping through the 5-speed clutchless-equipped 20BPP to a wailing 8.91/147. Matt Rice in the "Chainsaw" R100 did likewise with 13BPP power and hit a 9.13/138 for 2nd. Charlie Costanzo's featherweight 13BPP Datsun was 3rd.
In the very first pairing of round 1 Jason Frost in his 2276cc VW beetle not only defeat Richard Gauci with a 12.53 on his 12.50 dial-in, but his .001 reaction time set the standard for the "Light of the Night", even before the sun went down! Brendon Burnett also used his 2332cc beetle to despatch a rotor, using a .060 light and 12.70 on a 12.65 dial to keep Charlie Costanzo's 9.78 on a 9.60. Mills soloed with a shut-off 12.48, and Rice dodged a bullet when he had to lift on another exciting run, allowing his opponent to break out.
Round 2 saw Gauci benefit from a red lighting Burnett to extract some rotor revenge on the VWs, but Frost's .025 light caught Costanzo short to pay it right back. Rice scored 2 from 2 by outgunning his opposition, running a PB 9.06/143 on a picture-perfect pass. This car is number 8 in the world for NA 13B sedans, and is truly a spectacle to see in action!
The final had Rice vs Frost, Rotor vs VW. Frost virtually had the 'light of the night" trophy in his hand with his first-round .001, with Rice leading the special rotary-only reaction prize with his .042.
Rice had to wait 3.5 seconds on the line with the revs up waiting for his tree as Frost departed on his 12.50 dial-in with a .039 light. The wait seemed especially long, with the Chainsaw buzzing the house down for an eternity. When the lights finally came down, Rice pulled off the unbelievable perfect .000 light, and set off to chop the Beetle. He fell short by .046 of a second, running a 9.113 on his 9.00, when Frost's 12.528 on a 12.50. Rice however then scooped the reaction time pool, scoring the J for piston and rotor
STREET COMPACT: MURPHY.
MTQ Engine Systems Street Compact saw 11 cars qualify, with three 10-second Falcons at the top, an 11-second Datsun, two GTR's, a beetle, two Mazda 808's a Toyota Echo and Ford Territory!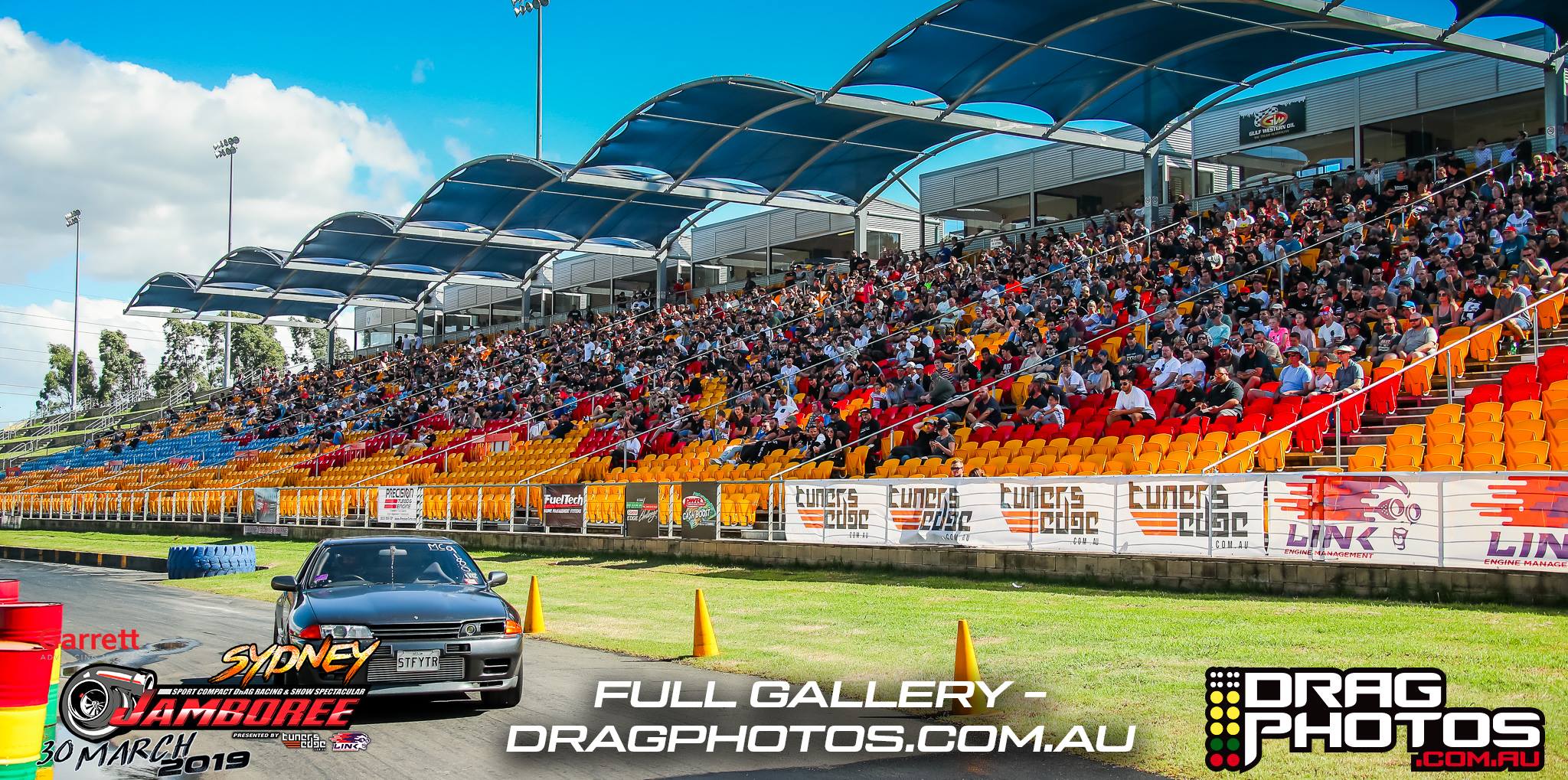 Round 1 started with Danny Stadelmaier using his 17-second Echo as a weapon, putting away the 10-second Falcon of Martin Whelan. Adam Lesnik's 10.85 from his Falcon stopped the 808 of Carlos Von, who fell off his 11.00 dial. The Territory of Samir Nasser then dropped an 11.07 effort to win over a very BIG break-out from Amer Khallof's GTR. On an 10.00 cut-off in Street Compact, the GTR went 8.71/155!. Barry Cripps' 2276cc Beetle ran an 11.94 on his 11.00 dial to despatch Danny Watts' GTR. Tony Daniel's 808 dodged a bullet when Aaron Murphy broke out with a 10.04 on his 10.10 number.
Round 2 saw Murphy run into the nines with a 9.92/139 win when Nasser broke. Whelan faced Martin Cuff's Datsun 1200 in an all-10 second affair, with amazing results! Identical 10.103 elapsed times from 2 completely different street car combinations is why Street Compact never disappoints for these sorts of outcomes. Stadelmaier took another scalp when Lesnik fouled and Daniel prevailed with his 12A turbo power over Cripps.
The final saw Murphy and Daniel meet, with a safe 10.45 on a 10.05 dial from Murphy covered a troubled 14.02 from the 808.
The next Jamboree is the Garrett Advancing Motion Brisbane Jamboree AUGUST 24/25.