NEWS - ITEM 341
NEW GARRETT MELBOURNE JAMBOREE @ SWAN HILL DRAGWAY DATE ANNOUNCED
Date: 04/06/19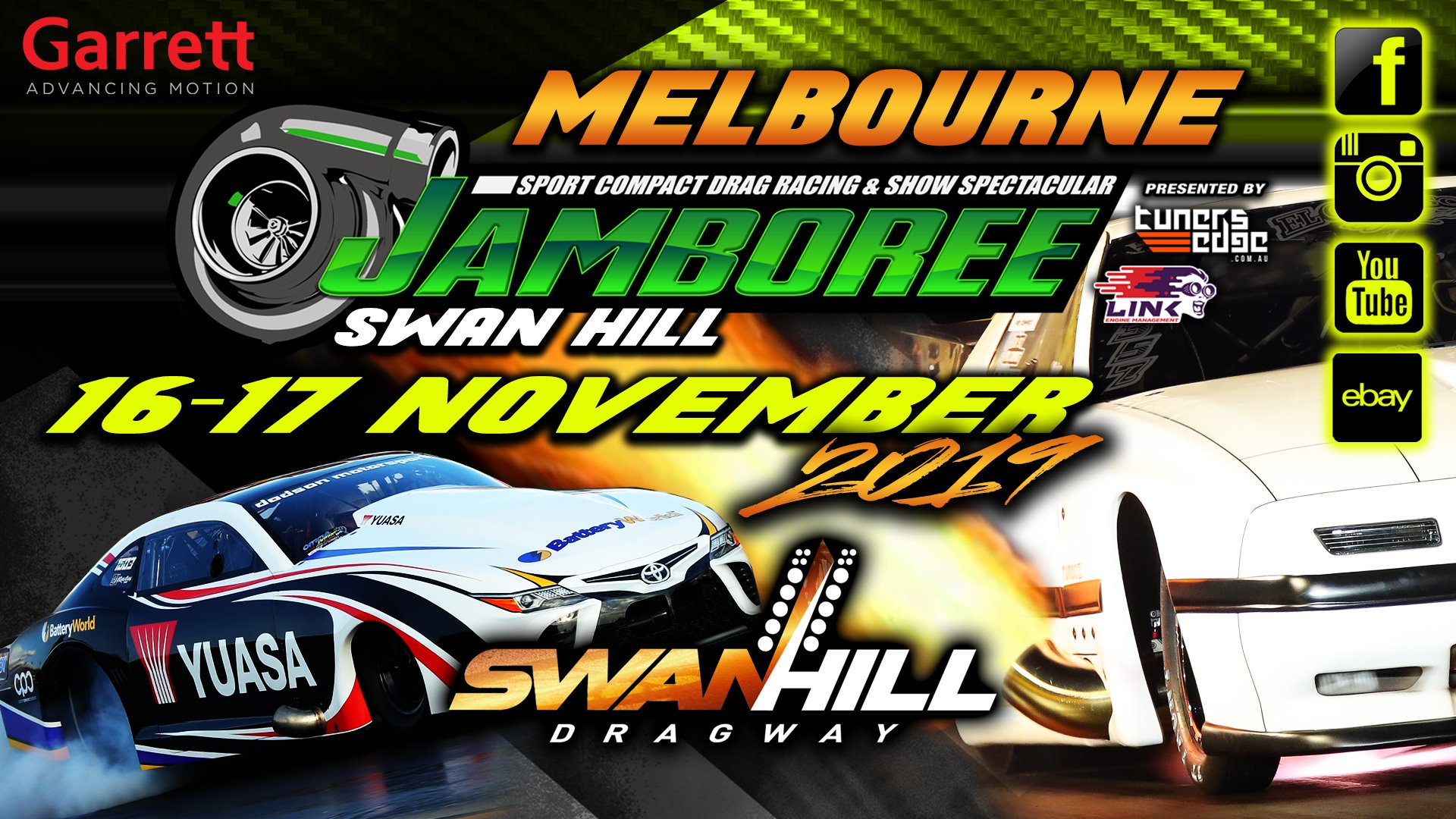 Following the announcement of the brand-new 2019 Garrett Melbourne Jamboree @ Swan Hill Dragway recently, Jamboree Australia Pty Ltd and Swan Hill Dragway are delighted to announce that the 2019 Melbourne Jamboree @ Swan Hill Dragway will happen on November 16 / 17, 2019.
The 2019 Garrett Melbourne Jamboree @ Swan Hill Dragway will kick off on Friday the 15 th with a Huge test day scheduled, then Saturday 16 th will showcase Qualifying and Sunday 17 th will feature first class racing. As is customary with Jamboree events, a thrilling on-track program featuring all of the spectacular Jamboree race brackets will be complemented with kids rides, great catering and giveaways to the families.
"This brand new Jamboree event has been made possible thanks to the support of not only the Swan Hill Dragway management but also Swan Hill Rural City Council," Jamboree Australia Director, Collin Willshire, said. "We have been working behind the scenes to bring this brand-new event to life for the past several months and are now very excited to be able to announce our plans for what will be a fantastic weekend of entertainment in one of Victoria's most attractive Murray River towns.
"The support we have received from the council and especially from Swan Hill Mayor Ann Young has been fantastic and the local businesses of the area are already showing they are keen to get behind this new event. "Swan Hill Dragway has proven it has a state of the art racing surface with competitors setting personal best efforts at every event held there so far. We have no doubt we will see some amazing performances from our racers there in November and most likely a fair haul of records as well! Everyone I have spoken to says they cannot wait to experience Jamboree at Swan Hill and we can't wait to put on an amazing show."
Swan Hill Dragway President, Gary Rovere, said his track was looking forward to hosting the 2019 Melbourne Jamboree @ Swan Hill Dragway. "The Jamboree events have a real reputation for amazing race teams and race cars, and we can't wait to play a part in this exciting new chapter for Jamboree Australia," Rovere said. "Swan Hill Dragway may be a relatively new track but we are going from strength to strength and we can't wait to see what the Jamboree racers bring to Swan Hill come November."
Swan Hill Rural City Council Mayor, Cr Ann Young, said the town of Swan Hill is already preparing to get involved. "Events and venues such as the Jamboree and Swan Hill Dragway are vitally important to the economy of Swan Hill and we are very excited to be a part of this exciting new event," Cr Young said. "Already our local businesses are talking about how they can play a part in the event and I know there is plenty of buzz around Swan Hill Dragway and its local racers as well. We can't wait to see what this fantastic new event will bring to our town."
The 2019 Melbourne Jamboree @ Swan Hill Dragway will be the third event for 2019, featuring the Billet By PAC Series Championship pointscore with a payout of $5000 in series prizemoney, along with the intense pursuit for the coveted Billet 'J' trophies and domestic and international records.
The Spectacular weekend of racing will feature Precision Turbo Factory Xtreme, McKern & Associates Pro Compact, Bosch Motorsport Pro Turbo, Fuel Tech USA IHRA Pro Mod, NAPA Autoparts Mod Compact, RCE Performance Warehouse J275, J315, Power Seals Mod 10.5, Hurstville Towing ST 289, All Motor and MTQ Street Compact categories. Alongside the prestigious event trophies, PWR Performance Products will also be offering the PWR Cash Boost which rewards the most consistent qualifying performances in the Factory Xtreme, Pro Turbo and Pro Compact classes, and the Castrol EDGE Workshop Challenge will feature the great competition between the workshops and their customers.
The announcement of the date for the Swan Hill Jamboree comes as preparations are in full swing for the 2019 Garrett Brisbane Jamboree coming up on August 24/25, 2019. For accommodation enquiries please contact - Swan Hill Region Information Centre (03) 50323033 or 1800 625 373 or www.visitswanhill.com.au