NEWS - ITEM 352
2019 BRISBANE JAMBOREE Meeting Report
Date: 09/09/19
JAMBO JUGGERNAUT SETS THE SCENE
After the dust had settled from the Garrett Advancing Motion SYDNEY Jamboree, presented by Tuners Edge and Link ECU, it was clearly apparent that the high-tech and import scene in Australia was on track for a big 2019. With Australian workshops bursting at the seams with some serious equipment in the build, the ensuing months saw more come out of the woodwork, all with a target on making the Brisbane pilgrimage for the Flagship event. The recent announcement of the 2019 Victorian Jamboree dates, to be held at the new Swan Hill venue was also well received, and looks like wrapping up the year with a bang November 16-17. A Field of over 190 took to Willowbank's famed surface, with plenty of the best examples of the modified car scene gracing the Shannon's Show n Shine paddock. DB drag racing displays showed that big stereos are still popular, as well as the main stage activities, where the Babe and Bikini competitions drew plenty of the large crowd in attendance to observe. Matt Mingay's new Hot Wheels Gymkhana show was a huge success as well, with over a dozen different machines in action. News of the sudden passing of Darryl Marsh, a former winner of the Extreme bracket a week out from the event saw a moving tribute on the Willowbank startline on Saturday, with his "Unda Presha" 2JZ altered towed down the track in his memory. And from now on, the Darryl Marsh Trophy will be awarded to future winners of the Extreme bracket in his honour. He will be missed amongst the Jamboree community. The Castrol Edge Workshop Challenge, designed to reward the numerous workshops who have helped make Jambo what it is today, was again tightly fought, with Gas Racing winning by the barest of margins.
PRECISION TURBO FACTORY XTREME: HAGENSON
Precision Turbo Factory Xtreme saw 14 cars qualify, headed by Joe Signorelli's 6.09/238. This was a PB for Smokin Joe, and makes him the quickest auto import car in the world. The Jett Racing 4 cylinder Eclipse of Collin Willshire was 2nd with a 6.46/203, even with a random misfire from half-track on. Mark Jacobsen's Godzilla Motorsport VR38 R35 was 3rd with a 6.56/210, using a stock block and crank instead of the billet items he damaged in Sydney. The PAC flagship of George Rehayem was 4th with a 6.581, followed by Nathan Hagenson (6.60), Rod Harvey (6.66)Tony Wedlock (6.68) Sam Meindanis (6.88) and Jason Both (6.94) rounding out the 6-second runners. Harvey, fresh from his recent 5.70/256 run a fortnight earlier, struggled to get his massive power down with some wild antics, whilst Jacobsen's consistency saw him snatch the PWR Cash Boost money off Both, whose wild run in Q3 was aborted in a desperate attempt to win the prize. Round 1 saw no-shows from the 20B machines of Gina Bullians, Jerry Kehl and Meindanis, but Both defeated Willshire with a 7.10 to 7.51, Domenic Rigoli's new RB-powered 350Z defeat a fouling Rehayem with a 7.00/201 and Hagenson covered Sam Afchal's 20B Rx7 with a 6.92/216 to a troubled 8.34/185.Wedlock soloed with a 6.91/158 shut off and Jacobsen's 6.53/214 solo saw his consistency continue. Ben Bray faced his stablemate Rod Harvey in a 1FZ vs 2JZ battle, with the Camry's 5.93/249 getting there first. Signorelli soloed for a 9.57 Round 2 saw both Rigoli and Harvey get loose on their matchup, with the 350Z rolling through first to make him 2 wins from 2. Signorelli's 6.12/237 defeated Both's 7.37 whilst Meindanis returned and scored a win with a 7.00/195 against a fouling Wedlock. Afchal's Mazsport Rx8 then edged Rehayem with a troubled pairing, Hagenson and Bray then bumped in against each other, with the Camry's 6.37/222 taking out the 6.81/209 from Bray. Willshire soloed with a 6.338/222 Round 3 saw some no-shows, but started with a new PB of 6.06/238 for Signorelli against Afchal's 7.06, Hagenson then ran a 6.32/222 to defeat a fouling Meindanis and Willshire used a troubled 6.59/195 to end Rigoli's night. Wedlock ran a new PB of 6.39/218 against Both's 7.11. With 3 wins each apiece, former teammates Signorelli and Hagenson then faced off in the final. Both automatic-equipped machines bumped in and Hagenson's .102 light slightly edged a .141 from Joe. But the intercooler on Signorelli's cried enough and split, losing power whilst Hagenson's 6.29/223 scored the win.
MCKERN PRO COMPACT: BETTES
Since Sydney Jamboree, Mckern Pro Compact was always going to be epic, since Steve Barnett's "Blueprint" Mazda 6 lowered the Australian 13B record into the 6.60's at the event. It had since been lowered into the 6.50's by the new "PacMan" Rx8 of Rodney Rehayem even before Jamboree, so the stage was set for new standards for the class. Barnett and Rehayem tested earlier in the week, with Blueprint smacking the wall on its first hit Wednesday, and Rehayem making a number of early-click, high 6 second passes. But by Friday morning, Barnett's machine was back together after working around the clock. Some checkout passes were in order to satisfy the officials, and was deemed fit to compete Saturday, but not before laying down a new Aussie 13B standard of 6.530!! New Zealand's Cory Abbot also weighed in to the mix, running a 6.6 pass in testing with his Rx7. Qualifying for the 17-car field saw no further drop in the mark, with Barnett nailing top spot with a 6.63/208, followed by Abbott's 6.71/201, Rehayem's 6.804/188, Tony Grgich's 6.809/201 and Chris Tait's 3RZ-powered Silvia at 6.93/177. Chris Hall's 7.004/184 was oh so close to his first six, followed by Kelly Bettes'7.004/193.Anthony Daquino's 7.01/188, Jurgin Piscopo (7.086/197) and Simon Ioannou (7.21/196) rounded out the top ten. Number 12 qualifier Sam Kiprios (7.688) scored the PWR Cash Boost for 3 amazingly close times during qualifying with his 3RZ Starlet. Both Barnett and Rehayem didn't set the world on fire in round 1, with Blueprint having to lift against Ioannou and just losing in a 7.41 to 7.44 race. Piscopo's 13B Datsun 1200 used a 7.21/190 to defeat SA's Mark Tischendorf's troubled RX7.Anothe South Aussie, Marcus Pepe in the Boostworx RX2 used an improving 8.18 to cover a troubled Tait while Grgich in "The Ghost" Rx3 shut down the troubled Johnny Sharob Rx3 with a 7.23/193. In a great matchup, Mario Rehayem's 13b auto Starlet gapped Abbott (.035 to .303) and outran the Kiwi 7.15/185 to a shut-off 7.18/143. Rodney Rehayem then fired a 6.539/200 against Kiprios to again set the field on notice. Bettes 7.07/189 covered SA's Terry Waterman and Daquino used a 7.29/179 to defeat Ben Graham's Rx7. Round 2 started with Barnett's 6.598/209 against Mario's 7.48 in a dominating display, whilst Piscopo bulbed against Ioannou. Grgich ripped out a 6.78/195 to cover Pepe's improving 7.38/188 whilst Abbott ran a 7.50/136 shut off when Kiprios rolled the beams. Rodney then fired a 6.596/210 against a fouling Sharob to add another page to the mouth-watering script that had already been written in Sydney. Bettes soloed to a shut-off 13.61 Round 3 saw Barnett swing for the fences, but a loose 9.67 shut off pass allowed the 7.72/175 win for Kiprios. Waterman improved to a 8.11 to cover Grgich's foul, Piscopo's 7.203/196 overcame Mario's .028 light but shut-off Starlet and Abbott found his 6-second mojo against Sharob with a 6.90/167 to 7.92. Bettes faced Tischendorf and the 7.29/189 from the NAPA Datsun 1200 ute ended a weekend of disappointment for the South Aussie. Rehayem then faced Pepe, with all eyes on what the PacMan Rx8 could do if all went well from point A to point B. It didn't start well, with a -.005 red light for Rehayem, handing the instant win to Pepe. A 1.043 60ft wasn't exactly hitting the line hard, but the 4.181/170 660ft time was very good, and then with a 5.429 at 1000ft, it was on a mission. At the stripe, history was made, with a 6.494/210 flashing up on the boards to make Aussie 13B history again, and the 7th quickest pass in the world. Pepe's amazing 6.820/191 PB was lost in the commotion, but the timeslip will be a great souvenir to keep. Ioannou's 7.24/189 covered an improving 7.20/187 from Graham on a holeshot. Bettes and Ioannou were deemed finalists due to their 3 from 3 wins, with a 7.333/161 from the ute covering a shut-off 7.90/147 from Iaonnou's Rx7. The 13B battle will obviously resume at Swan Hill in November!
BOSCH MOTORSPORT PRO TURBO: BELL
Bosch Motorsport Pro Turbo started with 5 competitors, but was soon reduced to 3, after Jay Sadek and John Bogaart withdrew before racing, and then Craig Dyson's 20B Rx3 also experiencing problems. This left only Tom Bell in his 2JZ Gemini wagon and Jason Payne's R32 Skyline to pair up for a couple of runs. Payne had top-qualified with a 6.996, with Bell 2nd. But in the final, Payne's radiator cap leaked fluid under the tyres, almost sending the Skyline into the wall on the hit. He avoided contact, but lost the final to Bell.
FUELTECH PRO MOD: DACK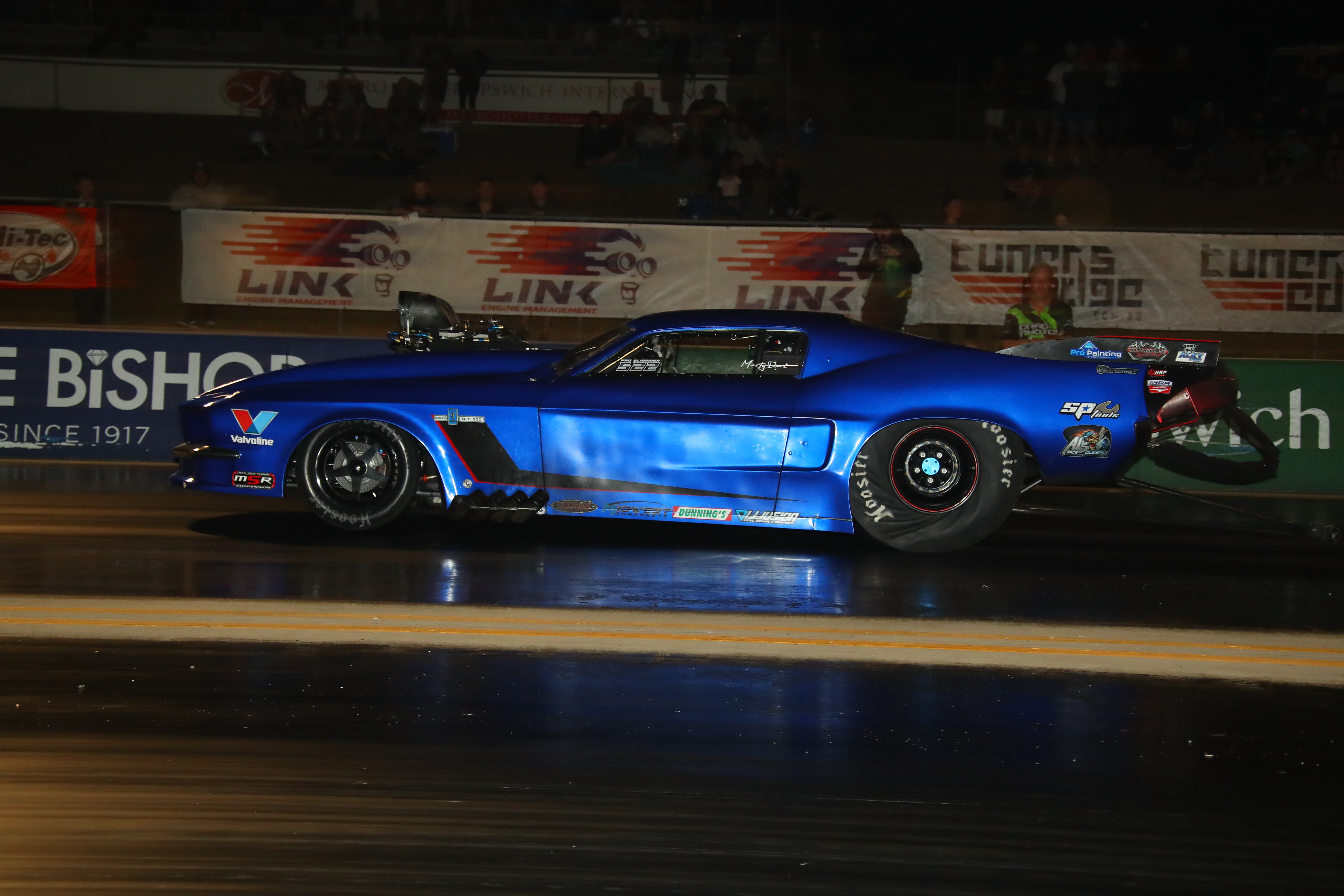 Fueltech Pro Mod only saw a 3-car field qualify, with WA's Marty Dack's screw-blown 1967 Mustang peel off a 5.86/250 to top the charts. Collin Willshire's PLR turbo 2018 Mustang reeled off a troubled 6.02/232 for 2nd, with Brenton Weston's blown V8 Silvia 3rd with a 7.14/198. Willshire and Weston withdrew from race day, which saw Dack entertain the crowd with his solo passes as he used the event to test his new 5-speed combination.
NAPA AUTO SUPERSTORE MODIFIED COMPACT: BUTLER
NAPA Auto Superstore Modified Compact saw a 21-car field qualify in the DYO elimination field, with Al Rifai's VL peeling off a 7.80/162 for top spot. In fact, 3 VL's filled the top 3 spots, with Steven Farrelly (8.121) and James Kelly (8.124) leading the way. But it was number 9 qualified Robbie Butler (8.92) in his 3RZ-powered Ke10 Corolla streeter that made the final against Farrelly. After both soloing in round one due to no-shows, Butler disposed of Victoria's Matthew Maltaric's "Lud" Datsun 1200 in round 2 after he bulbed against Corolla. Farrelly also dodged a bullet when Kristian Goleby's 1JZ Corolla wagon fell off it's 8-second pace and the VL scored 2 from 2. Round 3 Butler faced fellow Toowoomba resident Naomi Van Der Togt's "I moan" 2JZ Silvia, and despite both registering appalling reaction times, Butler's 8.86 on an 8.80 dial-in covered a 9.15 on an 8.96. Farrelly soloed and ran an 8.40 on his 8.10 dial. The semi final saw Butler solo with an 8.96 on his 8.80, whilst Farrelly defeated 'Disco' Dean Ferris' when he red-lit his Barra-powered Escort van. The final saw Butler cut a light worse than Farrelly (.644 to .462), but the VL didn't want to go straight in its pursuit of the little Corolla, with Butler scoring an 8.99/153 win. Without revealing his age, it was Butler's first trophy in 39 years, with the previous victory coming at the old Surfers Paradise track in 1980…in a KE10 Corolla!
POWERSEALS MODIFIED 10.5: HERBERT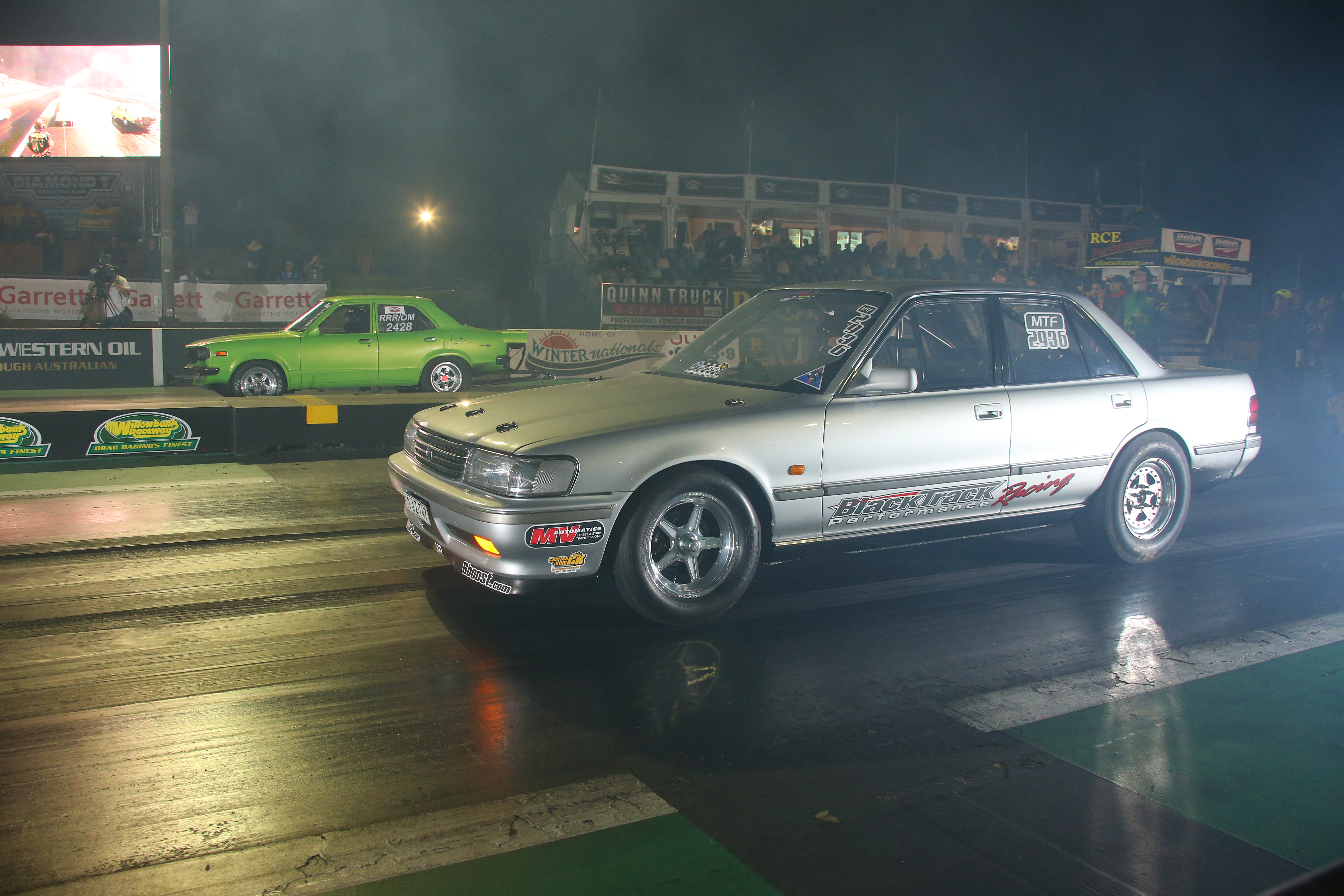 Power Seals Modified 10.5 featured 9 cars making qualifying passes, but was quickly reduced after Rohan Brown damaged his 2JZ on his 7.88 top qualified pass. On the same paired run, Phil Penny's mighty 2JZ-powered Honda 600 suffered an engine failure too, sending oil under the tyres sending the little car into the braking area wall, under Brown's parachute. Luckily, the car only suffered minor body damage. Scott Hoffman's 2JZ Corolla ran an 8.16/174 to qualify 3rd, but also suffered engine gremlins. But after the dust (and oil) settled, it was number 2 Qualifier Shane Crichton's 2JZ Cressida (7.90/174) facing Karl Herbert's 20B Rx3 in the final.Crichton soloed in round 1 with a tyre-spinning 15.86, whilst Herbert defeated a red-lighting Fred Karam. Crichton actually faced Herbert in round 2, and edged him with an 8.70/173 to an improving 8.32, despite a lazy 1.267 light. Round 3 saw Herbert defeat Alan Dodd's "Wat Up G" 13b Rx2 with an 8.32 whilst Crichton nailed Nour Jammas to the tree with an .032 light and 7.88/176 to keep the VL's 8.19 at bay. In the final Crichton crept through the beams when staging, triggering the foul, and allowing Herbert's 8.48 to claim victory.
HURSTVILLE TOWING STREET 289: MCDADE
Hurstville Towing Street 289 had 12 cars qualify, with Errol Brittain's EJ25 Brumby scorching out a great 7.81/169 to nail pole. Paul Testa's "Mr 2600" Galant was right behind with a 7.89/173, making this the first time in recent memory that 4-cylinders have led the normally rotary-dominated qualifying sheets. Damien Mckern's "Grumpe2" 20B Rx2 was 3rd with an 8.31, Jono Mcdade's 2JZ Silvia 4th with an 8.47/166 and Jay Sloan's 1800 Gemini 5th with an 8.51/160. But despite the performances in qualifying, it was 8th qualifier Andrew Robinson that met Mcdade in the final. Mcdade's .216 light and 8.486 on his 8.30 dial was enough to cover Robinson's .405 light and losing 9.13/151 on his 8.90 dial.
RCE J275: COLES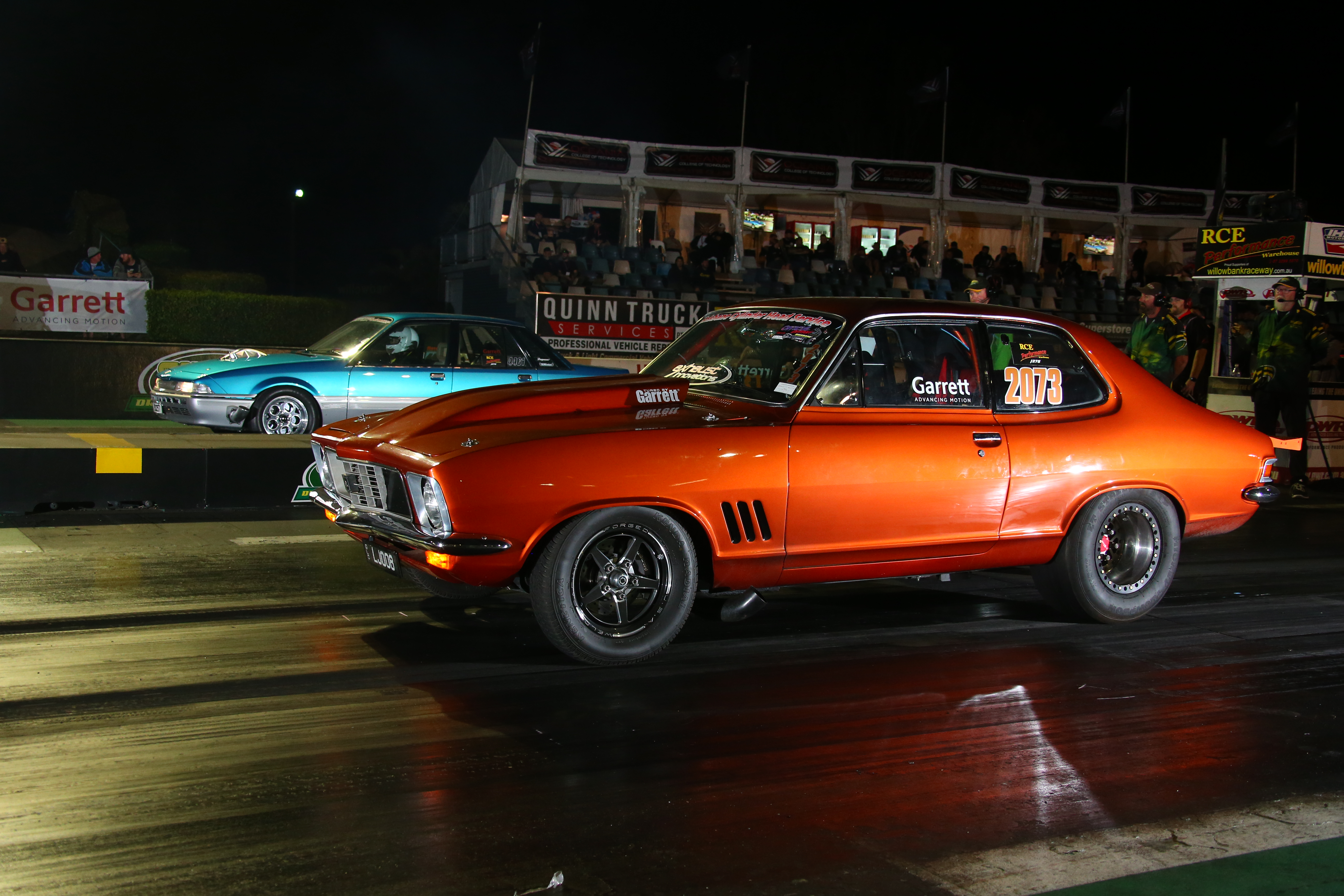 RCE J275 saw a mighty 17-car field made up of some of the toughest small-tyre cars that Australia has to offer. Top spot in qualifying was Steve Bezzina's awesome PLR-powered XW falcon with an amazing 6.84/212 pass from the 4000lb, leaf sprung Aussie icon. Fellow Victorian and Dandy Engines teammate Danny Busbridge scored his first six to nail 2ndwith a 6.94/199 from his 400TTSB LJ Torana. Frank Tarabay's "King2J" Supra nailed down 3rd with a 6.946/204, Varun Sharma's Oceania Supra 4th (7.56) and Luke Kestle's "Bump in" HK ute 5th (7.88). A few fell by the wayside before round 1, leaving some solo runs to sort the remaining rounds before 2 eligible finalists could be determined. But the sheer unpredictability of radial racing couldn't have foreseen what unfolded in the race towards the winners circle. Spot On Performance CEO Andrew Coles in his LSTT VL scored a win in round 1 against Michael Silk's SR20 Datsun 1200 wagon with a 7.68/178, whilst Busbridge did the same to Wade Wagstaff's LS turbo Commodore ute with a 6.96/197 to 8.37/165. Warwick's Shane Baker then upset Tarabay's tyre-spinning launch with an 8.44/163 from his home-built 355TT Holden Commodore. Adrian Smith's 390 TTSBC LJ Torana despatched Chris Kaarsberg with an 8.33/160 and Bezzina monstered Kestle with a 6.91/212. Round 2 saw Baker upset Bezzina in a spin-fest 9.59/157 to 9.70/177 whilst Busbridge, Coles and Wagstaff all soloed with sub-par runs. Smith's solo was the exception, with an 8.05/175 close to his 7.95 qualifier. Round 3 saw Busbridge cover Silk with a troubled 7.82/192, Bezzina edge Smith in another pedal-fest 10.00/136 to 10.36/151, whilst Coles defeated a troubled Baker with an 8.29/179 to 9.79. Frank Marchese returned to round 3 after rebuilding his 6-second small block overnight to cover Kestle with a 7.69 to 8.77. Wagstaff then out-pedalled Tarabay with a messy 10.19 win. Coles and Busbridge were deemed finalists with 3 wins each, but Busbridge notified race control that he could not front due to suspected engine damage. After a round 3 count-back, Baker was determined to be the next eligible with 2 wins from 3, but had already departed for the day. Smith was then called up as the next eligible contender, and stepped up the power to face Coles. Smith blew the 275's off on the hit, and Coles used a great 7.82/180 to take a much-deserved win.
RCE J315: THOMPSON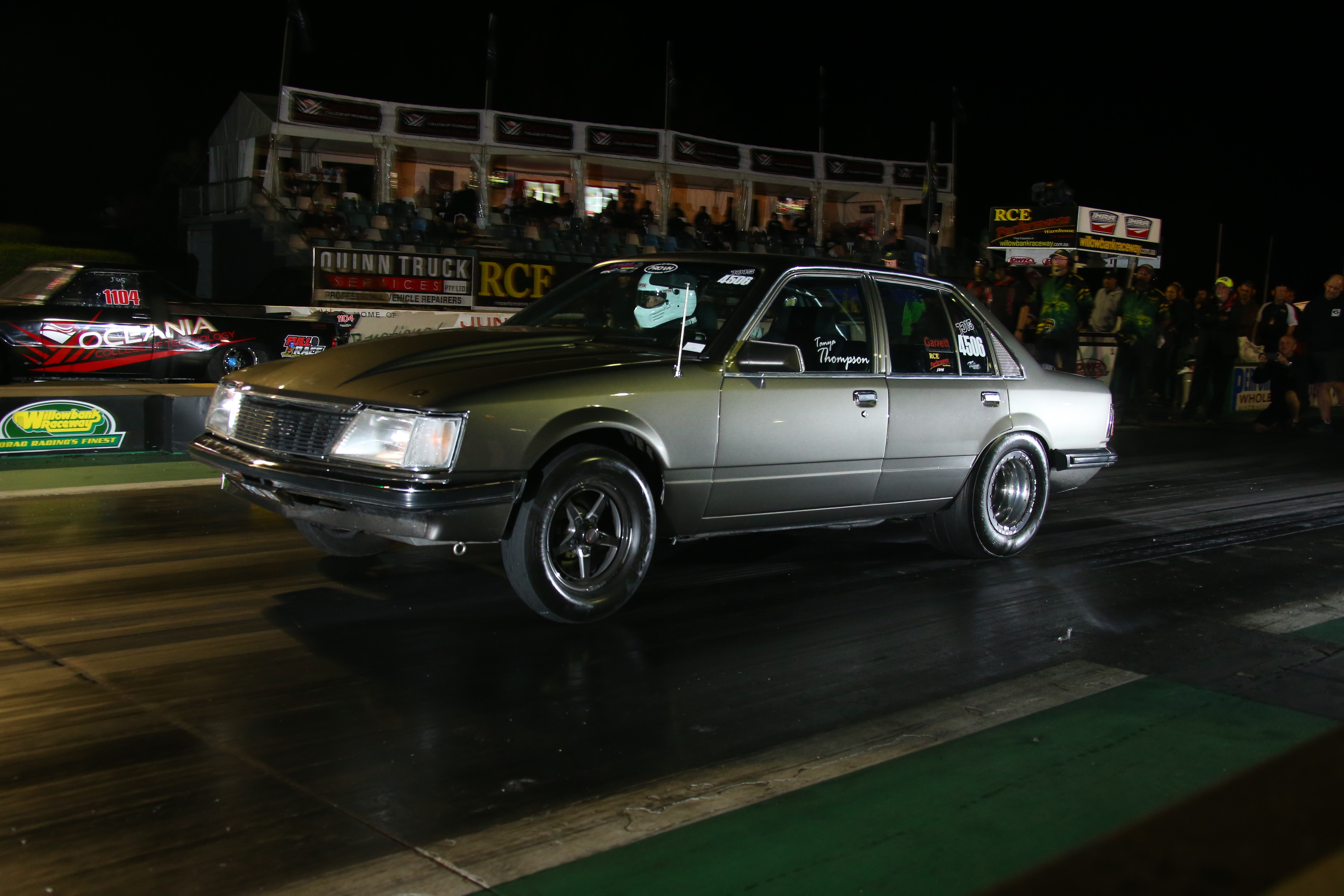 RCE J315 saw a small 4-car field face the clocks on their wider radial equivalents, with James Horan nailing top spot in the Oceania HemiTT –powered Hilux with an early-click 7.32/150. Ryan Holz in his 2JZ-powered LJ Torana was 2nd with a 7.81/179, with the TTLS-powered machines of Tanya Thompson (8.19) and Mitchell Bean (8.87) rounding the field.Horan claimed 3 wins from 3, despatching Thompson's VH Commodore in round 1 when she fouled away an 8.20, used a 7.93/153 against the spinning Camaro of Bean in round 2 and then covered Holz in round 3 with an easy 9.65. Thompson rolled Holz in round 2 with a consistent 8.18 and then an 8.19 in round 3 covered Bean. The final also provided controversy, with both cars bumping in on boost, but Thompson's flickering second staging bulb saw Horan's transmission temps sky-high whilst Tania tried to make it stop by carefully continuing to bump. Finally, the tree was thrown, and Thompson's .147 light nailed Horan's .382. Her 8.11/168 best of the weekend was enough to cover a slipping Horan's 8.93.
TUNERS EDGE EXTREME: ROMANIN
Roxanne Thomas put the Thomas 4 Parts Ecotec-powered dragster into top spot with a 7.44/178, with Fabian Romanin's TTSB Capella 2nd with a 7.85. The father and daughter duo of 'Hot"Rod Williams and Emily Williams rounded out the 4-car field with an 8.54 from Rod's new blown barra-powered altered and Emily's turboed cross-flow dragster with an 8.70. Round 1 saw Hot Rod run an 8.59 on an 8.53 dial to cover a red-lighting Roxanne, whilst Romanin despatched Emily with an 8.01 when she lit up the cherry too. Round 2 saw Romanin narrowly defeat Rod with a .064 light and 8.01 to a .093 light and 8.79, whilst Roxanne lit up the cherry again against Emily's .091 light and 8.85 on an 8.80 dial. Romanin soloed when Thomas didn't front to be 3 wins from 3, whilst father and daughter fought it out to see who would face the V8 in the final. Rod's .095 light and 8.63 on an 8.60 barely covered Emily's .120 light and 8.78 breakout on her 8.80 dial. Romanin lowered his dial-in to 7.88, as did Williams to 8.54. But the altered couldn't run on the time, despite Rod's better .077 light, allowing Romanin's .092 light and 7.93 to 8.64 to claim another win.
IMPORT CARTEL ALL MOTOR: JACK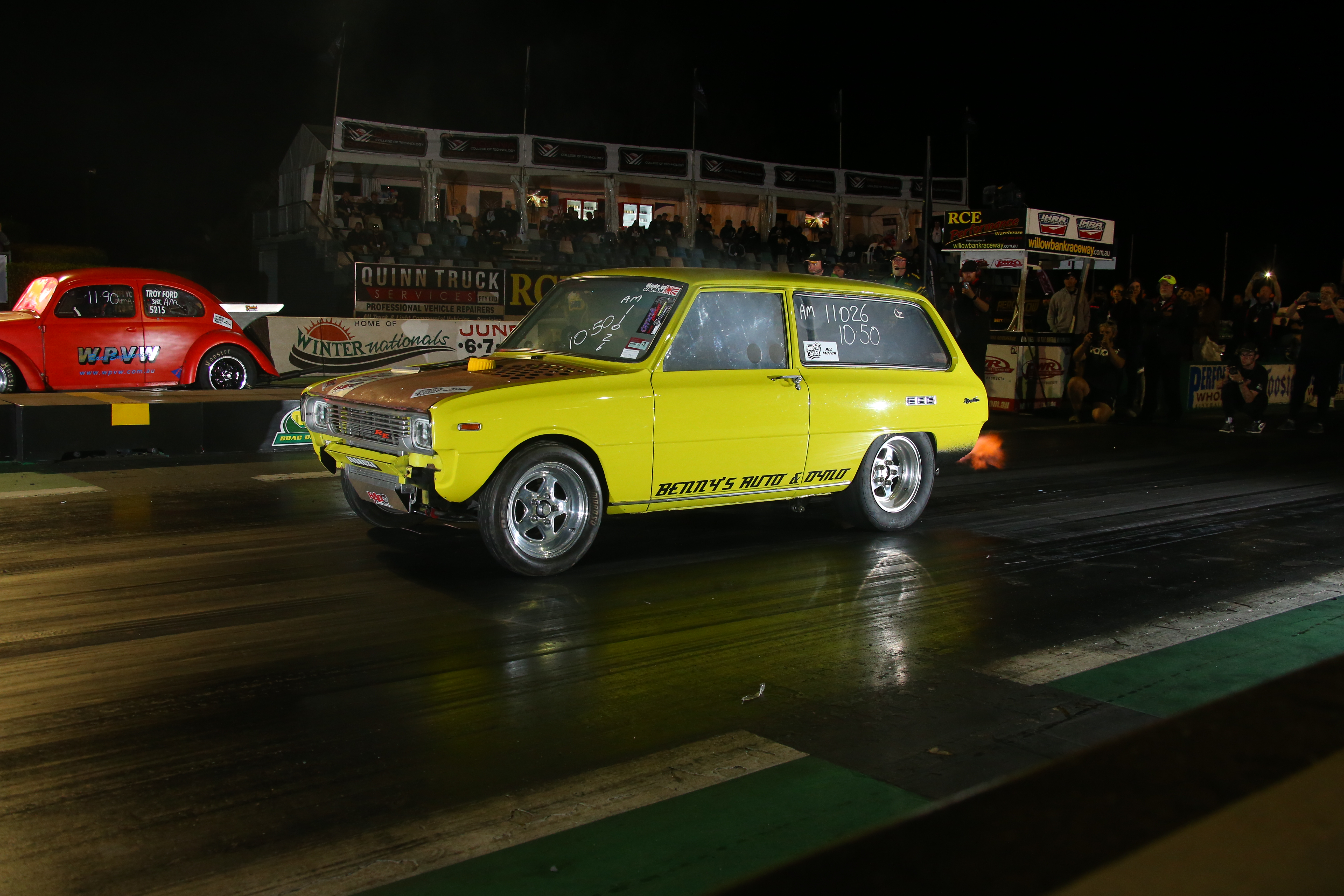 Import Cartel All Motor had 11 cars qualify, with a 9.42/139 from Matt Rice's 'Chainsaw" 13B R100 grabbing top spot. But an age-old rules infringement concerning mufflers was dusted off and enforced, seeing the popular car parked for race day, despite racing for the past 4 years, both in Sydney and Brisbane without prosecution. Nick Jack's wild 13B mazda 1000 wagon ran a great 10.54 for second, and Dave Butler's 3035cc beetle 3rd with a 10.79. But in the world of DYO, it was to be number 8 qualifier Troy Ford in his 2223cc beetle to face a red-hot Jack in the final.Jack dodged a bullet in round 1 when former winner Jason Stoodley red-lit his barra-powered Cortina, whilst Ford despatched Butler in a battle of the beetles when Dave ran off his dial with a closer 11.97 on an 11.90. Ford scored win number 2 against a red-lighting Rob Barac in his wild mid-engined Mirage, whilst Jack soloed. Andrew Swanson then handed Ford his 3rd win when he red-lit his 2278cc beetle, and Nathan Dougherty did the same against Jack. The final was close, with Nick's .021 light against Ford's .094 on the chase. He managed to catch the beetle right at the stripe and a safe 10.64 on a 10.50 covered the 12.00 on an 11.90 from the beetle.
MTQ STREET COMPACT: FREIRE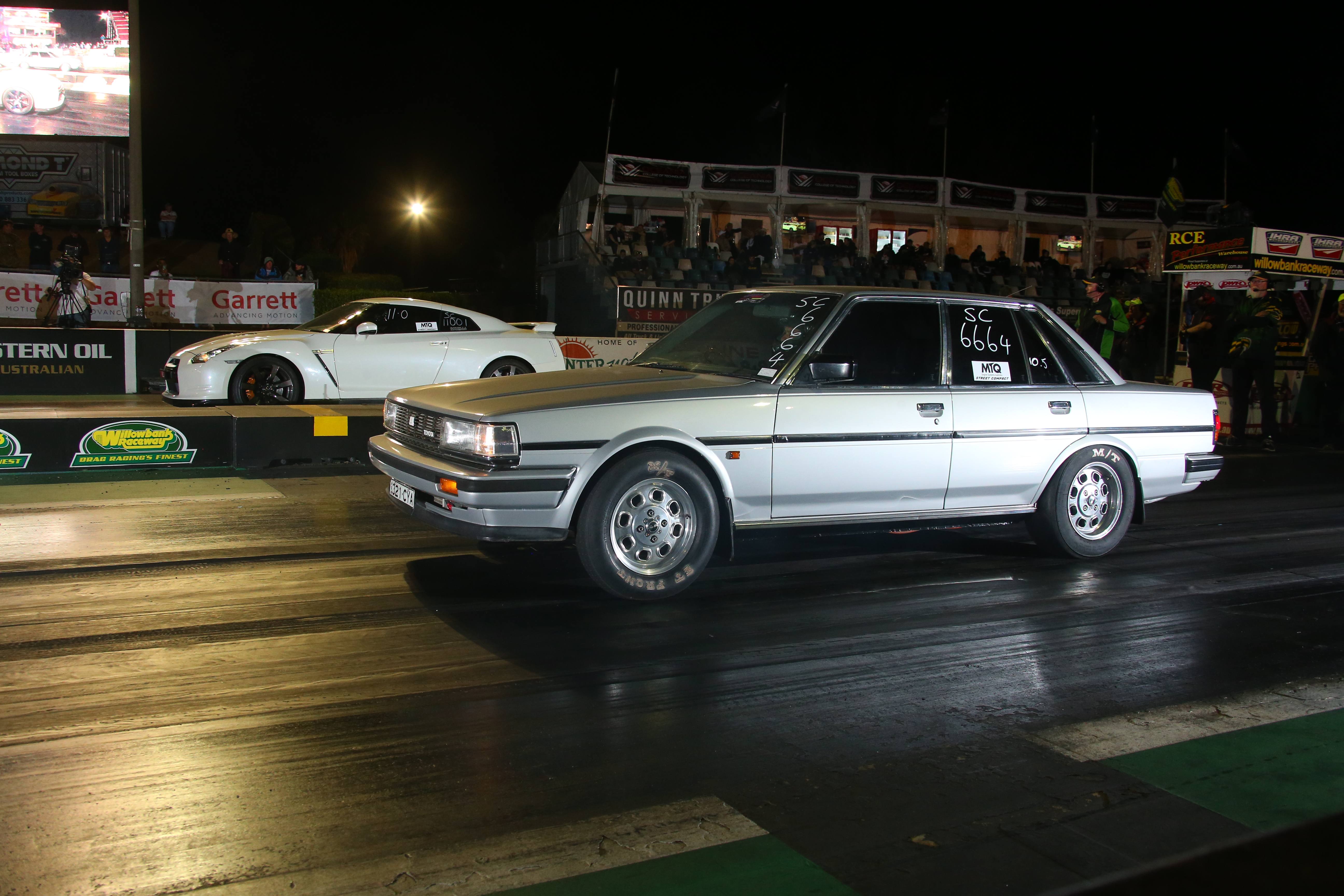 MTQ Street Compact always brings a big field of variety, and a 31-car field shows its popularity. Aaron Murphy's Typhoon nailed pole with a 10.14 at a backing-off 117, with Rob Barac's new 'Crusty the Crown" 2JZ ute 2nd with a 10.29/130. Cressidas then held number 3 and 4 spots, with Joseph Freire (10.78) and Bradley Halyburton (10.80). Damien Boyce's barra-powered XT Fairmont sleeper was 5th with a 10.82. But it was number 17 qualifier Nathan Wilson in his R35 that earned a spot in the final, and met Friere in a battle of the heavyweights. Freire soloed in round 1 and tested his 10.50 dial with a 10.64. Wilson used a .073 light and 11.73 on his 11.50 dial to despatch Halyburton's late .370 light and 11.10 on his 10.80 dial. Round 2 saw Wilson dodge a bullet when he pulled a .283 light and 11.67 against Nick Baxter, who then cherried in pursuit of his 11.50. Freire then scored another solo, and his 10.59 on his 10.50 dial was well used. The semi-final saw Graeme Manietta fall off his dial-in with his giant-killing Suzuki Swift sedan, allowing Freire to back off in pursuit to make the final. Wilson then also scored some luck when Steven Johnson pulled a red light and then run an 11.23 on his 11.60. The final saw a tight .019 from Freire and .050 from Wilson. And it was that difference on the line that separated them at the end, with both running .24 off their 10.50 (10.74) and 11.00 (11.24) dials.
LIGHT OF THE NIGHT: ERROL BRITTAIN (.000)
SKYS THE LIMIT: KRISTIAN GOLEBY
SMOKEN: TERRY WATERMAN RX2
CREW STYLE: SAM KIPRIOS (Ninja Starlet)