NEWS - ITEM 367
PEPPER MONEY BACKING THE CASH BOOST IN 2020!
Date: 03/02/20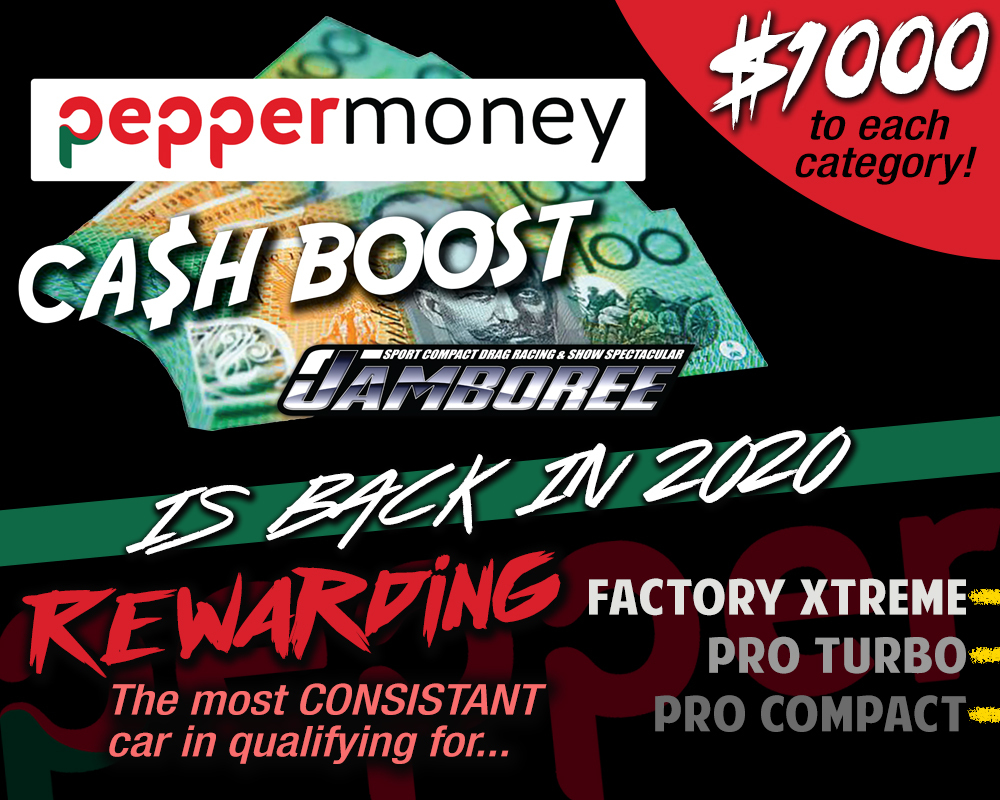 Pepper Money will reward competitors for consistency and performance in FACTORY XTREME, PRO COMPACT & PRO TURBO @ Sydney and Brisbane Jamboree!
The Cash Boost concept has been very successful for the past 2 years at the Jamboree events, rewarding the racer with the most consistent 3 runs in qualifying $1000.00 in each of the 3 Pro Categories! Pepper Money will present a big cheque to each winner of the Cash Boost at the Jamboree events in March & August!
Pepper is Australia's number 1 alternative lender, and live their mission: to help people succeed. Since 2000, they have been helping over 200,000 Australians who don't tick all the traditional boxes for home loans – and also provide car loans and loans for professional equipment.
Pepper Money's Chief Executive Officer, Mario Rehayem has been a competitor at the Jamboree for many years now in his Rotary powered Toyota Starlet. A usual competitor in the Pro Compact category, however at Sydney Jamboree you will find him battling it out in the Modified 10.5 category! "In racing and in business alike, consistency is an important ingredient for success. That's why Pepper Money is proud to be rewarding the consistent performers at both the Sydney and Brisbane Jamboree's in 2020. " said Mario.
"Having Pepper Money & Mario onboard with the Cash Boost is a great thing, his company motto is to help people succeed in life, and now he can also provide encouragement for our competitors to succeed on the race track! He knows what it's like to be a racer, and understands how important aiming for consistency in a race car is!" said Jamboree Director Collin Willshire.
Check out the Pepper Money website for real life finance/loan help https://www.pepper.com.au/lending