NEWS - ITEM 381
NEW 13B RECORD HOPES FOR PROMAZ WITH NEW CAR SET TO DEBUT AT THE GARRETT SYDNEY JAMBOREE!
Date: 01/03/22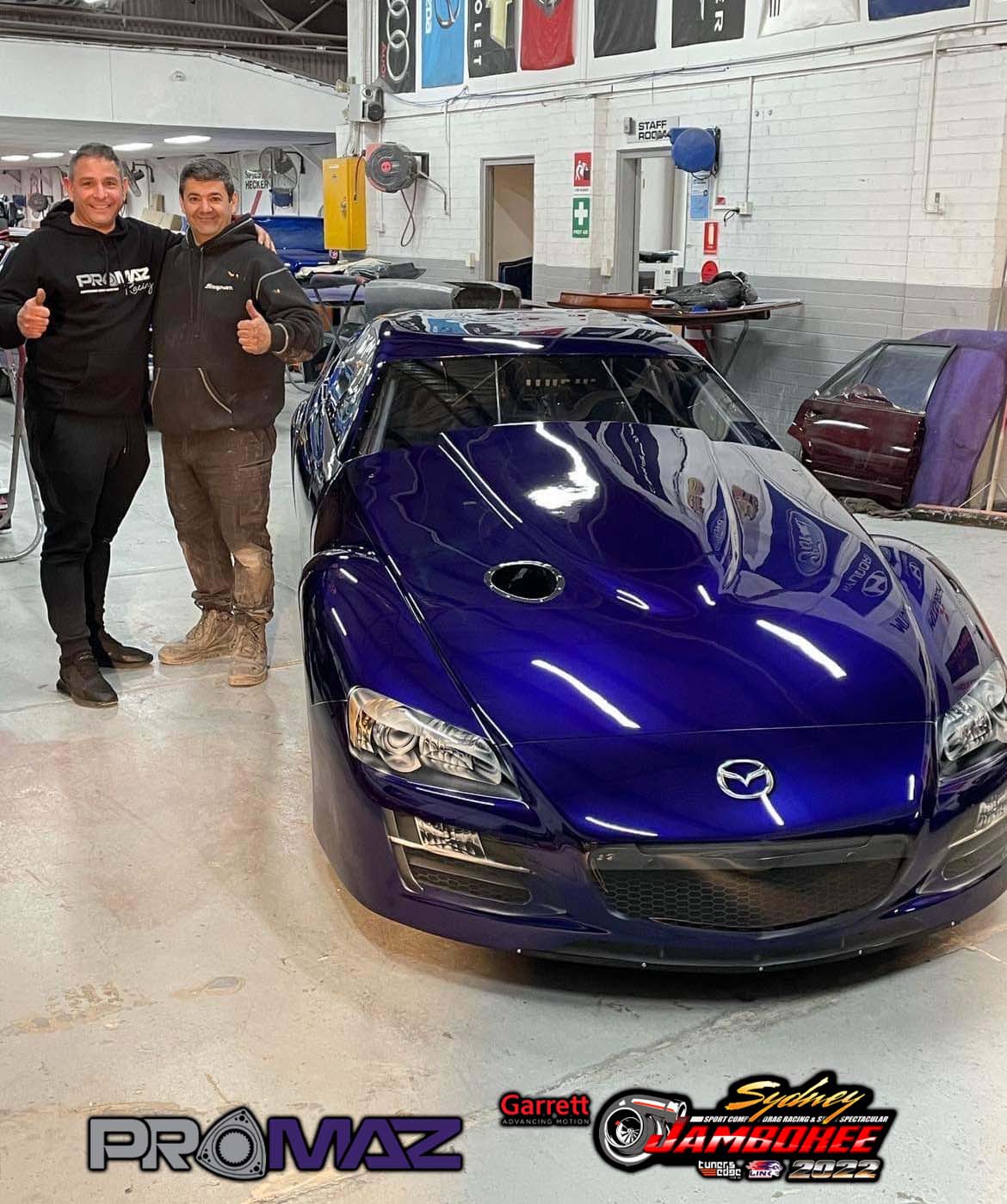 Simon Ioannou has been competing himself for many years at all the Jamboree events across the East Coast of the Country, along with a big team of Promaz customers, and while he's had great success at the Jamboree events, it was time to step it up and chase faster ET's!
Pro Compact is getting more and more populated by these popular 13B rocket ships and Simon is aiming for this car to be an Australian/World record holder!
We did a quick Q & A with Simon about the new car!
What are the details of the car… chassis, engine, trans, diff etc, does the car have a name?
SI: The cars name is "ADLIVIA", this has come from both my daughters' names > Adele and Olivia.
Chassis is built by PMS Race Cars in Puerto Rico
Engine is a 13B Promaz/Billetpro Race engine, the same combo as the Ghost RX3
Transmission is a Liberty Equalizer 5 speed
Diff custom 9 ¾"
Where did you purchase the vehicle?
SI: Car was purchased from Orlando Florida, and we had it shipped over. Shipping was delayed on and off, so it was a huge relief to get the car in our possession!
What performance results are you hoping for with the car?
SI: As fast as we can get it to go! We will aim for the Australian record first and then attempt to set the world record for 13B.
You are entered into the Pro Compact bracket at Sydney Jamboree, what your plans in the lead up with getting track time etc?
SI: Unfortunately test days until now have been cancelled due to rain, we were supposed to test this week on Thursday but was not to be. We are booked in for the Jamboree Test Days, but we ideally would also like some track time before then. Hopefully we can do some laps before Sydney Jambo.
How are you feeling about stepping up from your previous Pro Compact car to this one?
SI: Very excited for our team, we love the sport and looking forward to enjoying and learning the new car. It is much lighter than the previous car which we are most excited about. My previous car was a heavy car to be trying to go fast with.
And please add any further info you would like to mention…
SI: We would love to thank our sponsors as this would not be possible without them !!
Promaz Racing
Norton Saint-Gobain
Billetpro
Custom Body Works
Grandprix Mazda
Fueltech
Turbosmart
Garrett Advancing Motion
Hotwirez
The race Shop
Fullboost
See the Promaz Team at the upcoming Garrett Sydney Jamboree presented by Tuners Edge & Link ECU – Saturday March 26 > Sydney Dragway!