NEWS - ITEM 384
IMPORTANT NOTICE - 2022 GARRETT SYDNEY JAMBOREE IS CANCELLED-DUE TO WEATHER
Date: 18/05/22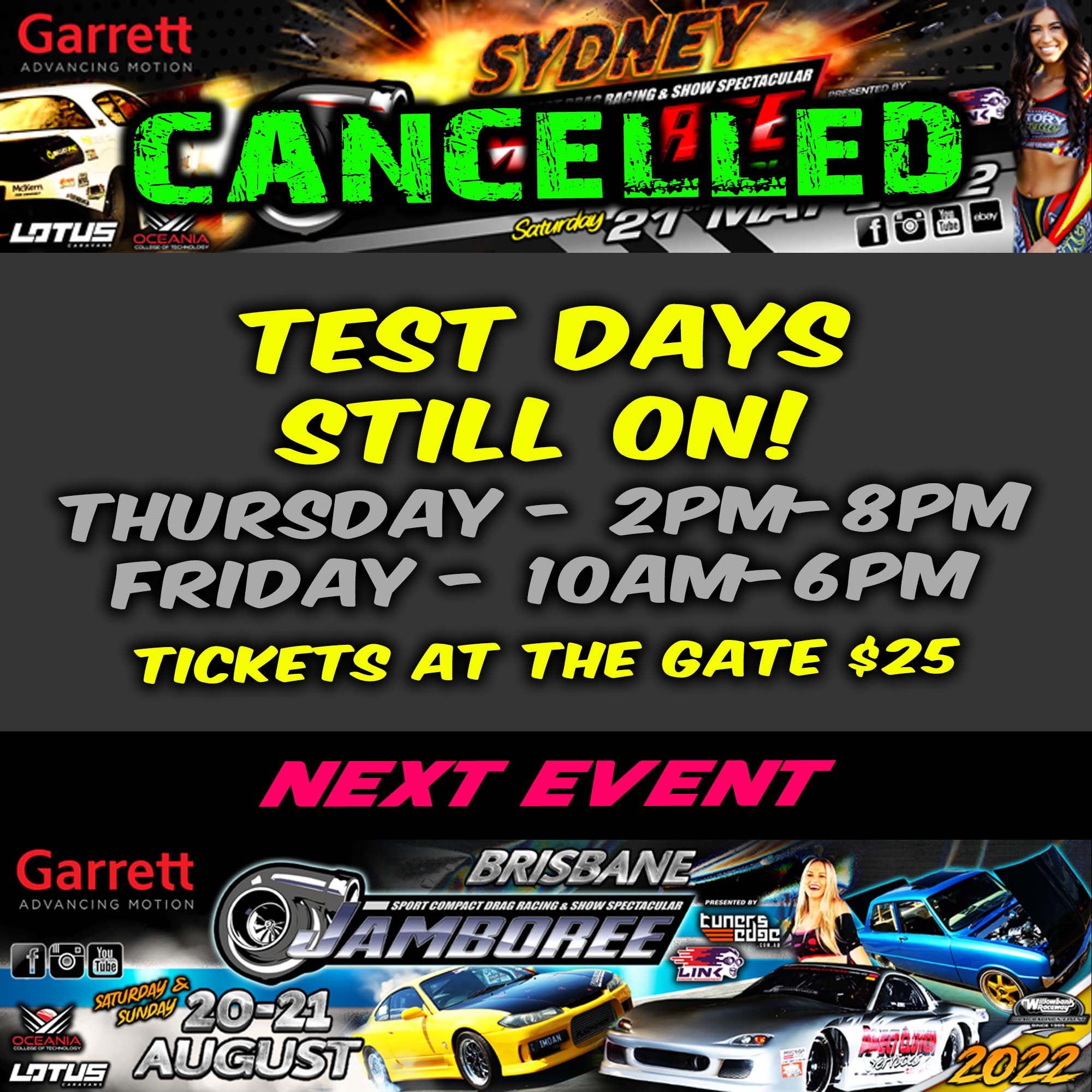 ** THE JAMBOREE THURSDAY/FRIDAY TEST DAYS ARE STILL GOING AHEAD! **
Unfortunately, due to the current weather predictions for Saturday, we have made the difficult decision to CANCEL the 2022 Garrett Sydney Jamboree.
The THURSDAY/FRIDAY TESTING will still go ahead as the weather looks to be ok on these days.
Friday has some rain predicted therefore we are going to move the start time to 10am to try and get the day in. However, it will be assessed Thursday night also.

👉THURSDAY: 2PM – 8PM
👉FRIDAY: 10AM – 6PM
Spectators are welcome to come on both days, tickets at the gate $25!
We wanted to make this decision early as we have a lot of interstate competitors and spectators travelling to be at the event, also keeping in mind the best interests of the Jamboree event and its viability moving forward.
We want to Thank Sydney Dragway for working with us on the best possible outcome for The Jamboree Event, but we feel this is the right decision with everyone's best interest at heart.
Jamboree management is terribly disappointed to have to do this after already rescheduling the event. It's far too much risk to try and push on with Saturday and not be able to deliver the highest quality event we strive to deliver.
All spectator tickets for the Saturday event day will be refunded.
Jamboree management will be in touch with competitors about their entry fees as options of rolling over to the next event will be given.
We hope you all understand and can show positive support of our decision.
Moving forward we hope to see you all at the 2022 Garrett Brisbane Jamboree, August 20-21 at Willowbank Raceway! For more information… https://www.jamboree.com.au/