NEWS - ITEM 73
288 LOCKED AND LOADED FOR J19
Date: 24/9/09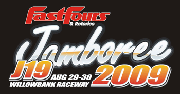 With 288 Drag Race entries lock in for this weekend, the 19th Annual Fast Fours & Rotaries Jamboree at Willowbank Raceway in Queenslad will have one of the biggest ever.
The McKern & Assoc Pro Turbo class will see a massive 16 car field with all the big names in attendance including Rehayem, Skaramuca, Signorelli, Tsoltoudis, Stanbury, Glassett, Ibrahim, Sadek, Harvey, Dyson and Kajewski just to mention a few.

The HKS by Performance Wholesale Pro Compact guys are out in force too with 10 of Australia's quickest 4 cylinder and 2 rotor cars. The entry list is a who's who of Sport Compact with names like Bray, Willshire, Magliveras, Borg, Daquino, Rodrigues, Marcevski and many others.
It all adds up to an action packed weekend of Sport Compact drag racing not to miss. Checkout the entry list HERE.
Below is just a taste of what you'll see at the Fast Fours & Rotaries Jamboree this weekend. A special thanks to Rotorg33k, Australia's No.1 Rotary Channel for this footage of last weekends pre Jamboree testing at WSID in Sydney.

For more details, checkout the website www.jamboree.com.au
__________________________________________________________