NEWS - ITEM 76
FORMER NHRA SPORT COMPACT RACER SHAUN CARLSON DIES
Date: 14/10/09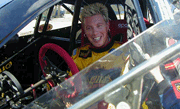 Former NHRA Sport Compact and Pro Stock racer Shaun Carlson died Oct. 4. He was 35. Carlson had been diagnosed with Brugada syndrome, also known as Sudden Unexpected Death Syndrome (SUDS), a genetic disease that is characterized by abnormal electrocardiogram findings and an increased risk of sudden cardiac death, but it is unknown whether that contributed to his death.

Carlson, a talented fabricator who was the car owner for former world drifting champion Samuel Hübinette in the Formula Drift series, had been ill the last few years yet continued to field his team.
Carlson, owner of NuFormz Engineering in Ontario, Calif., had been racing since 1999 but first came to national prominence on the sport compact scene, where his front-wheel-drive machines were strong and innovative runners; he built the first sport compact drag car with a tube chassis.

Carlson set NHRA Sport Compact Racing Series Pro FWD records for e.t. and speed in May 2003 in Gainesville, where he captured his first NHRA victory. He finished third in the standings on the strength of four semifinal finishes. He also scored a victory at the inaugural Palm Beach NHRA Sport Compact Nationals in Florida in 2005 and drove to final-round appearance at the 2004 NHRA Sport Compact Fall Nationals in Englishtown. He also was the No. 1 qualifier at Texas Motorplex in August 2004; he finished fourth that season. Outside of NHRA, he was the 2002 Xbox Cup champion in the Pro Outlaw class.
Carlson got his first taste of NHRA Professional racing in 2004, when he subbed for an injured Darrell Alderman in Pro Stock at the season opener, where he grabbed a first-round win and nearly advanced to the semifinals in his debut.
Two years later, he piloted the Team Mopar/SRT Dodge Stratus R/T for Don Schumacher Racing in the NHRA Pro Stock class for the 2006 season. He competed at 15 events but only qualified at one, in Las Vegas in the spring, and finished 25th in the standings. Carlson used his mechanical skills to assist Allen and Roy Johnson, owners of J&J Racing, in tuning friend Richie Stevens Jr.'s Team Mopar/Valspar Dodge Stratus R/T during the latter part of the season, helping Stevens earn two late-season wins in 2006.
After leaving drag racing, Carlson became involved in professional drifting. NuFormz Racing maintained the Mopar Viper Competition Coupe that Hübinette piloted to the 2004 inaugural Need for Speed Underground Formula D Drift Series championship. Hübinette earned two wins for NuFormz Racing in 2005 and scored a runner-up finish in the Formula Drift standings, then won the 2006 Formula D championship on the strength of three wins. Hübinette captured a fifth-place finish in the final 2007 Formula Drift points standings and finished second again in 2008 after three podium finishes in his NuFormz Racing-prepped Mopar Dodge Viper SRT10.
Carlson was named as one of the Top Ten Innovators of All Time in the sport compact and drifting scene by Super Street magazine.

Services for Carlson will be on Monday Oct. 12 at 1 p.m. at Calvary Chapel Chino Valley, 12205 N. Pipeline Avenue, Chino, CA. 91710
[ Source NHRA ]

__________________________________________________________