NEWS - ITEM 81
TURBOSMART PRO COMPACT SET TO EXPLODE IN 2010
Date: 6/02/10
Turbosmart Pro Compact is set to explode in 2010 with an infusion of new cars arriving in the country. The Turbosmart Pro Compact class has just undergone a number of changes for the 2010 Sport Compact Group season with the inclusion of 3/4 chassis 20B & 6 Cyl powered vehicles.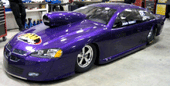 George Marcevski of Pac Performance & Can't Stop Towing in NSW has step up to play with the big boys. George, famous for racing his awesome little purple, RX3 coupe - EAT20B, has since sold his little coupe to Jamil Jaafar, and has purchased a full-tubed chassis from the USA. The car was bought from John Noble who ran in PRO STOCK on the NHRA drag racing circuit. The car, a Dodge Stratus, has previously run into the 6.60s and is now bound for Australia. It will have a face lift on arrival and be converted to a Mazda 6. The car will run a 13BT with a Liberty transmission and compete in the SCG Turbosmart and ANDRA Super Compact class CC/SC. The team are hoping to have the car ready for testing in mid 2010 with a possible racing debut at the 2010 Jamboree.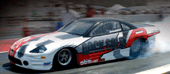 Collin Willshire of Jett Racing & Speedelec-Prime Signs in QLD is already the fastest 4 Cyl in Turbosmart Pro Compact class but is set to exceed that mark, when to steps into his new full chassis Mitsubishi Eclipse. The Eclipse was campaigned in the NHRA Sport Compact Series by Len Monserrat and has run a best of 7.1 @ 194mph and will be powered by a Mitsubishi 4G63 4 Cylinder coupled to a GF2000 transmission. The engine combo will be similar to that of his record holding Datsun 1200 ute but with a few extra goodies that will hopefully see him into the six second zone. Collin hopes to have the Eclipse ready for the 2010 Jamboree.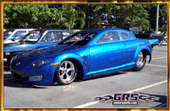 Glenn Melbourne of Boostn Clothing in QLD recently landed a brand new full chassis Mazda RX8 from Puerto Rico. The RX8 is a major step up for Glenn after running his black Mazda RX3 in the Street 289 class for a number of years. The RX8 will be powered by a Mazfix prepared 13B with a ......... transmission. Glenn hopes to be out testing later this year.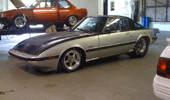 Kyle Hopf of 6boost Turbo Manifolds in QLD will make his debut into Turbosmart Pro Compact in 2010 with a Puerto Rican built Series 3 Mazda RX 7. The RX7 is a new 3/4 chassis and Kyle has already made a number of changes including spindle mount front wheels and a fully floating rear end with more changes to come. Transmission duties will be handled by a Liberty and the engine combo is set to surprise! The type of engine has yet to be disclosed but there is a good chance that it may have things that go up and down instead of round and round. Kyle said testing should be later this year and is hoping to make a debut at J20.

__________________________________________________________