NEWS - ITEM 96
COUNTDOWN TO WORLD TIME ATTACK CHALLENGE
Date: 19/5/10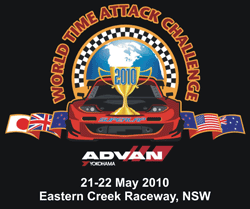 Imagine big horsepower, purpose-built, turbo-charged cars going as fast as the V8 Supercars. The big difference is they're competing against time - so it's all about speed! The rules are simple - the car with the fastest lap time on the day wins.

World Time Attack will see the quickest and best teams from the US and Japan and put them up against the best Australian Time Attack teams. With a star-studded field, this is not only going to be the World's first but also the World's biggest event of its kind. The best in the world going head to head on one of the World's best circuits, competing for the ultimate title of the World Time Attack Champion.
To start with we have Tectaloy drift challenge on the track at turns 10,11 and 12 on Friday from 4pm and Saturday from 12pm until 2pm. This will see the best drifters from around the country go head to head against leading D1 driver "Yoshi-king" in a no holds barred shootout for gold. There will only be one winner.

The pits will be filled with the best automotive produce around with all the biggest and best brands coming together to create a one stop shopping mall that automotive enthusiasts have only dreamt about until now. This is the place to get all the info for your project car and representatives from Japan and around the world there to answer your questions.
There will be displays from HKS, Greddy, Ralliart, Tein, Cusco and Tomei to name but a few of the big Japanese heavyweights. Greddy will be hosting a huge garage sale at their stand with never to be repeated prices so make sure you come prepared.

All of the best Australian manufacturers will also be there so no matter what you want for your car it will be there and there will be a heap of surprises at the Aamtech pavilion including a heap of giveaways and the Wynns top fuel dragster that will be starting up on the Saturday. Saturday will also see Australia's best show cars come together for the Chemtech show and shine on the skidpan.
This will see some never before seen cars make their debut appearance and is sure to raise some raise some eyebrows. There will also be an aerial stunt show as one of Australia's top stunt pilots struts his stuff over the skies at lunchtime on Saturday and the Cunning Stunts motorcycle stunt team will be appearing on track throughout the two days. For more details checkout www.superlap.com.au

__________________________________________________________