NEWS - ITEM 113
MANAGE YOUR OWN DRIVER PROFILE
Date: 8/8/10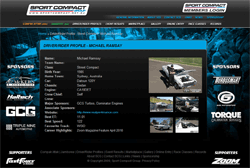 Our new Manage Your Own Driver Profile system has just been launched. Now all Drivers & Riders that compete or have competed at a Sport Compact Group event can create and maintain they own driver profile.
From the www.sportcompact.net.au website, click on the Manage Your Own Profile link of the Driver/Rider Profiles menu to get started.
Here you'll create a user name and password to access your profile when required. All profile changes and image uploads are verified by SCG before going live to your profile. This is a security measure to prevent inappropriate information or images being used so please be patient.
Your Driver Profile is a great place to showcase yourself, your crew & your sponsors. It's totally FREE so I encourage all Sport Compact Group Drag Race Competitors to take advantage of the system.
__________________________________________________________