NEWS - ITEM 149
MILLER SIGNS RACING GEARS UP FOR J21
Date: 30/07/11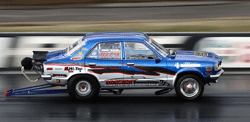 At the recent Castrol EDGE Winter Nationals re-run, the MSR team impress the crowd with some stella performances.
The MSR team started the rerun in the 3rd position on the qualifying ladder. Come the friday test pass they started of soft to see how track conditions were... running an off the trailer 8.05@163mph with an early lift.
1st round of racing was against Mark Jacobson's 7 sec GTR Skyline & they won the round with a very average 8.38@168.11mph & a broken 5th gear. Semi-Final round saw Miller take on fellow sponsor & mate Damien McKern in his 20B Pac powered Grump2 RX2 sedan. The team knew they had to give it there all to try & get through this round of racing. Miller cut a good .087 light & a new PB 60 ft of 1.254 & grabbed the win light against Damien, running a new PB of 8.017@169.06mph & resetting our BB/OM National Speed Record.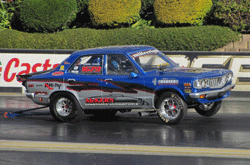 This then set them up for the final against the Worlds quickest sport compact car of of Rod Harvey in the Rayglass Boats Toyota Celica. As the finals drew closer the sky's opened up again and the event was cancelled & all finals were not run.
The MSR team is really looking forward to Brisbane Jamboree now & preparations are underway with only a few weeks to go. Team MSR would like to thank the following people for their ongoing support: McKern & Associates Accountants, Hi-Tec Oils (Kyle & Adam), Black Diamond Powder Coating, PWR Products, Gold Diesel, The Paint Depot Southport, True Colors Anodising, Fuel Injection Component Services, BNK Apparel Printing, Miller Signs Graphics & Designs. The Crew guys: Ken, Chris, Robbo, Dave & Matty & Thanks to Craig Dyson of Dyson Bros Racing & Steven Cockerill. Without the support of these people their racing would not be possible.
__________________________________________________________