NEWS - ITEM 198
2013 SYDNEY JAMBOREE MEETING REPORT
Date: 28/04/13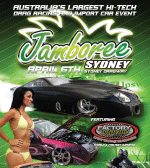 "Wet, wild and whoop-ass"
Although the 2013 Sydney Jamboree will go down in Sport Compact history as an uncompleted event due to the weekend's unstable weather, new milestones were etched nonetheless.
Saturday morning's scheduled kick-off was delayed due to millions of microscopic water droplets lightly misting the Sydney Dragway tarmac, and with a fog thicker than the meaty entry list of over 160, the mission statement was to forge ahead and fight the elements.
The Juice Polishes Show n Shine was more like a bead-off, with highly polished exteriors rejecting the water as soon as it hit their amazing surfaces. The pits were full of angry machinery, with many new and returning names parked in their allocated cages, warming up thousands of horsepower in anticipation of a start. The sprinkling halted mid-morning, and the track prep crew wasted no time in massaging the strip, whilst a veritable traffic jam of street cars hot lapped the braking area in readiness for the jet dryer.
After drying the track for a second time all was in readiness for the qualifying to start, however a decent downpour halted plans again, and for every minute that it poured, the track looked lost. The call was made, and the event postponed until the next morning.
Sunday's sunrise sparked a new beginning, albeit with a slightly smaller field, obviously due to other undodgeable plans. But Saturday's crowd returned to see the amazing Aussie Sport Compact scene at its very best. And they didn't have to wait long to see some impressive numbers, including PB's for many teams.
However after nearly 8 mouth-watering hours of racing, an afternoon thunderstorm ended the day before the finals could be run. However all in attendance agreed that they had seen enough to get excited for the Brisbane Jamboree in September, and that the unfinished business be completed.
Factory Xtreme saw Kiwi Rod Harvey lay down his very first 6.3, with a top-qualifying 6.39/225 with his Rayglass Celica. It was a sweeter moment to have Mr Rayglass on-hand to see it himself. George Reyahem drove Pac Performance's Mazda 6 to a best of 6.63/205 before striking fuel delivery issues, Gas Motorsport's Zoran Gajic reeled off a PB of 6.52/228, the second-fastest Sport Compact speed in the world, and Queensland teams TopRPM and Mazfix also ran hard. Mazfix's Archie Kajewski hauled his Mazda 6 to a 6.80, and Milos Pavlovic took the wheel of the TopRPM Celica and ran a 6.67. Fellow Queenslanders and pit neighbours, Colin Willshire and Scott Porter unleashed their billet bullets with opposite results. The Jett Racing Eclipse went wild off the line in the first session, but an intermittent misfire slowed the 4G63's progress from then on. Porter's recent testing saw the Infiniti run consistent 6.5's including the quickest side-by-side Sport Compact pass alongside Harvey's 6.45 with a 6.53. Joe Signorelli's Gas Celica was noticeably tame to half-track all day, but 6.6's at over 225mph showed no slowing in the deep end. Mark Jacobsen's Godzilla R35 was troubled with gremlins in his normally reliable RB- powered machine, but added to the all-star field. It was safe to say that had the rain stayed away, bigger numbers were due.
MTQ Engine Systems Pro Compact was again full of small-motor muscle, with six-second performers Michael Baghdadi, Dom Rigoli and Ben Bray ready to repeat their feats. Bray had run his first six a week earlier, and was chomping to run faster. Kelly Corbett, driving Jett Racing's 4G63 1200 ute had run 7.1's in the lead-up, Chris Tait's 3RZ 200SX appeared in a striking new white motif with improved aero and SDR's Steven Dimech led a 2-rotor challenge with a 7.43 from his 13B Datsun 1200. New rotor kids on the block included Mikael Afif driving the Ex Jim Magliveras KE20 Corolla, Sinagra, WA's Jamie Marshall, driving the Mazsport-prepped RX3 and Elia Hajjar in his PAC-prepared RX3. Both Baghdadi and Bray experienced aborted runs due to small fuel leaks, but not before unleashing sixes, a 6.91/206 for Baghdadi with another world record speed and a 6.94/196 for Bray. Bray's .997 60ft on that pass made it the hardest-leaving car of the event. Not bad for a 4-cylinder!! Tait calmed the 200sx down enough to record a 7.15/194, before a wild ride in the traps had him on the chute in the nick of time. Corbett's racing day came to an explosive halt after running a neat 7.21/187 early, but the 4G63 cried enough in the water during the last burnout and left engine bits all over the track. Again the weather stopped the script short, with the story to be completed in Brisbane.
McKern & Assoc Pro Turbo fielded a small but exciting line-up, with Mick Farrall finally getting his RX7 to behave, running a best of a 7.58, whilst Godfather Sam Sadek was shaping up as a top-qualifier having run sixes in the lead-up, but a leaking rear slick deflated his chances on his last couple of passes. Gina Bullians laid down a best of a 7.61 in the Mazsport RX7, and Brisbane's Brad Mcilroy ran a big PB, with his 7.79/178 his first 7 from the 20B Datsun 1200 ute. The only piston-powered machine was Anthony Maatouk's VLGOD, running low ET with a 7.26/197. With close numbers like these, all eyes will be on Brisbane to see them fight it out.
Microtechefi.com/Speedflow Street 289 had a mixture of small-tyred muscle, but the big news was Po Tung's 2JZ Supra, running an amazing 204 MPH top end speed, backed up by a faster 207MPH. This would make the Gas-powered weapon the fastest car on this tyre in the world. Drive jobs were the order of the day, none surpassed by one of the best steerers in the business, Bill Nabhan. The 13B-powered Escort left hard, picked up the wheels and hung them all the way to over half track on each gear change, backing off to save the win and running an 8.08. Newcomer Eyad Shalabi also drove his RX3 half a mile in the quarter on a wild pass. Inch for inch, the 289 racers punch well above their weight, and heading to Brisbane will see the wild antics continue.
Torque Calibration Services All Motor had a strong Mazda vs. Honda feel right from the get-go, and the average elapsed time in this bracket again plummeted. Charlie Costanzo's 13B powered Datsun 1200 coupe unleashed the quickest 2-rotor pass in the country with a 9.68, and Benny Tran ran the quickest All Motor Honda-powered pass with a 10.45. Throw in a bunch of 11-second passes, and the aspirated boys can no longer be considered the "slow' class. Keep an eye out for an even quicker field come Brisbane.
Haltech Modified Compact was one of the biggest brackets of the event, mainly due to a large number of unique combinations. From purpose-built cars like Rod Penrose's 3300cc front-engine, late model drag beetle and Justin Cook's 2JZ Chevy S10 to street cars like Mick McGregor's 9-second KA24DE Datsun 1600 and Luke Coy's 3RZ Ke10 Corolla, which ran a crazy 8.44 in qualifying and scoring a PB. With a mixture of piston, rotor, coupe and sedan, Modified Compact's field is set to swell in September.
Turbosmart Street Compact's average elapsed times continue to plummet and Ali Hamden's RX3 Top Qualified with an 11.14/118 whilst the 1JZGTE Cressida's of Bradley Halyburton and Kade Young followed with passes of 11.40 and 11.82 respectively. Even a Proton Jumbuck, driven by David Macgregor added to the variety, turning in a 14.88!!
Barrier Pro Extreme saw a small. But varied line-up, most notably was Nikki Hepburn's turbo Big Block Gemini almost running sixes at 200MPH. Whenever there's a milestone to reach, Jamboree delivers!!
Mazfix Modified 10.5 again was on the small side entry-wise, but the turbo V8 EFI combos were obvious. Joe Gauci's 370 twin-turbo efi small block Cortina, Steve Athan's twin-turbo 505 Chev Mustang and Michael Arnold's single-turbo 400 small block HT ute all ran sevens, with Gauci's 7.22/201 the top qualifier, Athans ran a 7.55/189 and Arnold's 7.62/186 was a PB.
Extreme 10.5 was a sideline bracket, with V8's everywhere. Australia's baddest radial tyred machine, Daniel Nunziante's 622 Proline-powered Cortina ran a memorable pass against Australia's baddest blown 10.5 car, Frank Mamone's Nova. Both cars struggled to get the power down, but Frank's 6.95/225 edged out "Pazzo's" 7.06/215 in a pedal-fest to remember. But the baddest pass of the weekend went to the still-new Moit's Racing 481-cube twin turbo Mustang with an amazing 6.17/240. Every time the car came back with more power added, but couldn't keep it glued, or straight. Also notable was Ali Rayan's single-turbo big block Torana running 197MPH, rumoured to be the fastest speed recorded by a HB Torana!
The Rapid Bike Magazine Sports Bike fields were small, but filled with quality and close racing. Outlaw Sports Bike regular Leonard Azzopardi was again on top with a best of 7.51/188, whilst the only final determined on the day was Sports Bike, with Geoff Veigel on his Kawasaki ZX14 defeating top qualifier Robert Simmonds on his Hayabusa.
With rain stopping the event short, the script stays incomplete, with Brisbane only a few short months away, rest assured the Brisbane Jamboree will one NOT to miss.
__________________________________________________________