NEWS - ITEM 225
PRE-ENTRIES FOR THE SYDNEY JAMBOREE CLOSE SAT MARCH 8
Date: 5/03/14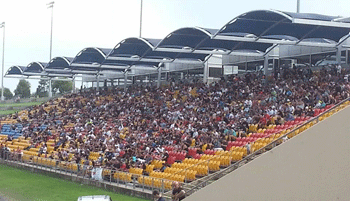 The Sydney Jamboree, presented by Shannon's Insurance, each year highlights how much life the Sport Compact concept still has in it. Being the first serious hit-out of the year for the biggest names in the scene, Sydney Dragway again became the hottest place to be in more ways than one. The pits were alive with the sights and sounds of high-tech horsepower, with a twist. Sharing the pits with rotary warm-ups, 2-step and launch boost testing, the Just Car Insurance drift track set tyres ablaze with wild wheel-swinging attitude and tight battles in their own barricaded battlezone. The venues real estate was used to its maximum this year, with the main stage and a superb show n' shine turnout sharing the other side of the dragstrip's viewing area, allowing the audience to move around and see everything going on at once. Sydney's crowds responded in very good numbers, and once all seated under their Dragways' new shaded seating area, the paved 1320ft stage was set to see who came, who ran, and who kicked ass!!

With an entry list over 120, each bracket oozed quality and variety. New cars, updated existing machinery and a few old faces turned up to make the field all the more interesting. Whilst some expected regulars were absent due to various issues, the cast and crews for 2014 Jamboree made sure both new and old fans of this form of entertainment went home happy.

Qualifying for all categories went off without a hitch, with a familiar feeling of uncertainty as the obvious potential of these machines was shown with mighty signs of either power, or lack of it. As with most qualifying fields, glitches were discovered, parts changed and then hopes pinned on running the numbers that all teams had travelled here to achieve. And when the final session of all brackets had been completed, there had been minimal signs of obvious damage to either the track or the lineup.

Then things got interesting. Just as Round 1 of Factory Extreme had been run in front of a substantial crowd, The "As Forecast" storm that all hoped wouldn't hit the venue……..hit the venue……..HARD!!!!

Big Ol' Fat Rain, sideways rain, awesome wind, and a lightning show better than any New Year's fireworks display showed the mightiness of the Almighty. Hopes were dashed by all, but radar watchers focussed on the estimated width, speed and direction of the party pooper. With super vision akin to Doc Brown's 2015 weather prediction, albeit over a 1 hour period, the call to "Wait', rather than say "NO" revealed sunshine on the other side. Soggy Sydney Dragway staff, led by "Flamin" Ray Treasure (nickname made up for dramatic effect), went into dry, recover, prep and race mode within an amazing 2 hour period. This was helped in no small way by having over 40 volunteer street cars lapping the braking area alone, pumping the asphalt dry. With the sun almost gone, the track was ready, the lights flickered on and "GO" was the call.

It was Diehard Central, both in the pits and in the seats. Rain sent competitors and spectators home, leaving the hungry, action-craving remainder to finish things off. With 1 round of racing cut to absorb the delay, making the final was going to take some special circumstances.
JAMBOREE AWARDS:
SKY'S THE LIMIT (Best Wheelstand): OZGUR SEMERCI - RX2 13B
SMOKEN (Best Burnout) PHIL PENNY - Honda S600 2JZ
TCS LIGHT OF THE NIGHT: ( Best reaction time in racing) TRENT GILLESPIE Toyota Starlet 0.002
CREW STYLE (Best appearing Crew) SCOTT PORTER RACING

FACTORY XTREME: WILLSHIRE
Precision Turbochargers Factory Xtreme was made all the more special with the U.S. turbo giant sending Sales Manager Joe Krivickas and Engineering Manager Dan Barlog over to see what the Aussies are doing with boost. And there were some tight groupings once the 8-car field had finished qualifying. Aussie Precision distributor Smokin Joe Signorelli rose to the occasion, posting a killer 6.53/225 blast to anchor top spot with the GAS Motorsport Celica. Scott Porter's Infinity turned a 6.640, whilst George Rehayem's 6.649 from the PAC Mazda6 scored 3rd. Jett Racing's Collin Willshire's PB of 6.848/202 was good enough to see the 4-cylinder car on 10.5 tyres into 4th ahead of Archie Kajewski's 6.87 whilst troubled runs from Zoran Gajic (7.42), Jason Both (7.47) and Mark Jacobsen (9.18) rounded out the group.

Round 1 before the rain saw Rehayem use his 20B power, a crazy .009 light and a 6.70/202 to edge Jacobsen's VR38 powered 6.95/212, whilst Porter had to fight a resurgent Gajic in a classic V6 vs I6 matchup. His 0.183 light and 6.64/222 narrowly led Zoran's 0.198 light and 6.75/208 to the stripe, and then Willshire's little 4G63 beat up on Signorelli's 2JZ with a 6.95/181 click when Joe slowed to a 7.82/126 with "Spark plug issues…".

Round 2 occurred on the newly-dried track after the rain had stopped, and things started just like before, with Porter defeating Willshire with a clockwork 6.69/216 as the Eclipse turned the 10.5's with a 10.86. Kajewski returned after narrowly missing round 1, and also showed that the track was mint after the rain with a consistent 6.89/198 win over Both's returning 7.50/190. Jacobsen's R35 scored and win and a loss in the same race against Gajic when Zoran cherried, then Mark dodged the wall after having a rear suspension bar break in a shower of sparks on the launch. Talk about excitement!!

The final pitted pit buddies Willshire and Porter together in an All-Queensland affair, but a red light triggered by Porter saw his 6.90/217 wasted on Willshire's clean green and 7.33. It was a breakthrough win for the team, and a reward for the massive effort they put in against the larger capacity opposition.

STOP PRESS: Willshire retained the 10.5 tyres and raced the following weekend in the APSA Outlaw 10.5 class, making the final against blown and turbo v8's and running a new PB of 6.72/212 along the way. This makes him the world's quickest and fastest 4G63 sedan in the world, as well as the baddest 4-cylinder 10.5 car in the world. Red Hot

PRO TURBO: COUSINS
McKern and Associates Pro Turbo had a different twist within it's 7-car ranks, with only 1 20B rotary against 2 2JZ's,2 Barra sixes, a 1JZ and a big, bad VW. Scott Cousin's immaculate green Datsun 1200 coupe ditched Modified Compact to have a go at the pro tree. His 7.78/181 qualified on top, with past winner Brad Mcilroy's 20B 1200 ute 2nd on a 7.91/173, Rod Penrose's 3.3 litre Bug 3rd on a 8.12/164, Victorian Dion Amato's FG XR6 ute 4th with a 8.37/167, Derek Johnson's 1JZ Commodore ute 5th with a 8.42/164, Jim Grillis' barra Cortina with a 8.87 and Phil Penny's outrageous 2JZ Honda S600 out the back with a 8.91/161.

Round 1 saw Cousins take out an explosive Amato, Penrose was lucky enough to cross first with his winning 8.25/162 before a late-leaving Johnson roared through for a wild 8.51/160, darting hard left at the stripe and twice collecting walls heavily. Johnson was OK, but the Commodore was toast. Mcilroy prevailed over a redlighting Penny and Jerry Kehl finally saw some form with a 8.09/177 solo after a day of niggling issues.

A final pairing between Mcilroy and Cousins prevailed after Amato, Johnson and Kehl were out of contention. With Mcilroy's clutchless 20B against Cousin's auto-equipped 2JZ, the first to react to the pro tree was going to have the advantage. Cousin's .177 light and 7.83/176 was just enough to beat the 1200's .190 light and 7.98/173.

PRO COMPACT: CORDWINER
MTQ Engine Systems Pro Compact saw a mouth-watering assortment of small engines, topped off with an off-trailer 6.89/196 from Domenic Rigoli's 4G63 Eclipse. Adding to the drama, Victorians Anthony Rodrigues and Peter Donchos returned to the fray after an eternity, with Rodrigues picking up a new PB of 7.15/191on the first hit. Kelly Bettes (7.27), Andrew Maratos (7.29), Dean Cordwiner (7.43) and rookie Micheal Trovato (7.85) made for a healthy 7-second top half, whilst troubles plagued Donchos, Marcio Francisco and Alex Hayward. With Maratos taking Rodrigues' national 13B title recently, the race to the sixes seemed to be a promising by-product amongst the quality field. But then came the rain, losing over half the field, making the Brisbane Jamboree the ultimate….raincheck..

It was a NSW vs QLD, 2 round, 4-car, 2 rotor and 2 4 cylinder field, which started with the 13b Starlet of Cordwiner racking up a 7.84 early click against Harward's problematic 18.72, and ended with Bettes squaring it up against Rigoli with a sharp .079 light and 7.48/156 click to a 10.93.

Round 2 Saw Hayward finally get it together, taking out Rigoli with an 8.79 to an 11.17, and Cordwiner square it again giving Bettes a taste of her own, with a 0.076 light and 7.60/164 click against a troubled 9.99.
Had Bettes run quicker than an 8.795, she would have replaced Hayward in the final against a red-hot Cordwiner, but in an all-rotor, QLD vs NSW final, Hayward's cherry gave the spoils to Cordwiner, whose 7.75/151 click was enough to further increase the prestige of the little Starlet he has for sale, stating that a new project awaits once the winning car is sold.

PRO 289: TUNG
Speedflow Pro 289 consisted of the quickest 8 of the large 26-car qualifying sheet running on the small tyre. Mr Heli Frank Cannistra made a triumphant return after bashing the wall with his RX3 some while back, and ended up with a new PB and top spot with a 7.86. Po Tung's 2JZ Supra had issues and his 7.87 was uncharacteristically enough for 2nd. Sam Meintanis' dangerously wild clutchless RB30 Gemini was 3rd with a skatey 8.08/173, whilst Nathan Hagenson's 2JZ RX2 (8.12), Chris Fakinos' R100 (8.27), Damien Mckern's GRUMPE2 rx2 (8.45), Eyad Shalabi (8.50) and Tony Grgich (8.67) made up the eight.

The rain again reduced the field to an interesting mix of 4, with auto, clutchless, rotor and piston combos, starting Round 1 with Cannistra's .064 light and 7.89 disposal of Grgich and finishing with Tung's late and come-from behind 8.50/175 to edge Meintanis' 8.67/166 from the ex-Queen St Gemini.

Round 2 saw a repeat of Tung and Meintanis, with Po's better .157 light and 7.84/174 taking out a .175, 8.05/169. Grgich was absent as Cannistra ran a spinning 7.94/165 solo.

The final was going to be tight on previous form, with Cannistra hot off the clutch with 7.80's and .90's, and Tung struggling with startline boost. When the lights fell, Cannistra's RX3 reacted better with a .113 light to a .151 from the auto 2JZ, but even a 7.92/171 wasn't going to catch Tung's mighty 7.43/195 recovery pass.

STREET 289: DI PIETRO
MicrotechEFI.com Street 289 eroded to a 4-car field after the rain, but those who turned up wanted to make the best of the situation. Running on DYO elimination format, Sandy Di Pietro's FJ20 Datsun 1600 defeated Orazio Puliafito's 13B Rx3 who cherried. Rodney Spannenberg returned with his 7 Sins 13B Rx7 race car and despatched Nathan Predo's broken VL for a spot in the final.

Spannenberg used a better .112 light against Di Pietro's .163, but turned his fortunes around by breaking out with a crazy 9.180 on a 9.19 dial-in, allowing Sandy's 9.87 on a 9.50 to take home his first ever win.
ALL MOTOR: TRAN
Torque Calibration Services All Motor had its fair spread of aspirated goodness, and for the first time in Jamboree history, 2 9-second rotaries at the top. Alf 'the Axe" Axiak has caught the aspirated bug, and his new, loud as-hell, scaled-down RX7 lightweight with 20B PP power ran an amazing 9.51/152 for top spot, whilst Charlie Costanzo rowed through his clutchless to run a 9.70/135 with 13B power. These passes were followed by a ton of 4-cylinder power, namely Benny Tran's 2.4 Civic (10.54), Ben Robinson's 2387cc 1957 Beetle (11.30), Henry Spicak's 2332cc 1956 Beetle (12.26), Joseph Digiorio's H22 Civic (12.31) and Jimmy Tran's 2.4 Civic with a 13.02. Mitsubishi fans had Jeff Hackett's v6 Magna (13.24) and Ivan Novakovic's 4G69 Mirage (13.86) to cheer for, whilst Matt Rice (14.35) held the bump with his RX3.

Again the rain scattered the DYO field before round 1, but Jimmy Tran remained, and took a win when Hackett cherried whilst Costanzo out-reacted and out-ran Novakovic's closer 14.04 on a 13.90 dial to the rotary 1200's 9.83 on a 9.68.
The final saw Costanzo soften his dial to a 9.70, but when Tran lit up the red his 9.74 was deemed enough. Jimmy ran a 12.99 on a 13.00 dial anyway to further compound the memories.

MODIFIED 10.5: COY
Mazfix Modified 10.5 saw a 7-car field that was jam-packed in performance margins. Alex Cirtoski's RB30 R33 Gts Skyline ran a last-session 7.98/183 to break up the bunch of 8-second followers, led by the VL Commodores of Bozin Georgievski (8.26) and George Haramis (8.32) Shane Crichton's Cressida's 8.36 was wedged into 4th, and Ben Pearce's VL tighter in 5th with a 8.40. But Adam Nuner's Rx3 was no different, squeezing a 8.41 for 6th whilst Luke Coy's Ke10 Corolla with 3RZ power was in 7th with a 8.53. Now that's a tight field!!
The rain had everyone on 10.5's running, except Coy and Georgievski, so the final pairing was academic. Coy, running on 225 RADIALS of all things, used a holeshot and 8.57 to take the gold with the VL late and off the pace with a 8.76.

MODIFIED COMPACT: FAIRFULL
Haltech Modified Compact had a healthy 15-car field, with Kempsey's Kym Von Holdt's 13b clutchless Anglia scoring top spot with a PB 8.12/164, however top speed of the class went to a front-wheel drive car. Luki Soldatic's 1.8 CRX nailed 8th with a 9.16, but his 172.76mph blast opened all eyes.

The DYO format after the rain still saw 9 cars front for round 1, and started with Chris Tolomeo's XR6 ute prevailing over Rod Anderson's broken 2JZ VR Commodore. Ray Fairfull's 4 litre EF Falcon dodged a bullet when Daniel Ruggier nailed him to the tree, only to roll off with issues, whilst Daniel Hargreaves' 13b Rx2 had a similar win when Justin Gregory's R33 slowed. Adam Cruden's 2JZ Ke30 Corolla despatched Paul Hunter's FJ20 Bluebird after a tardy launch.

Round 2 started quite the opposite, with Tolomeo fighting for a win against Cruden. His .023 light and 10.10 on a 10.04 held the Corolla's .065 light and breakout 9.40 on a 9.50.Thomas had an easier race against Hargreaves, with a 9.04 on a 8.66 enough over the rx2's 10.22 on a 8.90. Fairfull used the solo to test his 9.31 dial in, and ran a 9.41.

Round 3 saw Tolomeo face the tree on a solo, and backed out. Fairfull, however used a .011 light and a 9.40 on a 9.36 dial to send Thomas home, even though he cut a .047 light and broke out with a 8.64 on a 8.66 dial.

The final was an all-falcon affair, with the XR6 being chased by the older Falcon sedan. Tolomeo gave himself every chance of victory, cutting a .011 light, but suffered wheelspin at the wrong time. This allowed Fairfull to use his .088 light and a safe 9.57 on a 9.38 to snatch victory.
EXTREME: ATHANS
Wolf Motorsport Extreme saw an all-efi V8 field try their luck at the Sydney startline. Predominately thought of a testing opportunity, most teams attacked their agendas with as much seriousness as anticipated. Robert Campisi's 526 Twin-turbo Moran-powered Mustang put down a very lazy 6.65/221 in between bouts of shake, whilst Victorian Steve Athans ran a ton of 7-0's with his 572 twin turbo Chev powered Mustang, posting a 7.09/208 for 2nd. Karl Wicht's 555 EFI Pro Charged Torana hatch is loud and impressive, but on 10.5's he was having trouble backing the crank-blown beast back to an 8.05. Anthony Fichera's innocent looking 350 LH Torana was 4th with a 8.28, Frank Biondo's sweet Chev 350 powered Capella with a 8.98, Paul Mouhayet's 481 Mustang with a 9.49 and Nathan Farrugia's 7 litre turbo LS rx3 with a 11.02.

The rain saw 4 cars return for battle, with Campo running a 6.29/243 solo pass, Mouhayet also soloing with a troubled 6.91/156 whilst Athans and Biondo matched up in an all-Victorian race. Athans used a 7.11/208 to send the Capella packing with a 9.12.

Mouhhayet and Athans faced off in the final after Campisi packed the car away intact after the first round. Athans had run a string of seven-oh's, whilst Mouhayet had not yet got a pass to stick. But as the lights came down, the Moit's 'Stang did what it does best, nailing a 1.03 60ft on it's way to a 6.12/232 pass. Athan's 7.09/206 had the best view in the house, as Mouhayet experienced a lane-changing, late chute episode that has to be seen to be believed. Spinning the car out on the last loop, the Mustang lived to fight another day.
STREET COMPACT: NADJER
Turbosmart Street Compact could only muster 9 cars, ranging from Bradley Halyburton's 1JZ Cressida (10.93) to Daniel Waller's 13B Hilux ( 13.96). Sebastian Nadjer's impressive VW Golf ran a string of 11.80's, eventually leading to the finals where he met the Skyline of Matthew Wolfer. His 12.11 on a 11.80 dial in enough for him to secure his first ever win.

Thous bring the 2014 Sydney Jamboree presented by Shannons to a close. The next event is the Brisbane Jamboree, August 30, Willowbank Raceway. Still tuned for details coming soon.
__________________________________________________________