NEWS - ITEM 239
JUST CAR INSURANCE DRIFT EXHIBITION RETURNS TO SYDNEY JAMBOREE
Date: 26/02/15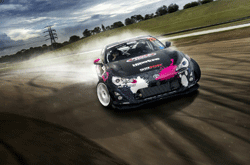 After the incredible response to last year's Just Car Insurance drifting exhibition at Sydney Jamboree, 2015 will see the scale of the sideways spectacle expanded to an even bigger area in the pits with a brand new layout and even more drivers and cars involved.
Some of Australia's top drifters will combine with some of the best local talent Sydney has to offer to not only entertain the crowd but also compete in a way never before seen anywhere in the world.
At the end of each session once they've finished blazing tyres you can check out the cars in the pits, meet the drivers and maybe even learn how to do it yourself thanks to the team from Drift School Australia.
The best part of the Just Car Insurance drifting exhibition is that it puts the fans in the best seat in the house, right up close to the action to enjoy the sights, sounds and smells of Australia's best drifters going wild, only at Sydney Jamboree, Sydney Dragway, March 7. Gates open 7.30am!
For more information head to www.jamboree.com.au
__________________________________________________________