NEWS - ITEM 296
WORLD DOMINANCE COMES TO JAMBOREE BRISBANE
Date: 6/09/17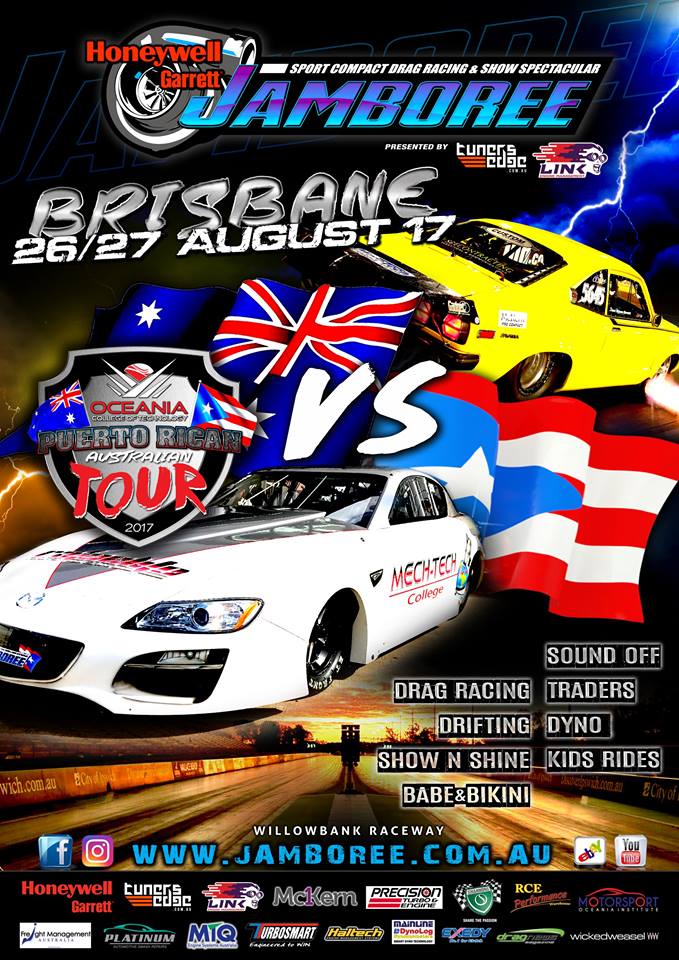 The 2017 Honeywell Garrett Brisbane Jamboree, presented by Tuners Edge and Link ECU was always anticipated to be a milestone event since the news broke earlier in the year that 4 of the quickest Sport Compact cars in the world would be coming from Puerto Rico. Team Japan soon joined the entry list with 2 cars and another 223 racers joined the ranks for one of the best Jamboree weekends ever over the traditional 2-day format.

Jamboree organizers Ray Box and Collin Willshire made sure that the international visitors were well looked after on their international odyssey, with the guests repaying the favour in more ways than one.

An official welcome function was organised at the Oceania College of Technology on the Monday before the weekend, offering all in attendance an up close and personal experience with Team Puerto Rico's drivers, cars and teams. Two 5-second beasts, The Mech-Tech Scion (5.90) and the iconic El Humilde Corolla (5.95) were received in awe, as were the rotary-powered icons of Loquito Killer (6.19, worlds 2nd quickest 20B) and Rafaelito (6.59, worlds quickest 13B). Accompanied by several local cars, the evening was a great way to start the event's lead up, with testing commencing on the Wednesday.

Many teams from all over Australia were booked to test from Wednesday, but all eyes were on the cars from Puerto Rico. And news travelled fast, as El Humilde, driven by Jorge Juarbe, reeled off a great 6.08 straight out of the container. This was considered a big deal, since the car had experienced a minor rollover just a week before being loaded for Australia, and had not fired a shot since the rebuild! The car then ran a 5-second pass later in the afternoon to show that this little car was not to be underestimated. After several attempts, it was the Mech Tech Scion, driven by Isaias Rojas, which set the internet ablaze, running a new PB of 5.83! Rafaelito, driven by Luis Rivera, made several checkout passes, shutting off early on each run. But the biggest drama was afforded to one of the world's iconic rotary superstars, with Loquito Killer, driven by Edwin Burgos experiencing a driveshaft failure and substantial fire to boot. This put the car out of action for over a day as it was pulled apart, repaired and rebuilt. Several local businesses leapt to the aid of the international visitors, and by Saturday, the car was nearly back together. Team Japan also required local assistance, with the Ex-HKS Supra of Koji Yamaguchi requiring a new clutch before racing commenced on Saturday.

But just as the sun was setting on Friday's test day, another PB was run by Team Puerto Rico, with El Humilde running an arrow-straight 5.94 PB to again set the internet alight, as thousands of followers tuned into catch up on the latest news from their heroes.

Saturday dawned with beautiful weather, and the event busily ramped up in all corners of the Willowbank facility. The Shannon's Show n Shine again was full of amazing rolling stock in all shapes and sizes, with old-skool and new skool side by side in their hundreds. The Link ECU Drift Demos again were very popular as some of the best in the business did their stuff on the asphalt figure 8. Trader alley again showed that there is plenty of industry health surrounding this scene, accompanied by some of the best names in performance and tuning.

But the biggest indication of ongoing steady growth in the scene was the 229 strong entry list, with a huge increase in serious machinery hitting the track. The sheer number of 7-second passes was especially strong and plentiful, with more Rx3's than ever. In fact legendary Puerto Rican track Announcer Hugo Umpierre suggested that Australia must be making Rx3s here on a weekly basis, as there seemed to be an endless supply of the 70's rotary sedan and coupe. The two-day event saw 3 qualifiers for each competitor on Saturday, with eliminations on Sunday.
FACTORY EXTREME: JUARBE
Precision Turbo Factory Extreme was touted as the best field gathered in the history of the bracket, with 3 5-second cars in attendance in a 14-car field. Hot off his 5.90 at the Winternationals, Kiwi Rod Harvey was ready to repeat the numbers in the presence of the Puerto Ricans. The weather conditions, whilst fine and sunny, did not have the cooler winter temperatures required to run the big numbers. The track, as usual, was killer, and even after adding over 60Lbs to make Factory Extreme weight, El Humilde nailed top spot in Q1 with a 6.121. The Mech Tech Scion also ran a tight 6.127 for 2nd spot, until Harvey peeled a 6.058 to jump the pair for pole. Many of the teams struggled with various problems, but tyreshake was the common denominator in most of the qualifying sessions. Q2 saw Juarbe steer El Humilde back to the top with a 6.034 and Rojas also improved the Mech-Tech Scion with a 6.056 to edge Harvey to 3rd.
The iconic Corolla then consolidated its dominance by reeling off a 6.014 in Q3 whilst the rest of the field still tried in vain to run a representative elapsed time. A few tenths separated the rest of the best, led by Joe Signorelli (6.49), Archie Kajewski (6.50), Nathan Hagenson (6.51) and Collin Willshire's 6.62 made up the top 7. Willshire had tested the 4-cylinder Jett Racing Eclipse and improved on its previous 6.57 best with a 6.52 during the week. Burgos returned Sunday morning to re-run the first qualifier and again experienced issues after another complete rebuild of the car, but Loquito Killer was the only Puerto Rican car that couldn't find its Mojo again after the testing incident, with niggling problems restricting the car from making any more representative passes.

Round 1 saw Hagenson despatch Darren Kehl's Rx7 with a 6.56/220. Jason Both faced Rojas, who shook hard, handing the Rx7 a tight 7.20 to 7.56 win. Juarbe faced Victorian Dion Amato in his Barra, and soundly despatched a 6.11 to 6.88 victory. Signorelli soloed with big tyre spin and shut off, whilst Harvey faced George Rehayem in the Pac Racing 6. Harvey suffered immediate tyre spin and a 1.23 60ft time, whilst George streaked away from the line with a 1.03. Harvey recovered and set off in pursuit, trailing the Mazda 6 at ½ track before pulling alongside at the 1000ft mark and then recording the win with a 6.35/247 to 6.50/206. Mazfix's Archie Kajewski soloed to finish the round.

Round 2 started with an all-kiwi matchup between Harvey and debutant Gina Bullians in her new Mazsport Rx8, with Bullians scoring her first 6 and victory in the car with a 6.90/198 when Harvey had issues. The upsets continued, with Kehl edging Kajewski with a tight 7.86 holeshot victory to another 7.86. Porter blew the tyres off the world's quickest Nissan on the hit against Hagenson, but claimed a 6.75 shut-off win. Amato defeated Signorelli who also shook, and Rehayem pedalled better than Rojas for a 9.41 to 13.81 victory. Juarbe faced Both, and soundly showed all in attendance that the tuning prowess of Jorge Lazcano can overcome everything, running a 6.07/239 to despatch the Rx7.

Round 3 of the Chicago Shootout is important to do well, especially if there are numerous competitors on identical win counts. Running as quick as you can is important, and this ultimately determined who was to meet in the final. Hagenson defeated Amato with a 6.522/223 to 6.81/201 to be 2 wins from 3 with a final round 6.52. Signorelli did the same to Kehl with a 6.520 to be in a similar position. Willshire faced Both and won with a great 6.65/210 to finish the weekend. Harvey soloed and would end up with 2 wins from 3, but needed to run quicker than the 6.52 of Signorelli to make the final. But the car faltered early in the run and couldn't recover, running a 6.82/206 to end his day. Kajewski defeated Porter when the Nissan overpowered the track again, Rojas despatched Bullians with a 6.55/233 and Juarbe soloed as the only car to score 3 wins from 3.

This saw Juarbe and Signorelli face off in the final, and El Humilde was not to be denied, running a 6.14 to 6.49 victory. The 6.14 was the slowest run Juarbe had made for the weekend, after qualifying with runs of 6.12, 6.03, 6.01, then making the 6.11 and 6.07 passes in eliminations and the 6.14 in the final, making it one of the most dominant performances seen by any import in history, not to mention the Friday run of 5.94, the 5.96 and the 6.08 during testing, albeit with the weight added to compete on Saturday. This has left no doubt in anyone's mind that they had truly seen something great! Car owner Carlos Martinez is one happy team boss, with Lazcano being his tuner for over a decade, and Juarbe for simply being the bravest man who tames this iconic beast! It has showed that in a world of pro mods, a little 97 inch wheelbase, steel bodied corolla can rise to hero status, and all in attendance knew that they had seen something great.
PRO TURBO: HEPBURN
Platinum Automotive Smash Repairs Pro Turbo again saw a healthy mix of 6-cylinder and rotary competition. The number of cars in the low to mid 7-second zone has swollen, making the racing tight and exciting. But as usual, the attrition rate affects numbers as the rounds roll by. Sydney Jamboree winner Domenic Rigoli top-qualified with a great 6.92/207.27 in his RB32 powered 300zx ahead of Nikki Hepburn's immaculate radial 1FZ boosted Toyota 86. Koji Yamaguchi from Team Japan was still experiencing issues with his Supra, but continued to make it to the line to see if they could improve.

However Round 1 started with only 6 cars, with Nick Tsoltoudis, Yamaguchi and Rigoli a no-show. Jamboree debutant Thomas Bell improved with his 2JZ-powered Gemini wagon with a 7.47 solo, whilst Hepburn defeated Graham Harrison's Barra-powered VL with a 7.09/207. In an all-rotor matchup, WA's Jamie Marshall ran a 7.90 to defeat a troubled Sadek Sadek with his new auto RX3 and Jason Payne then steered his tube-frame R32 to a 7.33/188 solo.

Round 2 started with Hepburn reeling off a consistent 7.05/201, whilst Tsoltoudis scored a 7.2 pass against a red-lighting and still-troubled Yamaguchi. Harrison faced Payne, and both experienced dramas, with the VL hitting the stripe first. Bell faced Sadek, who was cautious to stage the Rx3 on boost, but Bell staged first, and sub sequentially burned his transmission out on the line in a huge smoke show. Sadek staged, and ran a 7.17.

Round 3 commenced with Tsoltoudis keen to put the RB-powered Skyline of Payne away, and left him on the line with a holeshot, but lost power half way down, allowing Payne, (who left with a 4.66 sec reaction time!) to streak by with a 7.43/189. Sadek soloed with a shut-off 9.10. Hepburn and Yamaguchi, and her .068 light and 7.08/207 was enough to cover the troubled Supra and make the final round against Payne. Payne had hurt the transmission earlier, and only staged in the final, hoping for a red light. But Nikki left on a clean green and reeled out another 7.08/207 pass. This was a fitting result for Hepburn, who had put the stunning 86 into the wall in Sydney earlier in the year in the final.

PRO COMPACT: BETTES
McKern Pro Compact exploded in numbers this year in no coincidence to the fact that the Rafaelito Rx8 would be competing in the category. The world's quickest 2 rotor doorslammer was set to dominate a field that contained a healthy bunch of local 6-second talent, a Japanese and New Zealand team, and and plenty of debutants. Testing the RX8 before the event with early shut-off runs each time, this amazing machine never showed what it had, but all eyes were on its progress from Q1 as to what it might do with a full-power pass! Makoto Watanabe had returned in an attempt to run some lower 7-second times with his home-built 13B Rx7 and Kiwi Brett Curran had also been shaking down his 7-second Rx2 in Sydney before heading to Brisbane.

Saturday saw no less than 20 cars facing the line for Q1, with standout off-trailer runs from Shane Bugeja (7.68), Brent Curran (7.70), Steven Barnett (7.61), Anthony Daquino (7.15) Rodney Rehayem (7.05), Mario Rehayem (7.66), Chris Hall (7.90), Stuart Turnbull (7.77) , Sam Kiprios (7.95) Kelly Bettes (7.47)Makoto Watanabe (7.48), Simon Ioannou (7.51), Alex Bios (7.92) and debutant David Clark (7.91).Luis Rivera shook very hard, and could only muster an 8.60.
Q2 saw Rivera hit the 60ft in 1.01, but shake again caused him to abort the run. Barnett improved to a 7.34, Clark to a 7.86, Bugeja a 7.64, and Curran with a 7.57. SA's Tony Gee ran a 7.72 to be in the mix, whilst Bettes and Rodney Rehayem had to button their runs off after wild launches.

Q3 saw little improvement from most of the field, the exceptions being Curran with a 7.40 and Watanabe running a new PB with a 7.33. Rivera then had everything come together and peeled off a new 13B world record, eclipsing his previous 6.59 with an amazing 6.575/200! With a 1.00 60ft time and 4.22/168 at the 660ft mark, the run was heard right around the world, and especially in Puerto Rico!
Round 1 on Sunday saw 16 cars front, with Barnett edging Bios with a 7.29 to 7.75 whilst Rodney Rehayem used a 7.27 to defeat Turnbull. Daquino faced Clark and peeled off a 7.12 to an 8.04. Mario Rehayem then lowered his 13B auto record to a 7.57 to stop a wayward Chris Fakinos, whilst Rivera faced Bettes in a mouth-watering matchup. Bettes nailed the pro tree with a .04 light, but Rivera was even better with a .028 and streaked away from the NAPA ute, rubbing salt into the wounds by clicking the car early for a 6.88/156 win to Bettes' 7.24/191. Ioannou then despatched an overpowering Chris Tait with a 7.62 to 10.57.Bugeja defeated Curran with a 7.65 whilst Watanabe reeled off a win with a 7.40/181 solo pass.

Round 2 started with Bettes defeating Daquino with a great side-by-side 7.013 to 7.053. Rivera despatched Clark with early chutes and a 7.02/147 to 9.32, whilst Mario Rehayem edged Tait with a 7.60/178 to a wild 8.87. Watanabe beat Bios with a consistent 7.42 to troubled 9.17, Ioannou used a holeshot 7.48/187 to edge Barnett's quicker 7.45/187. Bugeja ran a 7.68 to defeat Turnbulls 8.64 and Rodney Rehayem shut off on his solo after a tough launch sent him towards the centreline.

Round 3 Saw Mario take a troubled win when the Mech-Tech Rx8 faltered on the line, Ioannou despatched Clark with a 7.43, Bettes nailed Barnett to the tree with a .012 light and ran away with a 7.05/192 win and Watanabe faced Rodney Rehayem. If Rehayem defeated the Japanese team, this would mean Ioannou would face Bettes in the final. If Makoto-san was to win 3 from 3, he would have to run quicker than the 7.43 that Ioannou had just run. He did both, running another 7.40 to defeat the PAC rx3 and take his place in the final.

It was a dream final for two people who deserved to be there. There was a genuine moment among all in attendance as to what result to wish for. Kelly had fought the 1200 each run when it was chasing the six, whilst Watanabe gave everything he had but reliably racked up three 7.40s and 3 wins from 3.

Watanabe had obviously thrown the kitchen sink at the RX7, running his best 60ft of 1.07, but the Rx7 made a move near the 330ft mark and buttoned off. Kelly nailed the tree as always with a .024 but this time the ute rocketed straight down the middle and ran the first six for the car running a 6.96/195 delighting all in attendance, including brand new sponsor NAPA Auto Super Store Logan.

MODIFIED 10.5: PENNY
The new NAPA Auto Super Store Logan-sponsored category showed that this is where an amazing range of vehicles have found their home. Qualifying saw over 12 cars run some great numbers, including Brendan Markham (7.88), Phil Penny (7.99), Scott Hoffman (8.18) Craig Eveleigh (8.22) Samuel Trovato (8.24), Vince Rigoli (8.47) Jason Arcuri (8.54) and Fred Karam (8.65), whilst others struggled to get their power down before the final session.

Round 1 on Sunday saw Penny and his iconic 2JZ-powered Honda 600 despatch Arcuri with a 8.16 to 8.64, Markham belt out a 7.94 to handle Rigoli's troubled 12.46 and Scott Hoffman finally hooked up the radial-tyred 2JZ Corolla to a great 7.98/177 to defeat Karam. Eveleigh waited 3.64 seconds before leaving in his Barra-powered Cortina, but his 8.22/167 was not enough against Dan Bushnell's 9.03/154. Matt Kelly could not harness the 2JZ power in his Torana against Trovato's 8.28/165.

Round 2 saw Bushnell improve with a 8.85/149, but Hoffman had him covered with a 7.92/172.Trovato used an 8.61/164 to cover a red-lighting Rigoli, Markham reeled off a great 7.86/176 against a red-lighting Arcuri and Penny nailed a 7.82/180 against a troubled Karam. Eveleigh soloed with a 8.24/166.

Round 3 saw Rigoli nail Eveleigh at the tree and win with an 8.56 to a quicker 8.39, and Karam overcame Markham with an 8.27 to 8.49 win. Hoffman soloed to an 8.74 whilst Penny ran a great 7.85/180 to end Bushnell's day. Trovato defeated Arcuri when he red-lit.

This set up an all-2JZ powered, 7-second final between Hoffman and Penny. Penny reeled off yet another huge burnout to claim the event's "Smoken" award before backing up against an improving Hoffman. As both cars started to build boost and bump in, the Ke20 Corolla looked like a Chevy Impala in direct comparison to the tiny Honda 600! When the tree popped, Penny left on a .046 light to Hoffman's .112, with both cars glued together for the entire way. At the stripe, it was Penny's holeshot 7.88/180 that held out the quicker 7.81/181 from Hoffman. What a race!
MODIFIED COMPACT: SADEK
Castrol Edge Modified Compact always sees a mix of genuine 8 and 9-second street cars as well as some of the quickest AWD drag skylines in the world. But none of that 7-second potential showed itself in qualifying as many teams struggled throughout the day. Ryan Blank put a 4-cylinder on pole with an 8.456/163 from his tough S14 Silvia. Over 26 cars made qualifying runs, with 23 turning up for Round 1 eliminations on Sunday.

Round 1 saw Rohan Brown put away the neat Rx2 Brett Stirling, David Richardson in his Manx succumb to the Rotorgeek Rx3 of Daniel Ruggier, Jay Sadek run down Michael Holman and Nick Mansour lose to Vaughan Cameron. Robert Marjan in the "JUNII" R32 GTR Skyline had a seeded solo, and unleashed a great 7.69/185. John Mcdade also scored a solo first round win. Alan Dodd put away Mark Gilbert, Chris Hall was victorious when Peter Hanania's 3.67 reaction time did him no favours and Graham Burton rounded up the insane Porsche-powered Kombi of Scott Alder. John Apostolopoulos was lucky to take the win when the 7-second GTR faltered on his 7.50 dial-in, only to have Guy King break out with an 8.41 on his 8.55 dial-in. Trent Whyte soloed in his Mercury Motorsport "Nitto 2" R32 GTR, but blew the tyres on the hit, recovering though to run a blistering 193mph trap speed!

Round 2 saw Hall solo and run a 10.01 on a 9.80 dial in, Burton defeated Dodd, Ruggier despatched Apostolopoulos, Sadek handled Brown and McDade won against a red-lighting Cameron.

Round 3 saw Burton in his 13b Gemini take out Hall's 13b-powered 1000 ute, Ruggier solo when Whyte didn't show and Sadek's street Rx3 nailed a troubled McDade after an amazing wheelstand, which claimed the event "Sky's the Limit" award.

The semi-final saw Sadek solo whilst Ruggier had to face Burton. An uncharacteristic .126 light from Ruggier let Burton back in the fight, and his .068 light and 9.19 on a 9.10 was enough to beat a breaking out Ruggier, who went 8.894 on his 8.90 dial!

The final was a squeaker, with rookie Burton nailing a better .044 reaction time to Sadek's .083. Burton felt he might have enough to cover Sadek near the stripe, adding some brake light insurance, but Sadek applied his brakes soon after Burtons' eeking out an amazing 8.962 on his 8.90 to Burton's 9.29 on a 9.10. It was 19-year-old Sadeks 2nd win of the year, and Burton's first meeting in competition.

PRO 275: BUSBRIDGE
Race Car Engineering Pro 275 takes the top 8 qualified J275 cars and puts them on a pro tree. The sheer amount of quality radial cars in this country pays testament to the 2 hottest forms of the sport around the world. Sport Compact and Drag Radial racing. And whilst mainly being populated by turbo V8 machinery, the occasional import-powered machine does make an appearance, and there were plenty of heavy-hitters trying to find their feet throughout the weekend. Brett Benz nailed down top qualifying position for Pro275 with an early shut-off 7.44/164 with his twin-turbo SBC VL Calais.

Round 1 saw Benz take on an improving Luke Kestle, with a 7.26/186 defeating the Ute's 8.19/173. Victoria's Danny Busbridge drove his "2 Wizzas" plated SBC powered LJ Torana to a win over Michael Arnold's single-turbo HT ute with an 8.02/179. Varun Sharma drove the new Oceania 2JZ Supra to a win with an 8.37/174 over a quicker 8.10/172 from Mark Van Der Togt's amazing street XW falcon, thanks to a 3.13 sec reaction time!

Round 2 saw Busbridge run an 8.175/172 to defeat an 8.51 from Bobi Mircevski's immaculate falcon, whilst Benz stayed on the throttle longer against Arnold, running a 7.33/180 for the win. Kestle defeated Van Der Togt in a messy affair, whilst Andrew Zada's "Pac 275" rx3 had dramas and shut off on the run.

Round 3 Saw a great V8 vs Rotor battle with Kestle taking on Zada, with the rx3 keeping ahead of Kestle with a 7.95/172 to 8.08/172 win. Sharma's 8.50/175 was no match for Busbridges 7.59/185, whilst Benz soloed to a 7.37/172.

The final was a cracker, even though Benz's sleepy .319 reaction time was a distinct disadvantage in comparison to Busbridge's .042. As both cars hurtled to the line, it was the 7.42/188 pass from Busbridge that triggered the win light, despite a 7.18/193 from Benz! The margin of victory: .04 of a second from the stripe!

J275: THOMPSON
Whilst the top 8 battled in Pro275, Race Car Engineering J275 still featured plenty of tough passes, with Doug Day driving his sleeper twin-turbo VK Calais to top spot in with an 8.35. All of these cars are easily 3000lb, street-based cars with in excess of 1000-plus hp at their disposal.

And it took its toll, with dramas experienced by many. Steve Bezzina split the block in his amazing twin-turbo XW in round 1, Danny Landsdowne also had dramas on race day and parked his insane VL wagon. Day soloed with an 8.41, as did Michael Della with a 9.99. Khain Mackey was back with his very tidy TTSBC HR Holden, and despite several pedals to stop it wheelstanding, had enough to cover Anthony Briggs' tough 6 Cylinder Cortina with an 8.16/132 to 9.10/149. In the other pairing Tanya Thompson's turbo LS VH Commodore eliminated Michael Headley's similar-powered HQ coupe with an 8.53/160 to 8.92/159.

Round 2 saw Day account for Della with an 8.38/161 to 9.14/147, Mackey found more performance and reeled a shut-off 7.74/141. Thompson soloed with a PB of 8.42 when Bezzina couldn't return.
The semi-final saw Mackey handle a damaged Day, and Thompson soloed again to another PB of 8.36.

The final on paper was Mackey's, but in strange twist of fate, Mackey bumped the HR in too far and lurched out of the beams, which would normally trigger an instant red light and the tree thrown to Thompson. But Tanya hadn't fully staged, and waited for Khain to try again. When he repeated the action in his second attempt, he was red lit and Tanya scored her first Jamboree trophy (and 3rd female to win on the night, with Nikki and Kelly) and peeled out another PB at 8.35/163.
PRO 289: Graham
MTQ Engine Systems Pro and Street 289 always feature plenty of small-tyre, small engine action. And with over 15 cars on the entry list, the top 8 would break into Pro. Moustafa Sakina Top-Qualified his RX7 with an 8.16.

Round 1 saw TeeJay Graham defeat Matt Maltaric's Datsun with an 8.64 to 8.86 battle whilst James Moore's 13BTT Rx7 defeated Luke Philps with an 8.54/153. Sakina reeled off another 8.16 to take down Chris Adams' troubled Datsun 1200 Ute. Karl Herbert in his 13B Rx3 took a solo and ran an 8.80/162.

Round 2 commenced with Sakina's 8.20/171 taking care of Maltaric's 9.06/151, whilst Graham's 8.42/165 easily handled Philps 10.30. Herbert improved with an 8.39/162 to cover a troubled Adams, and Moore scored the solo and reeled off an 8.44/155.

Round 3 saw troubles again for Adams, losing to Moore's 8.34/159 whilst Maltaric scored a win against a troubled Herbert. With Sakina to face a no-show Philps, and Graham on a solo, both cars lined up and took a win each. Graham legged it out the door for an 8.51/163, whilst Sakina faced the tree and shut down.

But as fate would have it, that left Graham, Moore and Sakina all on 3 wins from 3. With Sakina accepting the tree and shutting down, the 2 quickest ET's from a drawn situation (EG, more than 2 racers with 3 wins from 3) will face in the final. Many final pairings have been decided this way, with racers sometimes missing out by thousandths of a second!
Graham faced Moore in the final, winning with an 8.44/171 to 8.66/158.
ALL MOTOR: SWANSON
Freight Management Australia All Motor continues to prove that you don't always need to be boosted to be an exciting bracket. The number of serious normally-aspirated machines continue to grow, with the average elapsed time reducing each year. Top Qualifier was a 9.03 by Puerto Rican driver Juan 'Juanchy" Mivra, driving the "Chainsaw" r100 owned by Matt White. This full-house 13B was on a mission each run, chasing the world 13B all motor record of 8.99.

But there were other rotors running hard too, with Bill Nabhan driving a customer's 20B PP RX3 into 2nd position with a 9.16, and Charlie Costanzo's wild little 13B PP Datsun 1200 running a 9.36. Throw in some tough VW beetles, a gaggle of Hondas and even an aspirated Barra-powered Cortina, and the field had plenty of aspirated variety!

In an all-Mazda 2nd round, Mivra lost to eventual finalist Alvin Johnson in his 808 when the r100 ran off its 9.10 dial-in. Andrew Swanson's beetle won when fellow VW racer Brendon Burnett red lit in round 2. Burnett had earlier scored a perfect .000 reaction time to win the event trophy for "Light of the night". Swanson then narrowly defeated Nabhan in round 3 after overcoming a holeshot of .045 to .126. Charlie Costanzo then went -.003 red against him in the semis sending him through to the finals against Johnson, who advanced from round 3 when Trent Bianco cherried, and then had a semi-final solo.

The final was cherry-free, with Johnson gaining a slight advantage over Swanson with a .073 to .095 light. But Johnson experienced difficulties down-track, handing the win back to Swanson.

STREET COMPACT: GEORGIS
Turbosmart Street Compact again provides an avenue for street-registered vehicles to compete at Jamboree, and the quality and sheer mass always impresses. Parry Georgis had recently rebuilt his trusty 13B Gemini wagon before the event, and had only just completed it before Jamboree. He top qualified with a great 10.43. Christine Thomsen has regularly competed in this category with some success, and was only fitting that she made her way through the field and into the final.

Thomsen almost didn't make it past round one after being holeshot convincingly by Tim Donselaar's, but the Silvia suffered a broken gearbox, allowing her to make it through to round 2. Georgis scored a round 1 bye in the uneven first round field, and merely rolled through. It was Parry's time to dodge a bullet in round 2 when Nathan Wilson red lit, but ran bang-on his 11.00 dial-in to Georgis' 14.07 on a 10.50 dial-in. Thomson used a better .110 light than Mark Stephens' .316 to score another round win. Both semi-finals were decided by red lights, with Tara Johnston going -.004 against Christine, and Graeme Manietta pulling a similar -.014 against Georgis. The final saw no red lights, nor .0 reactions, with Georgis' .171 to .254 advantage enough to reel in Christine near the stripe for a 10.61 win on a 10.50 dial in to a 10.77 on a 10.65 dial.

EXTREME: CHEIHK
With a 9-car field, Extreme produced its normal mixed bag of machinery. From top qualifier Ash Hamblin's wild TTBBC altered to Terry Seng's TTLS 55 chev, Glyn Smiths nitrous Grand Am, Graham Harrison's TTLS tube-frame firebird to Greg Tsakiridis' nitrous SBF RX4. Throw in Darryl Marsh's 2JZ altered, Roxanne Thomas' turbo 4-banger dragster, Rod Williams in his daughter's turbo crossflow dragster and George Cheihk's 20B R100 and the stage was set for plenty to see.

Hamblin had been suffering massive tyre shake from the now 3-speed car, and mustered a 6.72 for top qualifying spot. The issues remained in his round 1 solo. Thomas red lit against Cheihk, Seng slowed against Tsakaridis and Marsh drove by Williams with a 7.84. Smith finished the round with a 7.50 when Harrison couldn't front.

Round 2 Saw Hamblin red light waiting for Cheihk, Tsakaridis soloed with an 8.10 on a 7.80 dial and Marsh faltered against Smith's 7.63.The semi-final saw Smith get the bye, whilst a troubled Tsakaridis couldn't cover against Cheihk.

The final saw Smith shut down on the line, whilst Cheihk scored his first ever win.
EVENT AWARDS:
Light of the Night (best reaction time) Brendan Burnett .000 (rnd 1)
Sky's the Limit (best wheelstand): Jay Sadek (semi final)
Smoken (best burnout): Phil Penny (final)
Crew Style (best crew): Team Japan

Eyes now turn to the Honeywell Garrett Melbourne Jamboree on October 28 at Calder Park Raceway. Visit www.jamboree.com.au for more details.