NEWS - ITEM 305
INTRODUCING PWR CASH BOOST
Date: 25/5/18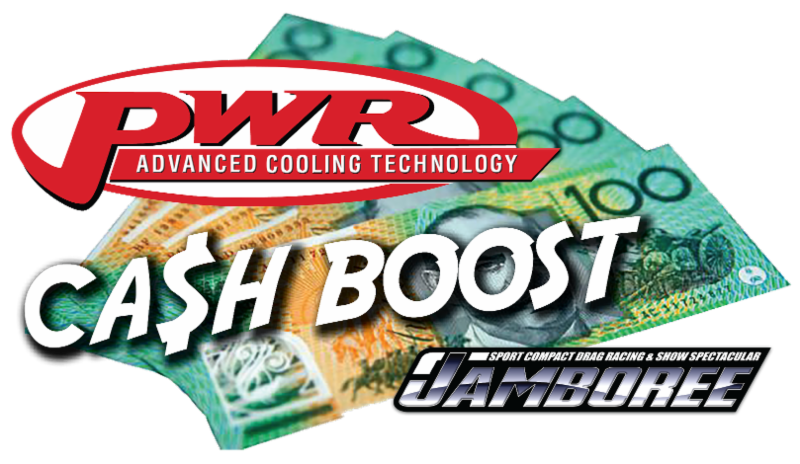 Jamboree Australia is excited to announce the Brand New "PWR CASH BOOST" for Brisbane Jamboree!
PWR Performance Products will reward competitors for consistency and performance in...
FACTORY XTREME | PRO TURBO | PRO COMPACT.
In a major win for competitors, the racer achieving the most CONSISTENT 3 runs in qualifying will be awarded $1000 in each of the 3 categories from PWR!
A Big Cheque will be part of the Startline Presentation to the 3 winners after qualifying on Saturday 25th August.
PWR's Business Development Manager Luke White said "PWR is all about building world class cooling solutions for the biggest names in F1, Supercars, DTM, WRC and NASCAR.. the "PWR CASH BOOST" competition at the Brisbane Jamboree fits perfectly with our companies philosophy of striving for world class technology that provides world class consistent performances.
This is an exciting addition to the Brisbane Jamboree Show on Saturday and we look forward to watching the
race teams go for it"
Jamboree Australia Director Collin Willshire is very proud to have PWR, an Australian and Queensland based Icon Company, as part of the Brisbane Jamboree...
"There is no doubt that PWR is the absolute world leader in Advanced Cooling Technology and we are stoked to have them come on board as our new partner with the NEW PWR CASH BOOST. PWR started in Queensland and now they are Number 1 in the world. Kees Weel and his team at PWR are great business operators that have the heartbeat of the racing industry, firmly planted in their companies goals and objectives.
The "PWR CASH BOOST" will be a major incentive to our racers and we cannot wait to see it at Brisbane Jamboree for the first time".
PWR provides world class cooling solutions by manufacturing high performance aluminium radiators, intercoolers and oil coolers for race cooling solutions to leading race categories and teams such as F1, NASCAR, V8 Supercars, DTM and World Rally Championship, PWR is recognised as a world leader when it comes to high performance cooling. PWR's state of the art manufacturing facility in Australia includes a controlled atmosphere brazing furnace, CNC machine shop, R&D and design department, large fabrication capabilities an in-house wind tunnel which allows PWR to be the market leader in cooling research and development with focus on competition cooling solutions.
For more details visit www.pwr.com.au