NEWS - ITEM 95
PAC NOW QUICKEST & FASTEST IN THE WORLD
Date: 29/4/10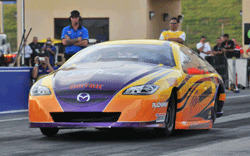 At the recent Haltech Compak Attak event at Sydney Dragway, Pac Performance set another milestone in Rotary drag racing by setting another World Record.
Not content with just holding the ET World Record for a Rotary power car the team wanted the MPH World Record to make the perfect pair.
The PAC team flagged their intentions clearly on the preceding Friday night Full Throttle Friday, with some very stout launches, culminating in Rocky reeling off a impressive 6.89 @ 194mph pass in the Mazda6, letting the opposition know they would be a force to be reckoned with, come race-day !!
In the heat of the day on Sunday at the Haltech Compak Attak they pulled out a simply stunning pass of 6.795 @ 209.98mph, closing out the missing part of the previous 6.752 second ET World Record with a new MPH World Record making them the fastest and quickest Rotary powered car EVER!
__________________________________________________________